Why visit Chiang Mai, you are asking?
Thailand's cultural capital, between mountains, jungle, and rice fields, is one of my favourite cities in Northern Thailand due to its unique markets, beautiful temples, great healthy food, friendly locals, and endless adventure opportunities all around the city.
No matter if you decide to hang out in one of the cosy cafes in the old city for days or take day trips on ends, Chiang Mai always has something to do for you.
Make sure you get a good night's sleep when visiting the incredible Thai city.
Here are the best places to stay in Chiang Mai, from budget guesthouses to luxury hotels!
Which Area Is The Best To Stay In Chiang Mai?
#1 Best Area To Stay in Chiang Mai for First-Timers: The Old City
This area is the traditional inner-city square where you can find lots of Buddhist architecture, including temples, shrines and the old city walls, which will take you right back in the history of Chiang Mai.
The Chiang Mai Old City is a great place to stay if you want to do a lot of sightseeing and enjoy walking around. It's also a great area if you want to practice yoga and do some soul-searching.
Chiang Mai's centre has a large number of backpacker hostels and budget hotels, making the area the best choice for budget travellers.
There are no high rises or big resorts to be found in Chiang Mai city centre if that's what you're after.
Note that around rush hour, Chiang Mai Old City becomes pretty crowded with traffic.
The Chiang Mai city centre is a haven for delicious street food! Be sure to include a trip to the famous Sunday Walking Street, which features a wide variety of international and Thai cuisine.
The Sunday market is held on Ratchadamnoen Road from Tha Pae Gate, starting at 4 pm to 10 pm every Sunday and is an absolute highlight in the city centre.
The Old City is a great Chiang Mai area for photography enthusiasts since you can capture images of the city walls and moated area with approximately 300 plus temples.
Some popular places in Chiang Mai Old City are Wat Phra Singh, Tha Phae Gate, Wat Chiang Man and Wat Chedi Luang.
The best area for:
The Best Chiang Mai Hotels in the Old City for First-Time Visitors
Below I'll list some of the best hotels and accommodations to stay in Chiang Mai. 
Let's start with the luxury hotels down to affordable budget hostels and beautiful family-owned guest houses.
Best Luxury Hotel in Chiang Mai Old City: Phra Singh Village
The Phra Singh Village Hotel is a charming 5-star hotel located in the heart of Chiang Mai's Old City.
With its traditional Lanna-style architecture, tranquil gardens, and excellent service, it offers a peaceful oasis in the midst of the bustling city.
Best Boutique Hotel in Chiang Mai: Makkachiva Hotel
You will fall in love with this fairy-tale boutique hotel that yet again combines traditional Lanna and modern western style.
It's no coincidence that the City Art & Cultural Centre is only 600 meters from this Chiang Mai hotel.
They offer airport transfer, 24-hour front desk, free internet access and even a cosy reading room overlooking the lobby. Don't miss out on their breakfast!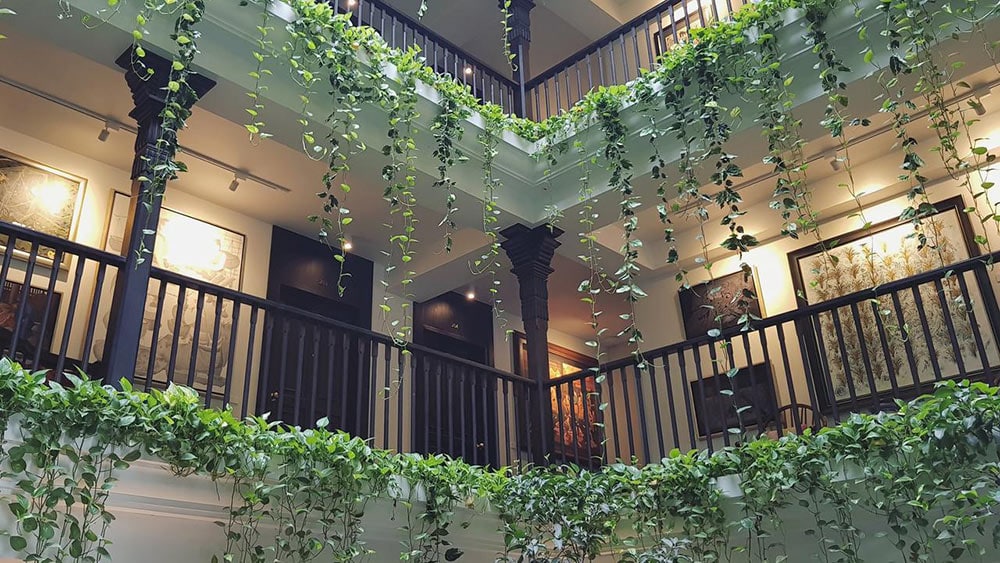 Best Value for Money Hotel in the Old City: 99 The Gallery Hotel
If you are up for a hotel with a touch of modern contemporary design, I suggest you book your stay at 99 The Gallery Hotel.
Some of their amenities include free parking, free WiFi, a beautiful pool, bar and lounge, breakfast, laundry service, concierge, and even babysitting.
And from the hotels' central location, it's only minutes away from the main temples of Chiang Mai, so you get to stay super central and can walk pretty much everywhere throughout the Old City.
Best 3-Star Hotel in Chiang Mai: 18 In Town Homestay
This Chiang Mai guesthouse boasts a beautiful green garden and free bike rental (which is a great way to get around the inner city square).
The property is approximately 400 meters away from the Wat Chedi Luang Temple, one of Chiang Mai's most famous temples.
The rooms are cozy and simply beautiful. There is also a shared lounge and terrace with comfy pillows and seats. There is also a choice of American or Asian-style breakfast on offer.
Best Hotel Close to Sunday Walking Street: Thai Akara – Lanna Boutique Hotel
Thai Akara Boutique Hotel boasts Lanna design, which is simple yet elegant and warm, so you will feel right at home. The accommodation has an outdoor pool, sun chairs and free WiFi throughout the hotel.
Check out the fitness center, which is on-site or the lounge at the book corner or restaurant, which offers all the delicacies of Thai cuisine.
Best Budget Hotel in the Old City: Hidden Garden Hostel
This hostel is a stylish hostel located within Chiang Mai's cosiest area just south of the inner city moat. It's a stone's throw from the Chiang Mai Gate and only a 10-minute walk to Wat Chedi Luang Temple.
The hostel offers various room types, a shared lounge, an outdoor swimming pool, free WiFi and air-conditioning in all rooms.
Best Hostel in Chiang Mai Old Town: The Common Hostel
Located right in the Old City of Chiang Mai and near Sunday Walking Street, this neat hostel provides affordable and clean dorms as well as private rooms.
You will find air-conditioned rooms, private lockers right near your bunk bed, free WiFi access, a 24-hour front desk and a terrace to mingle with other travellers—a great place to stay for solo travellers and backpackers.
#2 Where to Stay in Chiang Mai for Couples & Sophisticated Nightlife: Nimmanhemin
The Nimman Area, which also refers to the area around Nimman Road, is the go-to place for young people, students, digital nomads and ex-pats and is the hippest and trendiest of Chiang Mai nightlife.
Unlike the Old City, Nimman is filled with trendy cafes, restaurants, boutiques, bars, art galleries and new boutique hotels.
The really cool places to stay in Chiang Mai are mostly found in the Nimman area, whereas the Old City is more traditional-style.
If being near the airport is a priority for you, it's worth noting that Chiang Mai Airport is situated in close proximity to Nimman.
Nimman is not only known for its café life, but the area also has other cool places to visit during the day.
Chiang Mai University and the Chiang Mai Zoo are just around the corner.
If it's hot outside, head to Maya Lifestyle Shopping Mall to browse around the shops, eat at the food court on the lower level or enjoy the views from the rooftop terrace and bar in the evening.
The best area for:
The Best Hotels to Stay in Chiang Mai for Couples
Best Minimalist Hotel in Nimman: G Nimman Chiang Mai
Situated in the heart of Nimmanhaemin Road, G'Nimman Hotel is a modern and unique place to stay in Chiang Mai, boasting a minimalist concept that is both stylish and comfortable.
Featuring an outdoor swimming pool and other modern amenities, you will surely have a relaxing and memorable stay at this hotel.
Best Trendy Chiang Mai Accommodation: Akyra Manor Chiang Mai
If you're looking for where to sleep in Chiang Mai like a celebrity but without the price tag, you'll love the Akyra Manor hotel in Nimman.
This luxurious all-suite hotel is located within walking distance from Nimman Haemin Road, offering guests access to a stunning rooftop infinity swimming pool.
Best Mid-Range Hotel in Nimman: De Chai Oriental Nimman
De Chai the Oriental is a charming hotel located in the vibrant Nimmanhaemin Road area.
With its great location to explore the city's trendy cafes, restaurants, and boutique shops, De Chai is an ideal choice for leisure and business travellers.
The hotel has an elegant design and all amenities like air conditioning, a fitness center and a large swimming pool to create a tranquil retreat from the bustling city.
#3 Best Area To Stay In Chiang Mai For Shopping, Nightlife & Entertainment: Night Bazaar
You will be astonished at this shoppers' paradise. The Night Bazaar area can be found just a little off the center of the Old Town towards the Mae Ping River.
As one of the largest markets and an absolute must-do in Chiang Mai, you will find an abundance of options for your shopping bag to be filled with handicrafts, clothes, jewellery and more.
Just be aware of pickpocketers, as the bazaar is very popular and crowded at night.
If shopping up a storm and bargaining is your thing, staying close by is a great option.
From here, it's also close to exploring the Old City and its sights inside the moat.
The best area for:
The Best Hotels to Stay in Chiang Mai for Nightlife
Best Luxury Hotel near Night Bazar: Le Meridien Chiang Mai
A mixture of local traditional Lanna and European heritage design is best for travellers who enjoy a bit of a cultural encounter that Northern Thailand is known for but within a modern, chic atmosphere.
This luxury hotel is nearby the Night Bazaar, so super convenient for shoppers!
Le Meridien offers room service but also has its own restaurant on site, a gym, spa, pool, free internet, bar and lounge, airport transport, conference facilities, and even multilingual staff.
Best Boutique Hotel near Night Bazar: Kate and Hasu Boutique Chiangmai
When you stay at Kate and Hasu Boutique Chiangmai, you will find all-airconditioned rooms with flat-screen cable TV, a seating area, a safety box and a mini-fridge. The bathrooms are ensuite, and there is also a dipping pool and a small fitness room.
The hotel is an easy 5-minute walk from the old city walls and Tha Pae Gate and a mere 700 meters to Chiang Mai Night Bazaar.
Best Mid-Range Hotels In Chiang Mai: Iron32 Hotel
Iron32 Hotel is a budget-friendly accommodation option located close to the Night Bazar. This hotel offers guests a comfortable and convenient stay with its clean, modern rooms and friendly staff.
Its prime location allows guests to easily explore the city's cultural landmarks, shopping districts, and bustling night markets of Chiang Mai Old Town.
Best Budget Hostel In Chiang Mai: The Park Society
This hostel is very cute and green and is rated an excellent one in Chiang Mai. There are various sizes of rooms, and if you fancy a room for yourself and a friend, book the triple room featuring a large double bed and bunk bed with a shared bathroom.
The hostel has air conditioning, free WiFi, daily housekeeping, and 24-hour reception, as well as secure room access, laundry service, free bag storage and even offers breakfast.
Most Popular Chiang Mai Activities
#4 Best Area For Affordable Luxury Resorts and Families: Riverside
Like the Old City, Riverside resembles the old Chiang Mai. The hotels here are built alongside the riverbanks, which makes for a great atmosphere.
The Chiang Mai Riverside is a suitable place to stay with your family or friends, where you relax and enjoy the luxe vibe.
Located just outside Chiang Mai historical centre, the Riverside area provides an excellent location and is home to some of the finest luxury hotels in Chiang Mai.
Here you can also find affordable textiles, fruits and more from the Warorot Market plus many street food stalls selling barbecued chicken, Pad Thai and all the other Thai goodies.
If you are lucky, you may also see some locals fishing in the river. You'll find the best places to stay in Chiang Mai with family here.
The best area for:
The Best Hotels to Stay in Chiang Mai for Families
Best 5-Star Resort in Chiang Mai: Anantara Chiang Mai Resort
Near the Mai Ping River, this luxury hotel combines colonial, Thai, and contemporary styles in one awesome property.
This 5-star hotel, with an excellent rating, is among the top 2% of hotels in Thailand. There is a fitness center, spa, on-site restaurant and bar and refreshments in the Lobby Lounge.
From here, you can easily join one of the sunset river cruises, dip in the pool overlooking the river or stroll to the Night Bazar.
The Anantas is the perfect place to stay for couples and families travelling with children.
Best Boutique Hotel on the Riverside: Ping Nakara Boutique Hotel and Spa
This hotel, for me, is like a mansion! From the outside, it has this colonial style of the 1900s, and it's also just a few minutes walk to the riverside restaurants and close to the Night Bazaar.
The hotel also has free parking, free WiFi, an indoor and outdoor pool, a restaurant, spa, bar and lounge, and of course, concierge service and offers a sumptuous breakfast.
Best Hotel for Couples in Chiang Mai: Na Nirand Romantic Boutique Resort 
Na Nirand Romantic Boutique Resort is a beautiful and charming boutique resort located not far from the heart of Chiang Mai.
The resort offers a perfect blend of modern Thai architecture and peaceful views of the Ping River, creating a romantic and peaceful ambience for guests to relax and rejuvenate.
The resort's lush tropical gardens and beautiful swimming pool provide guests with a tranquil and luxurious experience.
#5 Best Up-And-Coming Area to Stay in Chiang Mai: Santitham
Santitham is emerging as one of the best up-and-coming areas to stay in Chiang Mai. Located just north of the Old City, the area is known for its cafes, delicious street food, and affordable accommodations.
Santitham has a relaxed, laid-back vibe popular with digital nomads and expats.
Additionally, its proximity to the Nimmanhaemin Road area makes it an ideal location for those who want easy access to Chiang Mai's trendy shopping and dining scene.
With its growing popularity, Santitham is definitely worth considering for your next stay in Chiang Mai.
The best area for:
Best Trendy Hotels to Stay at in Chiang Mai
Best Chiang Mai Design Hotel: BOOK Design Hotel
This hotel offers a unique, trendy space featuring a chic, modern design, artistic décor, and cosy guest rooms. Its prime location lets you easily explore the city's famous landmarks, markets, and cultural attractions.
BOOK Design Hotel is an ideal Chiang Mai stay for travellers seeking a unique and trendy hotel near Nimman without the price tag.
Best 3-Star Hotel in Santitham: The echo hotel
The Echo hotel offers 3-star accommodation in Chiang Mai, a stylish and modern stay with double and twin rooms.
You're only 500 m from Kad Suan Kaew Shopping Centre, yet away from the road noise in a small street within the trending neighbourhood of Santitham.
Best Budget Hotel: Arch39 Minimal Art & Craft Hotel
This hotel offers both private as well as shared rooms, which is great for solo travellers as well as families.
The Arch39 Art & Craft Hotel Chiang Mai has air conditioning, free WiFi, and parking, and you can also hire your motorbike right here.
Located just outside the moat towards the north of Chiang Mai's Old City, it's within walking distance of Nimman and Old Town and the nearby night street food stall.
#6 Where to Stay in Chiang Mai in the Mountains: Outside of Chiang Mai
If you're looking for a place to stay in the mountains of Chiang Mai, then the Doi Suthep area and the greater Chiang Mai area are both excellent options.
Doi Suthep mountain is located just outside Chiang Mai city, and it offers breathtaking views of the surrounding landscape. The area around Doi Suthep has many accommodation options, from luxury resorts to budget-friendly guesthouses.
If you're looking for a more rural experience, the greater Chiang Mai area has many small villages and homestays that offer a glimpse into traditional Thai life.
The best area for:
The Best Hotels to Stay in Chiang Mai in the Mountains
Best Luxury Hotel Outside of Chiang Mai: Four Seasons Resort Chiang Mai
This hotel is a little outside of Chiang Mai, which makes it very special as it's in a quiet spot between the green rice paddies and away from the hustle and bustle of town.
There is also a free shuttle service which will take you into the heart of Chiang Mai.
The hour-long journey might seem long but will pass in a breeze as you will get to see the local areas, and the location of the hotel really makes up for the distance. Plan to spend a whole day exploring Chiang Mai and then head back to your secluded paradise.
Not only can you fully relax in this Chiang Mai luxury hotel, but you also have the opportunity to experience their exceptional service and amenities like private pools, free WiFi, open-air dining, as well as a world-class spa, yoga and fitness classes, cooking classes and you can even play golf in the nearby area.
Best Resort Outside of Chiang Mai: Sukantara Cascade Resort and Spa
This Chiang Mai Hotel is located in the serene natural setting of Mae Rim, 30 minutes from Chiang Mai. Soak in the peaceful surroundings and beautiful waterfall views.
The hotel offers guests a tranquil retreat with traditional Lanna décor and luxurious amenities such as a spa, swimming pool, and on-site restaurant.
Most Romantic Hotel in the Mountains of Chiang Mai: Panviman Chiang Mai Spa Resort
Panviman Chiang Mai Spa Resort is a luxurious resort located in the serene setting of Mae Rim. Enjoy a comfortable stay in the spacious and elegantly decorated rooms and villas and its luxurious amenities such as a spa, outdoor swimming pool, and stunning views.
Panviman Chiang Mai Spa Resort is an ideal choice for couples seeking a luxurious and romantic escape from the busy city of Chiang Mai.
Best Value For Money Hotel in the Mountains of Chiang Mai: Merchant Villa
Merchant Villa is situated in the mountains of Northern Thailand, just 1.6 km from Chiang Mai City Center.
Enjoy a relaxing stay with access to the hotel's outdoor swimming pool, free private parking, and charming garden and shared lounge areas. The hotel also boasts a restaurant and bar and a hot tub for guests to unwind in after a day of sightseeing.
Where To Stay In Chiang Mai – Map
Where to Stay in Chiang Mai – Frequently Asked Questions
Is Chiang Mai Worth Visiting?
Chiang Mai is definitely worth visiting for many reasons. It is a culturally rich city with a fascinating history, beautiful temples, and many lively night markets that satisfies any foodie.
The city is surrounded by stunning natural scenery, including mountains, waterfalls, and national parks, providing plenty of outdoor activities such as trekking and river rafting.
Additionally, Chiang Mai is home to a vibrant digital nomad and. ex-pat community and a range of wellness, spiritual and yoga retreats.
How Many Days Is Enough for Chiang Mai?
The number of days you should spend in Chiang Mai depends on your travel style and preferences. However, most travelers find that 3 to 5 days is enough time to explore the city and its surroundings.
During this time, you can visit the city's many temples, such as Wat Phra That Doi Suthep, explore the night market, try the local cuisine, and take part in cultural experiences such as a Thai cooking class or visit the popular Elephant Nature Park.
Additionally, you can use Chiang Mai as a base for your Northern Thailand itinerary and explore nearby sights such as Doi Inthanon National Park, Chiang Rai, and the Golden Triangle.
What Are the Best Months to Visit Chiang Mai?
The best season to visit Chiang Mai is from November to February. In those months, the weather is dry and cool, with temperatures ranging from 15 to 25 degrees, which is ideal for sightseeing and outdoor adventures.
This is also the peak tourist season, so the city is bustling with events and festivals, including the famous Loy Krathong and Yi Peng festivals, celebrated in November.
The Worse Time to Visit Chiang Mai
From March to May, Chiang Mai experiences hot and dry weather, with temperatures reaching up to 40 degrees, making it less comfortable for outdoor activities.
Additionally, from February until mid-April, it's the burning season in Chiang Mai, where local farmers nearby prepare for the next harvesting by burning their fields.
Due to the valley location of Chiang Mai, the city experiences significant amounts of smoke, smog, and air pollution during this period, particularly in March, so it's not recommended to visit then.
Shoulder Season in Chiang Mai
The rainy season, from June to October, brings occasional showers, but the city is lush and green during this time.
While it may not be the best time for trekking or outdoor activities, it is a good time to enjoy the city's cultural events.
Where Is the Hip Trendy Area in Chiang Mai?
Nimman, also known as Nimmanhaemin, is Chiang Mai's hip and trendy area and has become a popular destination for locals and tourists alike.
Well-known for its stylish coffee shops, art galleries, boutique stores, and trendy restaurants, the Nimman area attracts a diverse community of students, entrepreneurs, creatives and digital nomads.
Is Chiang Mai or Bangkok Better?
Comparing Chiang Mai and Bangkok are very different cities with unique charms.
Bangkok is Thailand's bustling capital city, famous for its vibrant nightlife, shopping, and food scene, while Chiang Mai is the cultural centre of Thailand and a more laid-back city surrounded by mountains and lush greenery, with a focus on culture, nature, spirituality and yoga.
If you are looking for a fast-paced and cosmopolitan city with endless shopping and entertainment options, staying in Bangkok might be your better choice.
However, if you prefer a more relaxed atmosphere with a focus on nature and culture, then Chiang Mai is the perfect destination. Chiang Mai is known for its stunning temples, lush gardens, and elephant sanctuary, making it an ideal place to unwind and connect with nature.
Final Words on Where to Stay in Chiang Mai
You now have an idea of the best areas and places to stay in Chiang Mai!
Before booking any of these amazing hotels and hostels, I suggest you consider your budget and travel plans. 
If you are more of a shopping person, you should book into a hotel near the Night Bazaar, or if you are more into nightlife with a young crow of people, the inner Old City is perfect.
For all the coffee geeks and digital nomads, Nimman Road is your pick. 
If you're planning to stay in Chiang Mai long-term, the up-and-coming area of Santitham has much to discover.
Wherever you decide to stay, enjoy your stay and create some wonderful memories in one of my favourite cities in Thailand!
Like this? Pin to save on Pinterest
Please note, this post may contain affiliate links, which means that – at absolutely no cost to you – we earn a small commission on sales generated through this website. We only recommend sites we actually use and thank you for your support!