Apple's next operating system update will be iOS 16.4, and the software has been in beta testing since February 16. Software updates go through several rounds of testing with developers and public beta testers before launch, so when can we expect iOS 16.4 to be released? society?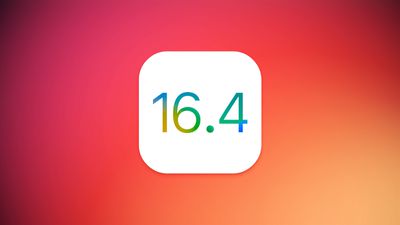 Officially, Apple says that iOS 16.4 and its sister updates iPadOS 16.4, macOS Ventura 13.3, tvOS 16.4 and watchOS 9.4 will be released "in the spring". The vernal equinox (ie, the first day of spring) is Monday, March 20, and the season will last until June 21.
iOS 16.4 will likely be released in late March, although we could also see the update rolled out in the first week or two of April.
Apple has given us three developer betas and three public betas so far, and while the number of betas we get varies, we often see at least four or five before the public launch. With that in mind, we're getting at least one more beta, followed by a release candidate, which is a software update that Apple provides to testers that specifies the same version of the update that's expected to be released to the public.
Some past beta timelines for recent updates.
iOS 16.3 – RC was released on January 18th after two betas, with launch following on January 23rd.
iOS 16.2 – RC was released on December 7th after four betas, with launch following on December 13th.
iOS 16.1 – RC was released on October 18th after five betas, with launch following on October 24th.
iOS 15.6 – RC was released on July 12th after six betas, with launch following on July 20th.
iOS 15.5 – RC was released on May 12th after four betas, with launch following on May 16th.
Given these dates, the most likely candidates for iOS 16.4 launch include Tuesday, March 28; Tuesday, April 4; and Tuesday, April 11. Software updates can also happen on Mondays and Wednesdays, so Mondays and Wednesdays of those weeks could also be possible release dates.
Features of iOS 16.4
iOS 16.4 is a major update with a long list of features. We've summarized some of the highlights below, but All the news in iOS 16.4 can be found in our dedicated guide.
New emoji characters include head shake, pink heart, blue heart, gray heart, donkey, moose, black bird, goose, wing, jellyfish, hyacinth, pea pod, ginger, fan, comb, flute and maraca.
Safari Web Push notifications for apps stored on the iPhone or iPad home screen.
Option to add websites and web apps to the Home screen from third-party browsers like Chrome.
A return to the traditional "curly" page turn animation in Apple Books.
A re-release of the HomeKit architecture upgrade that was removed from iOS 16.2.
Updates to the interface of the Podcasts app.
At launch, iOS 16.4 will be available to install on all devices capable of running iOS 16, and it will be a free update. We expect iOS 16.4 to be one of the last major updates to iOS 16, and Apple intends to turn its attention to iOS 17 as June's WWDC event approaches.