People ask very random questions.
How long do sea turtles live? How many km are in a mile? Who is the king of Sweden?
Nowadays, when a question pops into your head, the Internet is the first place you go. There are a number of Q&A platforms that you can turn to when looking for any information, one of which is Quora.
What is Quora?
Quora is a question and answer website where people go to find information. All content on the site is user-generated, meaning it is created, edited and organized by the same people who use the site.
After hearing this description of Quora, you might be thinking: "Well, why don't I just use the everyday search engine?"
I'll tell you why. Quora has some features that other research tools don't.
It allows users to create social networks and follow topics that interest them.

It focuses on high quality questions and answers.

It allows users to vote on answers to highlight the most accurate information possible.

It's free!
Let's discuss the basics of Quora and what you need to know before using it.
How to use Quora?
Quora aims to create a community of individuals who share and learn from each other. It is very easy to use the platform and connect with people all over the world.
The platform is particularly beneficial for entrepreneurs, marketers and researchers who want to build their online presence by sharing their expertise on a particular subject.
You need to create an account to use Quora. Be sure to follow your subjects of interest. Quora covers a wide range of topics, from business to art and science to technology. You can then familiarize yourself with the main features of the site, such as asking and answering a question and upvoting an answer as you wish.
Check out the instructions below to easily create your account and navigate the site.
How to Create a Quora Account
When you visit Quora for the first time, you will be asked to sign in or create an account on this colorful screen.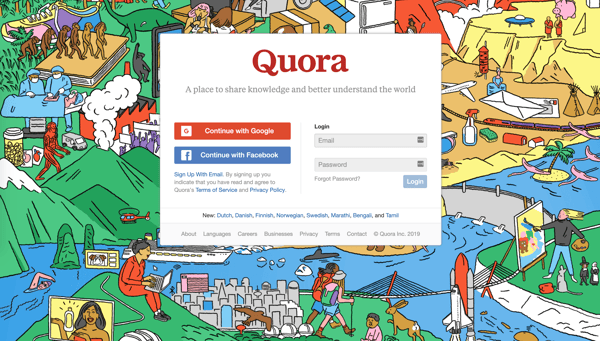 From that screen, click Sign up with email. After completing that page, you can complete other normal account creation requirements, such as adding a photo to your profile and connecting with friends on the site.
Then you can start following things that interest you. Quora is a perfect blend between a search engine and social media. You follow things on the site, but there's more emphasis on the topics below rather than the people. Either way, whatever you choose to follow will make up the content of your stream.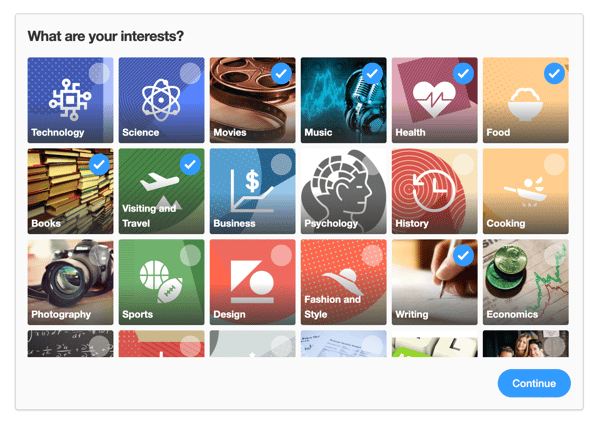 How to ask questions on Quora
After creating an account and selecting topics to follow, you can start using Quora. This includes asking questions on the site.
Click red to ask a question on Quora Add a question or link option in the upper right corner. A box similar to the one below should appear.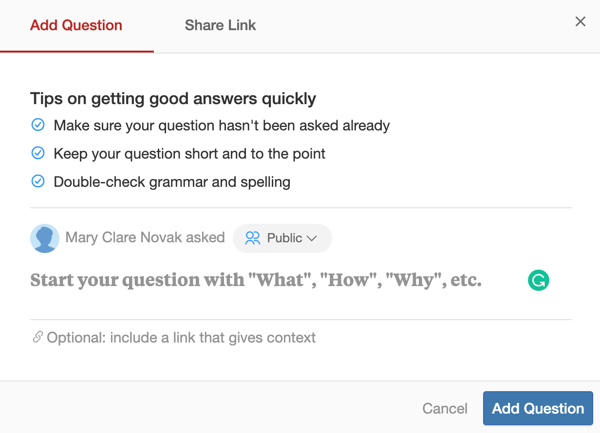 Enter your question and click Add Question:. Quora will ask you to select and review topics that are related to this question. After that, you just wait for people to respond.
How to answer questions on Quora
At the other end of Quora is the ability to answer other users' questions.
Before entering how You can answer questions on Quora, let's go over why you should.
You should only answer someone's question on Quora if you have a high-quality, honest, and accurate answer. Do not answer users' questions nonsense. A website like Quora can only thrive if all users respect the requests and answers of others.
That being said, answering questions on Quora is simple. Your feed will consist of questions related to the various topics you are following. Click on one of the questions for which you have a valid answer and click Answer: the button.

Go ahead and post answers on Quora to your heart's content, and make sure it's all accurate and helpful to the user who asked the question.
How to upvote and downvote answers on Quora?
Another feature of Quora that is useful to users is the upvote and downvote options. If you see an answer on Quora that you think provides a great answer to the question, you can upvote it. On the other hand, if you see an inaccurate or uninformative answer, you can downvote it.
The number of upvotes and downvotes on a particular answer will affect its visibility. If an answer has a lot of upvotes, it is considered valid and Quora will place it at the top of the list of answers. If an answer has more downvotes, users consider it invalid and Quora will not prioritize it for others to see.
This is what the screen looks like under the Quora answer section. The upvote button is listed on the left. The downvote button isn't labeled, but it's the straight down button on the right, circled in the image below for reference.

Quora FAQ
The FAQs below cover a variety of topics providing information on various aspects of Quora. If you are new to the Q&A platform, it will help you better understand the culture of the community, how it works, and how you can get the best out of it.
1. What is Quora Digest?
Quora Digest is a newsletter that the platform sends to registered users. The email consists of a list of personalized questions based on the user's interests and history and the best answers selected by Quora's algorithm. It also includes a call to action (CTA) to check out the full answer, which takes you to the website.
To subscribe to Quora Digest, go to your profile settings. In mails and notifications tabuncheck the box next to it Quora Digest: opt out of receiving emails.
2. Is Quora safe?
As a platform, Quora is safe to use. Although any information obtained from a website should be verified before linking.
3. How does Quora work?
As mentioned before, the Quora community creates all the content on the platform. When a user posts a question, other users who know or are interested in the topic can respond. Users then upvote and downvote the answers so that the most informative and relevant answers appear.
4. What is Quora used for?
Quora attracts different professionals for different purposes. Business people use Quora to promote their services, stay up-to-date with developments in their field, and establish themselves by answering questions related to their industry. Content writers use it to find inspiration and information for their articles. Researchers and scientists use it to connect with others in their area and gather information on a desired topic.
5. Quora vs. Reddit
The most notable difference between Quora and Reddit is the presentation of content on the platform. Quora follows a question-and-answer approach to the site. Reddit content, on the other hand, is in the form of links, images, and text posts that users can upvote or downvote to influence its visibility.
Another major difference is the tone of content hosted by the two platforms. Where Quora typically has a more professional and informative tone to its content, Reddit is a social news aggregation and discussion site with a more casual style. Reddit features a variety of topics, from technology and business to entertainment and even controversial topics.
Back to Quora Basics
In a world full of search engine options, find the one that best suits your personal preferences. Quora is a great tool for anyone looking to find and share information, especially if you enjoy a more social and conversational experience while researching. If you liked what you read above, you might want to consider creating a Quora account.
Want to learn more about establishing yourself as an expert? Discover how content marketing drives thought leadership and delivers value to your audience.
---
This article was originally published in 2019. Content has been updated with new information.