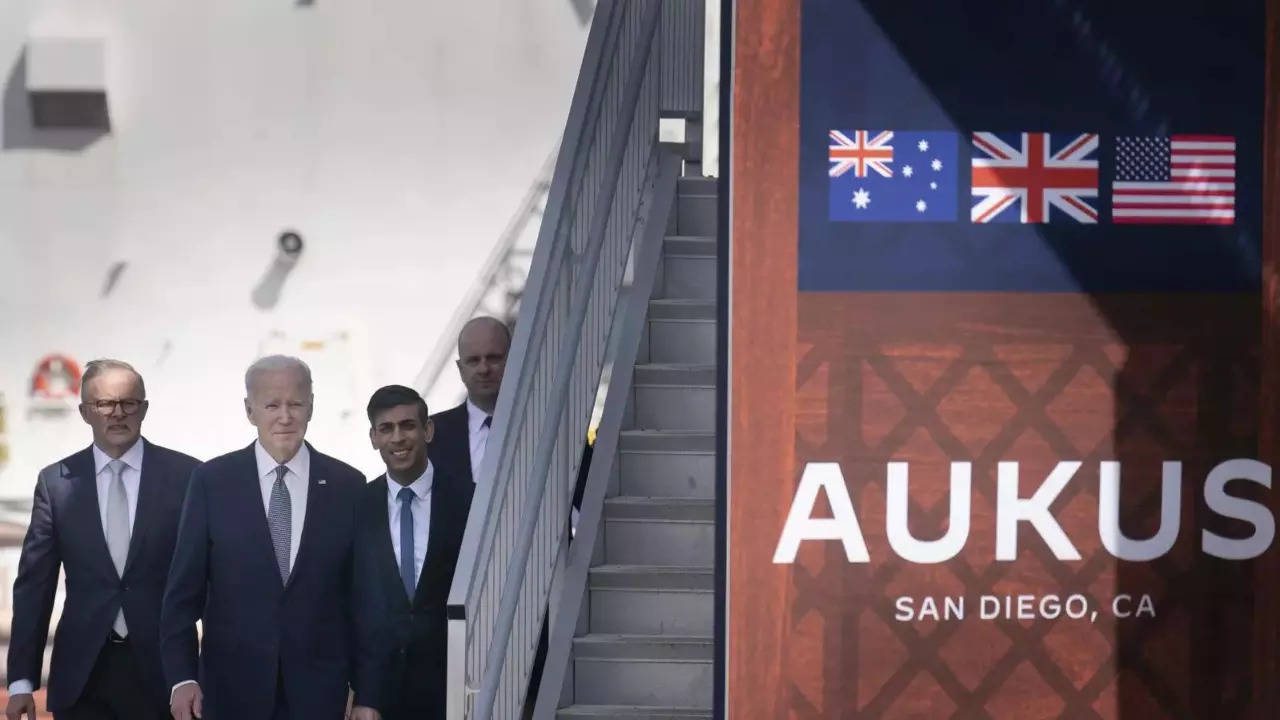 WASHINGTON. The United States, Australia and the United Kingdom have announced a nuclear-powered submarine deal, a move to counter China's aggressive behavior in the Indo-Pacific region.
The announcement came after the leaders of the three countries attended a summit in San Diego on Monday and insisted the move was to keep the Indo-Pacific region "free and open".
"With support and approval Congress:"Starting in the early 2030s, the United States will sell three Virginia-class submarines to Australia, with the potential to sell two more if needed, leapfrogging their undersea capability a decade earlier than many predicted," Biden said in San Diego with Australia. Prime Minister Anthony Albanese and the Prime Minister of Great Britain Rishi Sunak.
"This state-of-the-art conventionally armed nuclear-powered submarine will operate combining British submarine technology and design with American technology," he said.
Australia's future SSN:What Biden described as "SSN-AUKUS" will also be a state-of-the-art platform designed to use the best submarine technology from all three nations.
SSN-AUKUS will be based on the UK's next-generation SSN design, while incorporating state-of-the-art US submarine technology, and will be built and deployed by both Australia and the UK.
"From this year, Australian crews will be involved with US and UK crews on boats and at our schools and shipyard bases. We will also begin increasing our port calls to Australia. In fact, as we speak, a nuclear-powered submarine, the USS Asheville, is docked in Perth," Biden said.
"And by the end of this decade, we will establish a rotating presence of US and UK nuclear-powered units in Australia to help develop the manpower Australia needs to build and maintain its navy," he said.
Describing it as a new chapter in the relationship between the three countries, Albanese said it is a friendship based on their shared values, commitment to democracy and shared vision of a peaceful and prosperous future.
"The AUKUS agreement, we confirm here in San Diego, represents the largest investment in Australia's defense capability in our history, strengthening Australia's national security and stability in our region; Building an Australian-made future with record investment in skills, jobs and infrastructure; and ensuring a superior defense capability in the future," he said.
Australia will supply three nuclear-powered Virginia-class submarines to the US from the beginning of the next decade. This is the first time in 65 years and only the second time in history that the United States has shared its nuclear propulsion technology, he said.
Commenting on the deal, Sunak noted. "Sixty years ago here in San Diego, President Kennedy spoke of a higher purpose: the preservation of liberty, peace and security. Today we are together, united for that same purpose. Realizing that to make it happen, we need to build new kinds of relationships to meet new kinds of challenges, just as we've always done."
"Over the last 18 months, the challenges we face have only increased. Russia's illegal invasion of Ukraine, China's growing assertiveness, Iran's and North Korea's destabilizing behavior all threaten to create a world characterized by danger, disorder and division," he said.
"Faced with this new reality, it is more important than ever that we strengthen the resilience of our own countries. That is why the UK is today announcing a significant increase in our defense budget.
"We are providing an extra £5 billion over the next two years, immediately increasing our defense budget to around 2.25 per cent of GDP. This will allow us to replenish our military stocks and modernize our nuclear enterprise, supplying AUKUS and strengthening our deterrent force. Our priority is to continue providing military aid to Ukraine, because their security is our security," added Sunak.