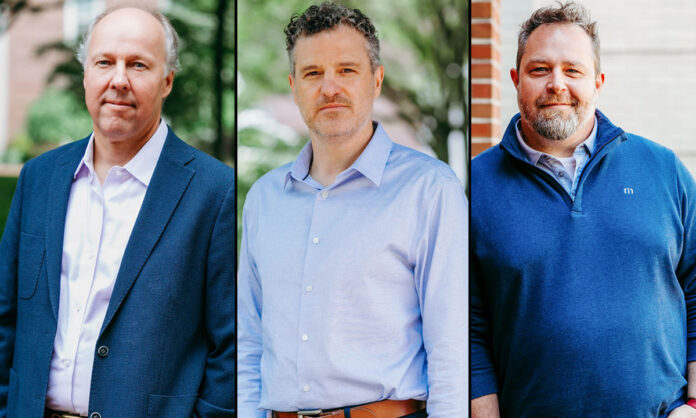 (Providence, RI – March 14, 2023)
Senior partners Paul Atteman, Joe Haskett and Jeremy Lake have taken on lead roles at Union Studio Architecture & Community Design.
"The Union has always believed that supporting and repairing communities is the work of many hands. What the Union has become and the positive impact we have made in the community is due to the passion and experience of our new directors. Paul, Joe and Jeremy have been instrumental in our company's sustainable growth trajectory and the key to delivering on our mission. We couldn't be more excited to share this news," said Donald Powers, Founding Partner and Douglas Calfelz, Managing Partner.
Since joining the union in 2002 as its first employee, Paul Attemann has remained a pillar of the company and has played a crucial role in its success. His deep experience in designing affordable communities is particularly sought after by nonprofit clients and community members throughout southern New England. As Director, Paul will deepen and expand his focus on workforce housing, as well as the Union's growing emphasis on "intentional communities" of all kinds. In recent years, Paul has established himself as a leading expert in community design for adults with autism spectrum disorder (ASD). He is an active member of the New Urban Planning Congress and served 10 years on the Zoning Board of Review for the City of Warren, Rhode Island. He is also the president of the Estonian Society of Boston. Paul holds a Bachelor of Architecture and a Bachelor of Fine Arts from the Rhode Island School of Design.
As an architect who has dedicated his entire career to sustainability, the adaptive reuse of existing buildings and energy efficiency in construction, Joe Haskett represents an important component of the union's mission. His demonstrated expertise in Passive House and Net Zero Energy Building Design, Adaptive Reuse of Historic Buildings, and Prefab Building Design has established the Society as a leader in building science and environmentally responsible design. As Director, Haskett will focus primarily on deepening the company's commitment and expertise in sustainable design and construction, with the goal of establishing the Union as a leader in global efforts to build more efficiently and sustainably. Prior to joining Union in 2012, John was the founding principal of Providence-based Distill Studio and gained international recognition for designing Providence's Box Office, a commercial office building constructed from recycled shipping containers. John was the first Certified Passive House Consultant (CPHC) through the Passive House Institute in the state of Rhode Island, and he is a lifetime member of the Northeast Sustainable Energy Association (NESEA), where he served on the Board of Directors. Joe holds a Bachelor of Architecture from The Ohio State University and a Master of Architecture, cum laude, from the Rhode Island School of Design.
For more than a decade, Jeremy Lake has been at the heart of the Union's commitment to designing connected, walkable, human-scaled and equitable neighborhoods and places. His completed work ranges from brand new, mixed-use neighborhoods to strategic urban infills. Clients range from for-profit developers planning new communities to communities struggling to protect local character while accommodating growth. As Director, Jeremy will focus on strengthening the Union's regional and national leadership in neighborhood development. Jeremy joined Union in 2012 after over a decade with Torti Gallas and Partners. He received a Bachelor of Arts degree from Bowdoin College and a Master of Architecture degree with a specialization in suburban and urban design from the University of Miami.
###
UNION STUDIO ARCHITECTURE & COMMUNITY DESIGN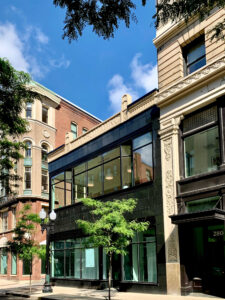 Union is a national practicing architecture and community design firm driven by its mission to harness the power of design to enrich lives and strengthen communities. Committed to designing sustainable places that will be loved for generations, the firm's work includes urban and community design, civic and institutional buildings, mixed-use developments and all types of housing. The Union's expertise is to understand the overlapping and intertwined needs of the community and the client to support the creation of new places that are financially and socially successful, as well as beneficial to the community and the environment.