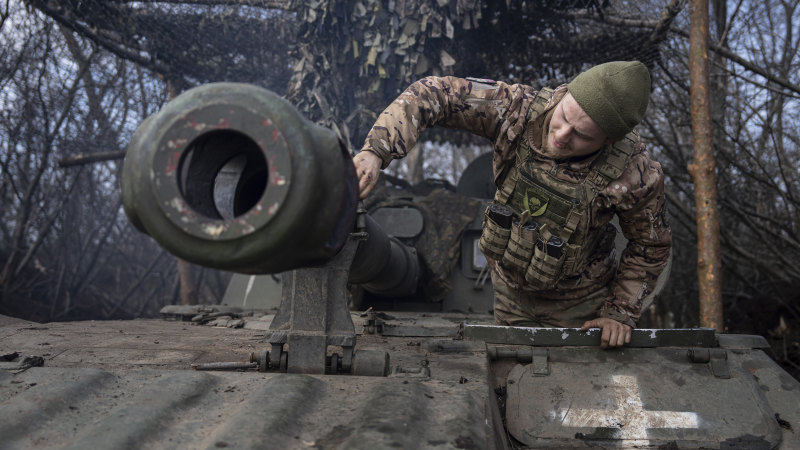 China's Foreign Ministry did not respond to requests for comment. The Kremlin said that it has nothing to announce yet.
On the frontline, Ukrainian soldiers said they were pushing back attacks near Kreminna, north of Bakhmut.
In the forest about 8 kilometers from the front, cannons fired, targeting enemy positions to the northeast. There were constant explosions in the distance.
"Two or three weeks ago, the fighting was at its peak, but it has calmed down a bit," said 35-year-old doctor Mihailo Anest. "There is a lot of artillery and mortar fire."
The trench warfare, described by both sides as a meat grinder, has taken a huge toll in Donetsk's Bakhmut, with both sides reporting hundreds of enemy soldiers killed.
Russia says taking Bakhmut will pave the way for the capture of all of Donetsk, a central objective of the war. Ukraine, which has decided to defend Bakhmut rather than withdraw, says wearing down Russian forces now will help its counteroffensive later.
But not all military analysts are convinced that defending Bakhmut is the best strategy for Ukraine.
"As of now, we have information that Ukraine is sending reserves to Bakhmut who have undergone training in Western countries. And we are suffering losses among the reserves, which we intended to use for counter-attack," said Oleh Zhdanov, a Ukrainian military analyst.
"We could lose anything here that we wanted to use for those counterattacks."
Roman Ponomarenko, a Ukrainian military historian, said the threat of encirclement was "very real".
"If we just give up Bakhmut and withdraw our troops and equipment, nothing terrible can happen … if they seal the ring, we will lose people and equipment," he told Ukrainian radio station NV.
The Prosecutor's Office of the ICC refused to comment. The Russian Defense Ministry did not respond to a request for comment.
Konstantin Kosachev, deputy speaker of Russia's upper house of parliament, has said the ICC has no jurisdiction over Russia after it withdrew its support in 2016.
"The ICC is a tool of neo-colonialism in the hands of the West," he said.
Russia has pushed back on previous accusations of forcibly relocating Ukrainians.
But it has not hidden a plan to take thousands of Ukrainian children to Russia, instead presenting it as a humanitarian campaign to protect orphans and abandoned children in the conflict zone.
Ukraine says thousands of expelled Ukrainian children are being adopted by Russian families, placed in camps and orphanages, given Russian passports and trained to renounce Ukrainian citizenship.
The UN Genocide Convention defines "the forcible transfer of the children of one group to another" as one of five acts that can be prosecuted as genocide.
Reuters: