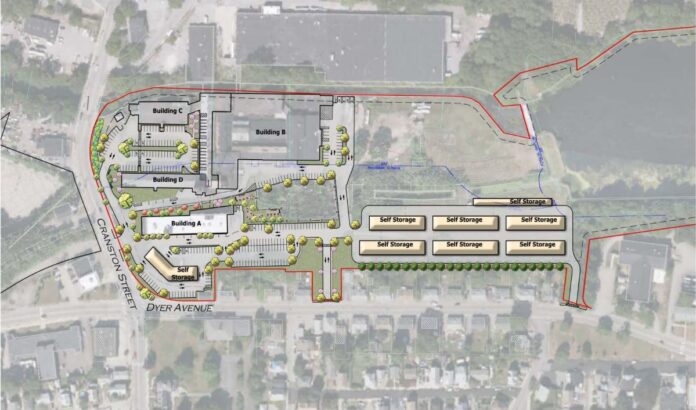 CRANSTON – The Cranston Plan Commission has approved a master plan for a 130-unit, mixed-use development on the former Cranston Print Works site with self-storage space.
The applicant, CPW True Storage LLC and CPW Apartments LLC, are proposing to convert the existing mill complex into a multi-unit apartment complex with self-storage units. The commission voted unanimously Tuesday night to approve the project.
"The city has been looking forward to seeing this redevelopment happen for a long time, so this is an exciting time," said Planning Director Jason Pezzullo. "Really getting master plan approval is a milestone."
Located at 1381 Cranston St., on a 4.2-acre parcel of land, the site operated until the early 2000s, but over the years the complex fell into what Pezzullo called a "blighted condition."
"The clock is ticking," Pezzullo said. "This is our last chance to get someone to reinvest the property."
There have been attempts to redevelop the area over the years, but this project is the first to reach the approval stage. New Hampshire-based Brady Sullivan Properties, the company behind the app, has a track record of turning factories, both local and regional, into "fantastic places that people love," Pezzullo said.
"I've been here since 2005," Pezzullo said. "And this is the third time developers have come to create a proposal for the site. But this is the first time anyone with real experience has actually done it."
The proposed development currently includes a total of 129 units: five three-bedrooms, 94 two-bedrooms and 30 one-bedrooms. It also includes 270 parking spaces, of which 258 are allocated to multi-apartments and 12 to self-storage and mini-storage.
Pezzullo said the commission is very excited about the project, which will simultaneously address the area's rental shortage while allowing for parts of the historic building to be preserved. The applicant will apply for historic tax credits from the state as it plans to preserve some of the complex's most iconic elements.
In order to build residential units for limited industrial use in the area currently zoned M-1, the applicant requested a zoning change ordinance to residential use, which the commission also unanimously approved. The ordinance will now go before the Cranston City Council for approval.
Pezzullo said the applicant hopes to break ground in late 2024 or early 2025, depending on a pending zoning change, historic tax credit application and further approvals needed at the preliminary stage level.
"The idea of ​​saving the complex, really getting the historic preservation of the most sensitive features … there's a lot of value in that," Pezzullo said.
Claudia Ciappa is a PBN staff writer. You can reach him at Chiappa@PBN.com.

Want to share this story? Click here to purchase a link that allows anyone to read it on any device, whether they're a subscriber or not.