Founded by Melvin Goh and led by his son Joshua Goh, Scorpio Electric is Singapore's first electric motorcycle company. It was established in 2017 under the parent company EuroSports Global Limited, which has been specializing in luxury car distribution for decades.
The name Scorpio is derived from Melvin's Scorpio horoscope, and the company's slogan "Take Charge" embodies character values ​​such as honesty, persistence, courage and hard work.
Melvin is the CEO of EuroSports Global and founding advisor of Scorpio Electric, and he envisioned the need for sustainable mobility alternatives. With Scorpio Electric, he aims to revolutionize the future of sustainable transportation, and the company's vision is to create zero-emission vehicles.
But instead of starting a car company, Melvin thought it would be more feasible to start an electric motorcycle company.
"It would be too expensive to start a car company. An electric motorcycle company would be much more enjoyable," explains Joshua, adding that they are convinced that electric vehicles (EVs) will disrupt the automotive industry.
Scorpio Electric's mission is to create electric motorcycles that are visually and experientially exciting, packed with new technology and connectivity. They challenge the boundaries of riding and ownership experience, centered around the three main pillars of design, performance and technology.
Taking over his dad's business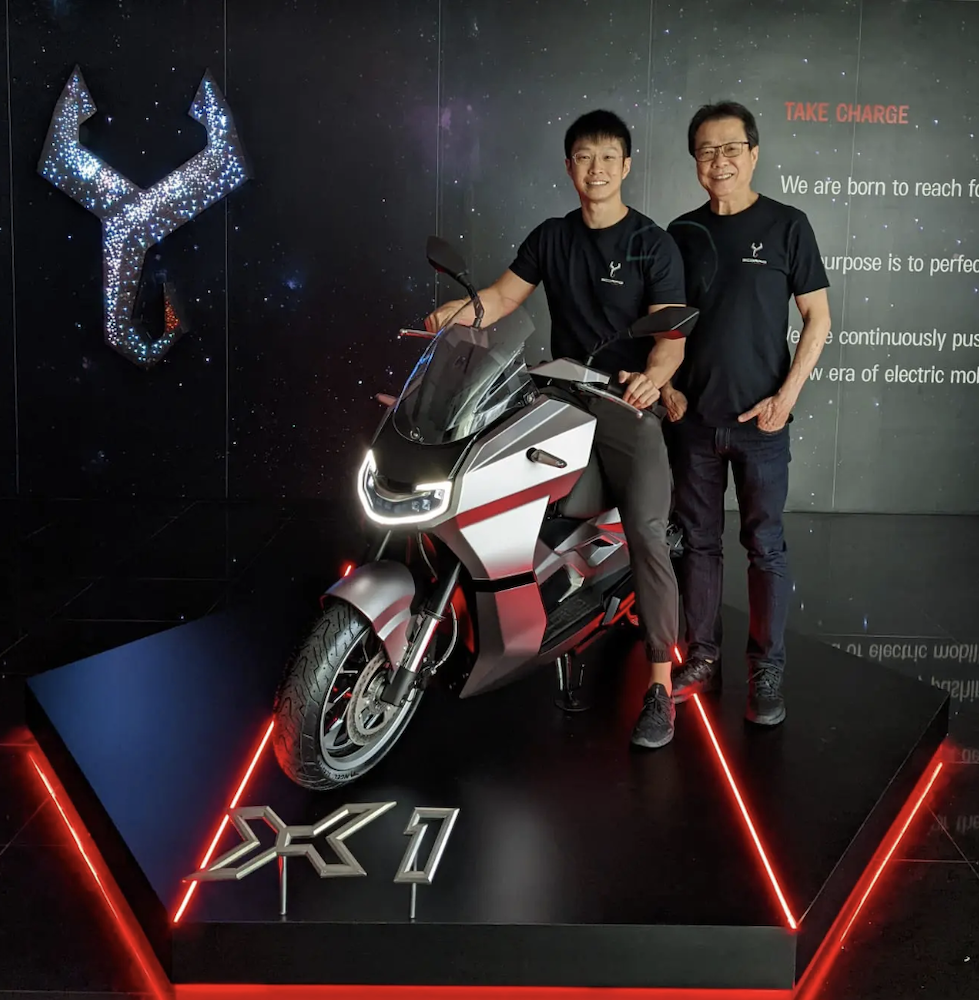 Joshua is currently the CEO of Scorpio Electric. He was surrounded by exotic sports cars from a young age and has a deep passion for all things automotive.
Prior to joining EuroSports Global Limited, Joshua had the opportunity to experience various roles in capital markets, corporate finance and corporate restructuring. His experience deepened his knowledge of the lingua franca in business and finance.
Joshua joined EuroSports Global Limited in 2017, where he has held a range of responsibilities across the company's portfolio of automotive brands, from overall operations to strategic planning and business development. In 2020, Joshua put his full focus on Scorpio Electric.
He took over Scorpio Electric after being approached with the idea by his father, who initially asked him if he wanted to run Alfa Romeo's distribution business unit. He mulled over the offer for two weeks and ultimately decided to return to the family business as he believed he was in the best position to help his family.
I began to focus on preparing Alfa Romeo's distributor business for the arrival of an all-new model range. A profitable automotive distribution business will free up positive cash flow for EuroSports Global to reinvest in Scorpio Electric.

Unfortunately we couldn't turn the corner and six months into our first year of sales I knew we had to turn around. We managed to acquire the distribution rights for Jeep Indonesia, [and] I was excited about the 270 million market. The activities were already planned because we were already the official distributor of Lamborghini Jakarta, so I went.

– Joshua Goh, CEO of Scorpio Electric
However, in late 2019, signs of the COVID-19 pandemic emerged, and by early 2020, it became apparent that their efforts to introduce a new automotive brand were unsustainable.
They eventually regrouped and explored different proposals to increase revenue or reduce costs. Melvin found Joshua's ideas impressive, prompting him to ask his son to help him at Scorpio Electric.
"We're making progress in the right direction, but there's still a lot of work to do because we're just getting started," Joshua said.
Meet its flagship product, the X1
Scorpio Electric's flagship product, the X1, took five years to design, engineer, test and validate.
According to Joshua, the company's X1 electric motorcycle is a game changer.
The automotive ecosystem here in Singapore is non-existent and we want to grow Singapore's capabilities over time. Since then, no one in Singapore has chosen this path because such an exercise involves complexity, time and cost.

– Joshua Goh, CEO of Scorpio Electric
Named after the most powerful star in the constellation Scorpius, the X1 is designed to challenge the boundaries of urban electric mobility.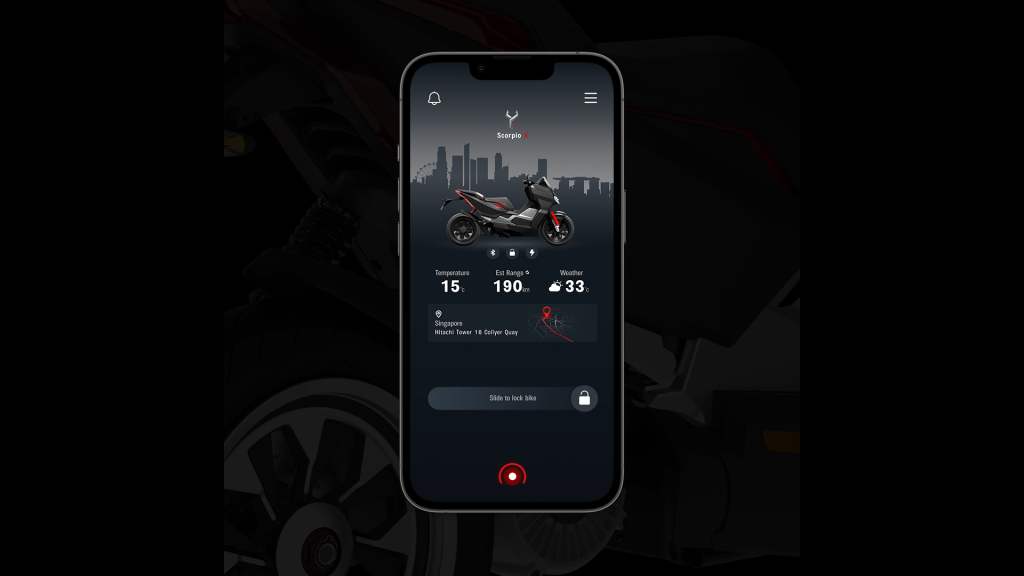 The X1 is a premium electric motorcycle with impressive specifications such as a top speed of 105 km/h and an industry-leading range of 200 km on a single charge. It offers seamless connectivity to mobile apps and is equipped with an array of sensors that collect real-time data for AI-assisted predictive analytics.
Boasting a futuristic and distinctive design, the X1 is presented as a practical maxi-scooter that offers dynamic ride and handling qualities.
Smart rider technology and connectivity are built into this scooter, and it includes a permanent magnet synchronous motor and a lithium-manganese cobalt oxide battery that works in harmony with its own vehicle control unit to seamlessly power the X1.
Charging ahead to build a sustainable mobility brand
Scorpio Electric faced many challenges in its early days. The company had to get the team right and it took them a whole year to do it.
Finding the right talent and building a supply chain ecosystem were key challenges. "Not everyone is brave and ready to work or do business in a startup," Joshua said simply.
At Scorpio Electric, Melvin was a driving force in the early design and development of the brand, product and company culture. At the same time, Joshua's goal was to learn as much as possible about the company's current and future plans and ensure consistent and consistent communication within the organization.
The company has been fortunate to have the support of local authorities in some of its corporate and engineering related matters. This support helped the company overcome some challenges and now it is on the verge of great progress.
The COVID-19 pandemic has disrupted global supply chains and delayed most of Scorpio Electric's projects, but it has also highlighted the need for sustainable energy solutions, which have become even more urgent in recent times.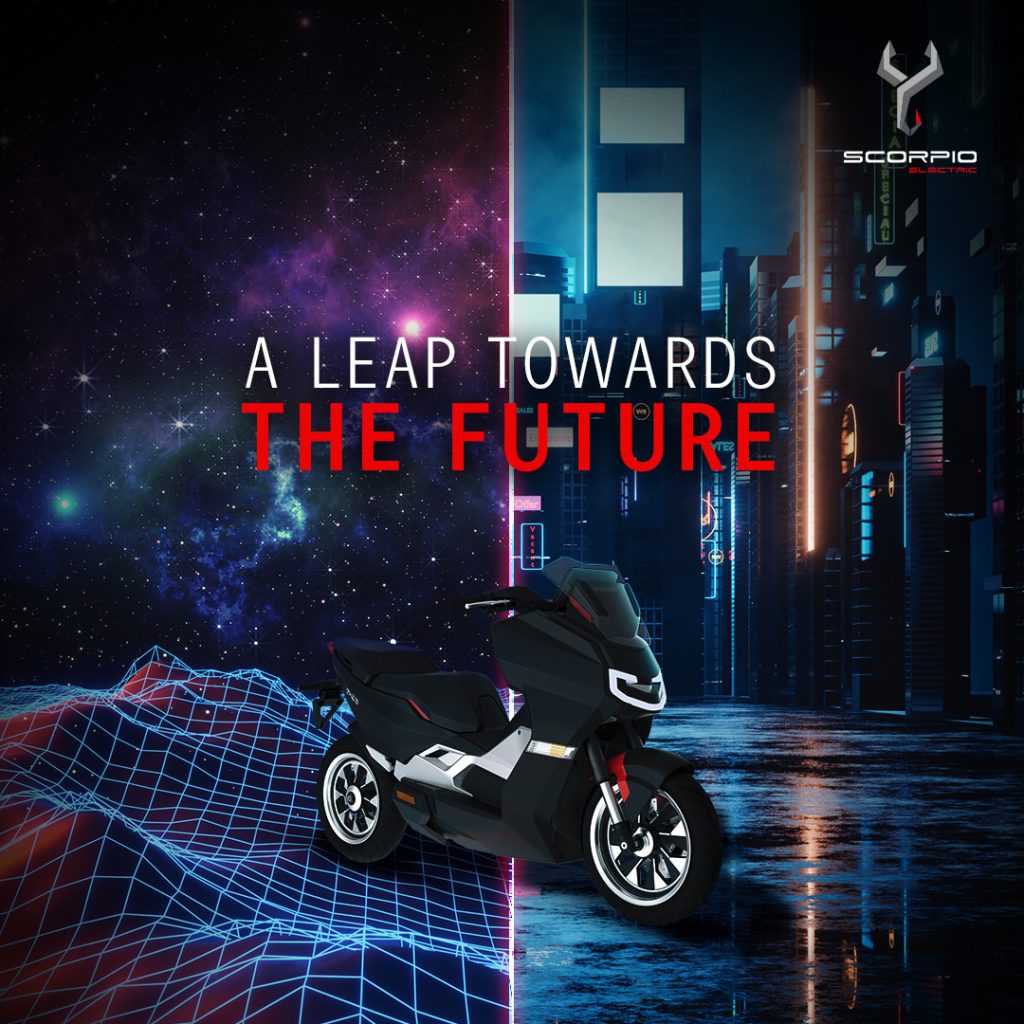 In late 2021, we had the virtual pre-order launch of the X1. The order book has been strong and our fans and supporters are looking forward to the delivery of the X1 in the second half of 2023. Singapore is our home. [so] we'll have our X1 opening here.

– Joshua Goh, CEO of Scorpio Electric
He added that the X1 is a European homologated international product and any market that accepts European homologation standards as a reference point will be Scorpio Electric's playground.
Leveraging EuroSports Global's strong distribution experience, they will work closely with their partners to establish direct sales or distribution channels in the Asia-Pacific and European territories.
Scorpio Electric recently raised $6.75 million in funding in January of this year, which will be used to build the first batch of X1 pre-production prototypes. During development and testing, Joshua said that "the X1 will look more distinctive in its final form."
The company has the backing of investors who understand its vision, and the new injection of funds will enable Scorpio Electric to continue developing innovative and sustainable electric vehicles.
"This year is an interesting year for us. We continue to lay the groundwork for the business, harvesting the seeds we have sown over the past five years. As we establish strong distribution channels across regions to commercialize future products, we finally see our Scorpio Electric bike on the road this year," said Joshua.
"Nonetheless, our team is working tirelessly to design, prototype and test plans for the future model range. We will continue to push the boundaries to welcome the new era of electric mobility," he added.
Featured image credit: Scorpio Electric