Posted on April 6, 2023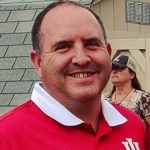 By Stephen Vilardo, SuperWest Sports
The 2023 NCAA Tournament brought upsets at every turn. During the regular season, there was never a dominant team that you said, "They'll be playing in Houston in April."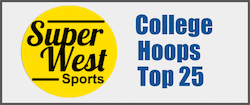 When April rolled around, we had a dominant team in UConn, and they cut down the nets on Monday night.
So, what will the 2023-24 season bring us?
In December will we be able to spot a team and say they'll be Phoenix in the Final Four? Probably not, so I'll go ahead and take a crack at it today and see what sticks.
With that here is our SuperWest Sports Way Too Early Top-25 for 2024….entirely too early.
1. Duke Blue Devils
Jon Scheyer's squad started to play very well down the stretch. The second season for the head coach could be an incredibly good one.

The Blue Devils could see Kyle Filipowski return for a second season and could be joined by Jeremy Roach in the coming days.
Duke already has Tyrese Proctor and Mark Mitchell returning for another season in Durham and the incoming class is ranked among the top three in the nation depending upon the outlet doing the rankings.
This could be a scary good Duke team by March 2024.
2. Marquette Golden Eagles
The Golden Eagles have a chance to return all five starters from the squad that won the Big East regular season title.

Seven of their nine-man rotation this season were either freshmen or sophomores.
Marquette won 29 games this season and there is no reason to believe Shaka Smart's team won't have a repeat performance in 2024.
3. Connecticut Huskies
The defending champions will look to run it back next season and should have a core group that could give us our first repeat title winner since Florida won consecutive titles in 2006 and 2007.

Jordan Hawkins will be in the NBA, but Adama Sanogo should return, and even if he doesn't Donovan Clingan is ready to step into that role.
Stephon Castle is going to be a special player and headlines a good recruiting class for Dan Hurley.
The Huskies will be a factor again next season.
4. Creighton Bluejays
Creighton is a team whose outlook for next season very much depends on decisions made by the current squad. If everyone available comes back the team will be a contender for the Final Four.

Ryan Nembhard and Ryan Kalkbrenner form one of the most potent duos in the nation. Put the two with Trey Alexander, Arthur Kaluma, and Baylor Scheierman for another season and the Jays will be a force.
Now the big question of those five is, who comes back? Creighton could be very good…And the top end of the Big East could be really fun to watch!
5. Kansas Jayhawks
Kansas has some holes to fill but Dajuan Harris is returning to run the show. At his disposal inside will be KJ Adams who will be one of the best big men in the country.

Jalen Wilson and Gradey Dick are gone, and Kevin McCullar has a decision to make, but the Jayhawks reload. Elmarko Jacson should be a scorer from the moment he arrives in Lawrence.
Bill Self will be back on the bench and who knows how much his health issues played in the NCAA exit.
6. Arizona Wildcats
Ahe Wildcats are the first team from the west to show up on this entirely too-early ranking.

Azuolas Tubelis should be back in Tucson for another season and having a potential National Player of the Year is a wonderful place for Tommy Lloyd's crew to start.
Oumar Ballo will team with Tubelis to form one of the best frontcourts in the nation.
The departure of Kerr Kriisa opens up a spot for Kylan Boswell in the starting rotation. Pelle Larsson returns and will be able to stretch the floor.
7. Houston Cougars
The Cougars have won 65 games over the course of the last two seasons and have registered at least 28 wins in four of their last five.

This is a Houston program that will be able to overcome their departures, even when one of those leaving is Marcus Sasser.
The move to the Big 12 will be eased by Jamal Shead back to run the point again for the Cougars.
8. Michigan State Spartans
The Spartans are another team that started playing their best basketball at the tail end of the season.
For one thing, that is always what a Tom Izzo-coached team does, but secondly, things started to click in February.

Xavier Booker is a top recruit and has the size and skill to be a lottery pick when he leaves East Lansing.
AJ Hoggard is an incredibly good point guard while Jaden Aikins and Mady Sissoko should see their scoring production increase in 2024.
The class coming into East Lansing is rated as one of the top classes in the nation.
9. Purdue Boilermakers
Purdue started the season with a bang and ended it with a clang. The Boilers bowed out of the NCAA in the first round at the hands of FDU.

Guard play is what let Purdue down in the tournament and was their Achilles, really all season.
I am basing this ranking on the thought that Zach Edey will be back and that will again make the Boilermakers a really hard team to beat in the regular season.
Obviously, if he does not return then that changes things—I am not sure how his game translates to the NBA—but that is a debate for another time.
Braden Smith and Fletcher Loyer will have a season of experience in the backcourt. Will their improvement be enough for a deep run in March?
10. Miami Hurricanes
Isaiah Wong could come back, but the ACC Player of the Year is probably not going to be. Nijel Pack will return for the Canes and Norchard Omier will again be a force inside.

Jim Larranaga has led Miami to a 7-2 mark in the last two NCAA Tournaments, the Hurricanes have staying power.
And with Wong, maybe he does come back, you never know what the NIL pull in Coral Gables may do.
For that matter, that NIL money could also sway some transfers to South Florida.
11. Florida Atlantic Owls
The Owls were the darlings of the NCAA Tournament with their run to the Final Four. But don't let the Cinderella moniker fool you. This was a very good basketball team all season long.

They were mis-seeded, and Conference USA should have had more than one team in the field.
FAU is set to bring everyone back from the 35-win team. The Owls are not going away next year.
If the school pays him and he decides to remain in Boca Raton, Dusty May could build something like what Mark Few has done with Gonzaga.
12. Kentucky Wildcats
Kentucky will be back. For that matter where did they really go? Sure, they were a six-seed in the tournament—a six-seed.

Sure, they had not made it out of the first round in a few years. If you believe reports from folks in Lexington the sky was falling, and the end was nigh.
They beat a good Providence team in the first round this March. John Calipari has four of the top 10 incoming freshmen in the fold led by Justin Edwards.
DJ Wagner and Robert Dillingham could be really fun to watch in the backcourt.
All is right in the Bluegrass State again. (At least until they lose a few games, the fan base goes after the coach, and the coveted freshmen start their own draft day countdown).
Eh…either way, things are back to normal in Lexington.
13. Colorado Buffaloes
I am really high on Colorado here and for good reason. Tad Boyle has Eddie Lampkin coming in from TCU as a transfer.

Incoming freshman Cody Williams will likely hear his name in the first 10 in the 2024 NBA Draft, or whenever he goes pro.
Put those two with Julian Hammond, KJ Simpson, and Tristan da Silva, and the Buffaloes have a squad that could play with anyone in the country.
2024 could be a very exciting year in Boulder.
14. Arkansas Razorbacks
Eric Musselman is bringing in a pair of talented freshmen in Baye Fall and Layden Blocker.

Devo Davis is back and can be a stopper on the defensive end as well as offensive production.
Davis along with Trevon Brazile and the freshmen give the Razorbacks more than enough talent to continue to win games in the SEC.
15. Texas A&M Aggies
On December 20th, the Aggies lost to Wofford at home to move to 6-6 on the season.
But Buzz Williams' squad closed out the season 19-5 in their last 24 with all five losses to tournament teams.

Just about everyone from that team should be back in 2024, including Wade Taylor and his 16.3 points per game.
Down low, the Aggies should be a force with the tandem of Julius Marble and Henry Coleman.
16. USC Trojans
I think the Trojans could be really good next season. Drew Peterson and Boogie Ellis are gone, but the cupboard is hardly bare.

Kobe Johnson, Tre White, and Joshua Morgan are all back. A fully healthy Vincent Iwuchukwu could be a breakout star.
And speaking of stars, Andy Enfield will most certainly have one in Isaiah Collier, he is an elite player. The incoming freshmen will distribute the ball and can score.
17. Alabama Crimson Tide
Alabama will lose plenty from the number one overall seed in the tournament, Brandon Miller and Jahvon Quinerly most notably.
But some of the distractions that came with their talent will be leave with them.

Nate Oats has already brought in a scorer via the portal in Jaykwon Walton from Wichita State.
Mark Sears and his 12.5 points per game are also back in Tuscaloosa along with four teammates that saw considerable playing time.
The talent will be there again for the Crimson Tide.
18. Maryland Terrapins
Maryland is another team that came on very strong, especially in the latter half of the season.

Not a whole lot was expected of the Terps in year one under Kevin Willard and they produced. Jahmir Young is extremely talented and will be back alongside Julian Reese.
This is a Maryland squad that could see a big jump in Year Two under Willard.
19. San Diego State Aztecs
San Diego State had a memorable run to the finals, but UConn proved to be too much in the Championship game.

They'll have to replace Matt Bradley, Natan Mensah, and Keshad Johnson, but Brian Dutcher's team was one of the deepest in the nation in 2023.
Lamont Butler, Micah Parrish, and Darrion Trammell should all return. BJ Davis is a solid incoming freshman.
The Aztecs should once again be a quality team.
20. North Carolina Tar Heels
The Tar Heels were the preseason No. 1 entering the past season and did not make the NCAA Tournament.

The simple fact is that in 2021 the Heels were an eight seed and made the final…and there was a reason they were an eight seed.
They got hot that March. A disappointing 2023, sure, but the No. 1 ranking was wrong from the start.
RJ Davis and Armando Bacot return. Those guys are talented. Caleb Love is not back, he is also talented, but this one could be a case of addition by subtraction.
21. Texas Longhorns
The Longhorns could have folded things up and tossed away the season following the Chris Beard incident and firing.
They did not, and interim no more head coach Rodney Terry righted the ship.

The Longhorns have some players with some decisions to make in the next month. Dillon Mitchell will depart for the draft. Tyrese Hunter may but I think he'll be back.
Assuming Hunter is in the fold along with Dylan Disu Texas has a good starting point. Ron Holland entering the program as a top-five recruit and AJ Johnson will join him in Austin with significant upside as well.
22. Saint Mary's Gaels
No more Logan Johnson and Alex Ducas for the Gaels but Aidan Mahaney is back.

Mahaney had an excellent first season in Moraga and could be poised for a gigantic sophomore year. Mitchell Saxen scored 11.6 per game and will be back in the post.
Jordan Ross is a top-100 recruit that should see the starting lineup in his first year.
No matter who is there, you know SMC will bring the defense every game. And when you defend as well as the Gaels do, you're going to win games.
23. Gonzaga Bulldogs
What will life after Drew Timme be like for the Zags?

Well, it will also be life without Julian Strawther, most likely, as he should hear his name in the opening round of the draft if he decides to go that route.
If he comes back, the Bulldogs would immediately jump up this ranking.
While there may not be a lot of production returning, Nolan Hickman and Malachi Smith could be one of the better backcourt units in the nation next season.
Dusty Strommer will be a good freshman and look for Mark Few to get some work done in the transfer portal. Ben Gregg could be poised for a big season in Spokane.
24. Missouri Tigers
The Tigers were sneaky good this season reaching the Round of 32 in the tournament. Kobe Brown should be back and provide plenty of offense.

Dennis Gates also should see a jump in his second season as head coach.
Look for Gates to access the portal for upgrades. He already has added John Tonje from Colorado State and could get another shooter or two.
Columbia could be a landing spot for Caleb Love of North Carolina or Indiana's Tamar Bates. Both have the potential to fill up the basket….but also the potential to fill up the missed FG attempt column.
25. UCLA Bruins
Mick Cronin's team lands the final spot on this ranking.
Amari Bailey and Adem Bona both could be back at UCLA next season, and if they are, that is huge.

Both of them also could declare for the draft, which would be less than ideal for the Bruins. My guess is at least one of them is in the NBA 12 months from now.
Mick Cronin always seems to get his teams to win games and get in the Top 25, though, and I think next year will be no different.
Could next year be more difficult? For sure.
Dylan Andrews, Will McClendon and Kenny Nwuba will all need to make significant jumps, regardless of who is playing with them.
Devin Williams and Sebastian Mack will step into the rotation—if not starting lineup—early in their careers.
---
—More from Stephen Vilardo—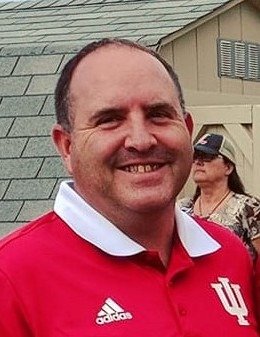 Latest posts by Stephen Vilardo
(see all)