Comparing Saucony vs ASICS really comes down to a lot of personal preference. And of course some proprietary technologies, fit, and feel.  They're easily among the most recognizable brands and for good reason; both make exceptional running shoes for various running styles and body types.
Both brands are known for their quality and offer a variety of models to suit different needs like overpronation, cushioning, and various styles of running.
And don't worry, just because I share a last name with one brand doesn't mean my opinion is biased. 😉
Asics top models are the Gel–Kayano and the Nimbus, which are designed for neutral to mild overpronators. Saucony's most recognizable shoes are the Kinvara, Guide and now the Endorphin line. So what does all of that mean?
Let's look at some key differences between the shoe brands, then we'll compare features and go head to head with individual shoes to help you find the best fit.
The Main Differences Saucony vs ASICS
Saucony and ASICS offer similar features and models for all kinds of runners, from the casual runner to extreme marathoner to the flat-footed or high-arched.
I break down the differences in more detail below, but here's a quick overview of each brand:
Saucony Running Shoes

Often noted as fitting a more narrow foot, with a smaller toebox
Wide range of heel drops from traditional 12mm to lower 4mm
Well known for the casual shoes as well as their running shoes
Focus is on lighter shoes that provide maximum comfort
Has an ongoing Fit Tester program to continually update shoes
ASICS Running Shoes

Average fit for traditional running shoe, definitely not wide
Famous for its GEL technology, which provides shock absorption
Designs a variety of shoes for many different sports
I've worn both brands and will add some personal thoughts, along with links to detailed reviews.
If you're looking for other comparisons, checkout ASICS vs Mizuno or Saucony vs HOKA.
How do you say Saucony?
Since I used to get this question a ton wearing my Kinvaras, let me help you out.
Sock-a-knee.
It's actually named after a creek in Pennsylvania and their logo is to represent the flow of water! They really love places for shoe names. I got to visit the actual towns of Kinvara and Kilkenny in Ireland, just a few of their shoe names.
ASICS vs Saucony Feature Comparison
Both brands have been around for a very long time and are leaders in running shoe design. They both offer various technologies to aid with comfort, support, stability, and cushion. Where they differ most are in the fit.
The following breaks down each shoe based on the components buyers need to consider when purchasing a running shoe.
It's gonna get a little TECHY…so you can just skip on down to the specific model comparison if you want, but personally if I'm shelling out $150 for shoes, I kinda want to know why.
Durability 
The lifespan of shoes from both companies is fairly comparable.
Saucony states their shoes last around 400 miles, which is pretty average. The new Endorphin pro with the carbon fiber plate is  more like a racing shoe and therefore only expected to last around 200 miles.
ASICS recommends swapping out for new shoes every 450 to 500 miles.
Determining when to replace running shoes, of course, all depends on your gait, weight, and whether you run mostly on trail or road.
Saucony vs Asics Sizing
Saucony has their own Shoe Advisor to help put you in the right model. I've always found them to run true to size, but some are for a more narrow foot.
Their often lower heel to toe drop and cushion make them a favorite of distance runners, who find the decreased drop helps with issues like IT Band Syndrome and ensures they are working on hip strength over a shoe correcting a weakness.
ASICS shoes have a more snug fit, particularly in the heel and midfoot. An external heel clutch delivers targeted fit and support, while the Gel technology allows for foot movement in various directions as the foot transitions, reducing heel strike.
While ASICS also features a shoe fit guide, it takes a little sleuthing to find (you're welcome).
This is an older, yet still very USEFUL graphic from the Huffington Post.
I forget we may not all know the lingo when talking about different components of the shoe and why they matter.
Cushioning
Saucony has transitioned most of their shoes to PWRRUN technology, which they promote as a better than the standard EVA foam used by most brands.
PWRRUN+ midsole cushioning provides more flexibility, durability, and springiness in a foam that's 25% lighter
Again and again their focus comes back to lighter, flexible for more power in your take off and more energy return
ASICS uses Flytefoam technology that provides bounceback and responsiveness with each step. It gives a bit less energy return than Brooks shoes, but the two technologies are fairly similar.
The company has been using their famous Gel technology for more than 30 years. It works well to absorb the shock with each step.
Stability
Saucony has been transitioning to less aggressive stability tools, ensuring the shoe is not over correcting or doing the work for you. They are doing this largely by increasing stack height.
They utilize a medial post (which is a device within the midsole that is firmer) to help provide control and a TPU heel plate which again makes the rides slightly firmer and adds control. Thanks to the cushioning, you don't so much notice the stiffness and reap the benefits.
ASICS shoes provide stability through a dual density midsole system called Duomax, which enhances support and stability. That, along with the external heel clutch allow the foot to continue its natural movement while running.
Affordability
The prices between the two brands are fairly comparable. Saucony prices range between $100 to $170, while ASICS start at a slightly higher price at $110 to $160.
The most popular models for both brands are priced toward the higher range. The Endorphin line being over $200 for carbon fiber.
You'll notice that every brand offers a range and this is indeed due to a difference in technology and where they sell the shoe. They know that the big box store can sell the shoe with less in it, while the local running store needs to be best for dedicated runners.
ASICS Vs Saucony Running Shoe Models
Now that you know more about each brand, let's look at their top models in each of the main categories. There's no winner declared here because all are great shoes, it's just about which one is best for your foot.
Did you notice I even said the brands in reverse order this time…seriously no favorites, I have run in both brands many different times over the years.
Stability Running Shoe
👉ASICS GEL Kayano 29
The GEL Kayano is now in its 29th iteration and known as one of the best stability shoes on the market. Great for overpronators seeking stability, the GEL Kayano is an ideal shoe for marathons.
The heel and footbed are designed to provide maximum comfort and stability, which is great for longer distances. The uppers are lightweight, breathable, and durable, making them a great choice for running in any weather. The outsole provides good grip and traction on a variety of surfaces.
Overall, these are a great running shoe and I highly recommend them to anyone looking for a comfortable and supportive running shoe. There's a reason this shoe is one of their top sellers.

10 mm drop
9.5 oz women's, 10.5 oz men's
$160
Available Amazon, Zappos, nearly every running store
Read my in- depth review of the Kayano!
👉Saucony Guide
In this model, Saucony not only paid attention to the support below, but uses the upper for additional stability. It wraps around your foot, helping you feel more secure in the shoe,.
And as noted their stability is there, but without being aggressive so you aren't feeling it…it's just working. Plus, the ride still feels cushioned which was something that many traditional stability shoes lacked. That's my kind of shoe.
8mm  drop
 7.8 oz women's, 8.8 oz men's
$140
Neutral Running Shoe
👉ASICS GEL Nimbus 25
This shoe will appeal to most runners looking for a neutral fit. The inclusion of ASICS technologies like the Flytefoam and the GEL offers cushioned support with a responsive fit. Whether you're a casual runner or a hard core marathoner, this shoe is a great choice for a daily trainer.
I like the lower drop on this shoe for the majority of runners and find it's right in the middle for cushion. Not too much to lose your step, but enough to still feel good.
If you're looking for similar performance with a lighter environmental footprint, take a look at the GEL Nimbus Lite.
8 mm drop
9.2 oz women's, 10.5 oz men's
$160
Available Amazon, Zappos, nearly every running store
Read my full review of the Nimbus!
👉Saucony Ride or Saucony Kinvara
These two are the most popular neutral running shoes from Saucony. Both have been around for many years and continued to improve.
What's the difference in the Ride vs Kinvara?
Cushioning is thinner on the Kinvara making it often more suitable for half marathon and under
Kinvara is often seen as your tempo run or race shoe, the Ride your everyday training
The Ride is focused on cushioning and support, while the Kinvara is designed for a more natural and lightweight feel.
Saucony Ride
The ride is a great everyday trainer. I've used it a few times throughout the years.
It's a great option for those who want a little more support for those longer runs. While not a stability shoe, it's going to have the slightly higher heel drop and weigh just a bit more for the added cushion and support.
8mm drop
 7.8 oz women's, 8.8 oz men's
 $140
Saucony Kinvara
This has been one of my go to shoe's for many years. The newest model is starting to feel like a departure from what I loved in 2010, but it's still a shoe that I'll continue to wear.
The stack height has increased to add more cushion and stability to the run, but as you can see they are holding on to that lightweight and low drop. It's hard to find low heel to toe drop shoes, so this is a big time winner.
Cushioned Running Shoe
👉 ASICS GEL Cumulus 24
The Asics GEL Cumulus is an excellent choice for runners who are looking for a comfortable, lightweight running shoe. The cushioning in the heel and forefoot provides a great deal of support and shock absorption, making it great for long runs and trail running.
The upper is breathable and lightweight, and the lacing system is secure and easy to use. The rubber outsole is durable and provides excellent grip on wet or dry surfaces. 
They don't consider this their most cushioned shoe, that distinction now goes to the new Superblast. I've only stuck with the Cumulus here because it's still such an incredibly popular shoe and the Superblast is a unisex and maximal shoe which doesn't always fit everyone as well.
8mm heel drop
8.8 oz  women's, 10.1 oz men's
$130
👉Saucony Triumph
This super cushioned shoe is a favorite for many, though you are getting a touch more weight for all that cushion. Many say that it feels both like your foot is being hugged and like every step is a bit bouncy.
While I wouldn't call it bouncy after spending time in the Nike Vaporfly, I would say it's a shoe that I absolutely turn to for longer runs. I know that my feet and legs are going to feel great from getting just the right amount of cushion without losing a lot of energy to something too plush.
This is a great long run and everyday trainer.
8mm drop
 9.1 oz women's, 10.2 oz men's
 $150
Carbon Fiber Plate Shoes
Are they cool new technology, yes. Do they last as long as your other shoes, nope.
So if you want to test these out use them for speed work and then race day! Watch my detailed video on how Carbon Fiber Shoes work.
👉ASICS Metaspeed Sky
ASICS is trying to catch up in this area and released a few shoes all at once which many folks can't quit tell apart.  The Edge is going to be the shoe with less cushion, less weight and better for those racing sub 3, etc.
This is a maximum cushioned carbon fiber plate for the marathon runner in you. It's going to give you both that feeling of comfort over the miles along with the pop that's often lost in a highly cushioned shoe.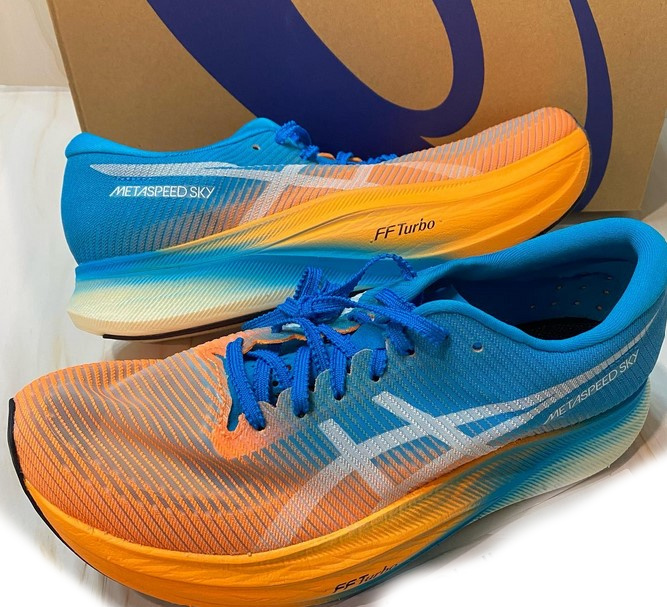 Unisex in the SKY+
5 mm heel drop
5.8 oz women's SKY, 7.2 oz SKY+
$250
👉Saucony Endorphin Elite
I've run in the Endorphin pro for a few races, but the new Elite is taking carbon fiber to the next level for them. In modeling the success of Nike Alphafly, they are adding super lightweight foam and stack height. The goal is by combing the foam and the carbon fiber you get a ride that really propels you to go the distance with less fatigue.
So far this shoe is beloved, as is the ASICS META. I think it comes down to which brand you already wear and know fits you well.
Unisex
8 mm heel drop
8.1 oz
$250
What about the Endorphin Line?
Because Saucony really shook things up introducing a whole new line of shoes, it feels like there needs to be at least some discussion here!
One of the big things they talk about is the Speed Roll to help roll your foot forward, which is actually pretty similar to the rocker that Skechers put in their running shoes from the start.
Endorphin Pro – Designed for speed with the carbon fiber plate, this is your race shoe
Endorphin Shift – This feels like a cushioned slightly stabilizing shoe, good for everyday training.
Endorphin Speed – Also designed to be a neutral, cushioned shoe you can take to the race, but without the carbon fiber plat
Watch my detailed video on how Carbon Fiber Shoes work.
More about Saucony
Like another well known running brand (New Balance), Saucony started it's first factory in 1898. And by 1910 they were making running spikes…but few people were running or even looking for running shoes, so it wasn't until the 1970's that they started to grow.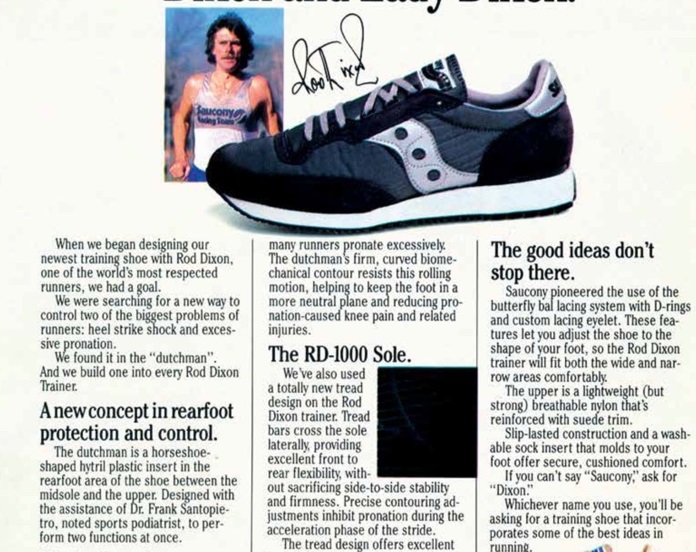 First they became known for their casual shoe with it's cool style and then, the big time hit.
Runner's World featured them in 1979 as a top 10 running shoe. By the 80's they were making shoes with a non-slip sole which was a big innovation.
Then came 2009 and the Saucony Kinvara – this one shoe changed many things about their design and philosophy. It was the more natural running shoe (yes during the barefoot trend).  The new goal became how to strip shoes down, without sacrificing cushion and comfort.
Good performance, good health and good community are their guiding principles.  You may have seen their hashtag #runforgood – which is really about doing good, giving back and finding sustainable practices.
More About ASICS 
Founded in 1949, by Kihachiro Onitsuka in Japan, ASICS is an acronym for the Latin expression "Anima Sana in Corpore Sano" ("healthy mind in a healthy body").
The company released a basketball shoe in 1950, followed by running shoes in 1953. Among those running shoe products included the Onitsuka Tiger, still a popular shoe today, though mainly used as a casual shoe as opposed to a marathon shoe.
Today, Asics designs a wide variety of shoes including: running, tennis, volleyball, wrestling, and golf.
Fun fact: Nike was founded to sell the Onitsuka Tiger shoes in the US. After visiting Japan in 1963, Phil Knight was impressed by the high quality and reasonable prices and asked the company to represent the brand in the US. Anyone else read his book and find all of this fascinating?!
Which is Better Asics or Saucony?

ASICS and Saucony are two incredibly trusted running shoe brands on the market, but more important than brand is the fit of the shoe.
Your gait and feet will likely change over time and you may need to change shoes.
This is also why I recommend rotating through several pairs of shoes at once.
Consider your foot width (more wides available in Asics)
Preference for a lower heel drop (generally Saucony)
Stack height preference (Saucony is definitely going more maximal for more cushion)
And remember, just because these are two of the most well known brands on the market, there are still plenty of other shoe brands to select from if neither Saucony nor ASICS has the right shoe for you.
Keep in mind that shoe design can change, even with the same model, so always assess how the shoe fits every time you replace a pair.
For more help selecting the right shoe for you, don't worry, I've got you:
Other ways to connect with Amanda
Instagram Daily Fun: RunToTheFinish
Facebook Community Chatter: RunToTheFinish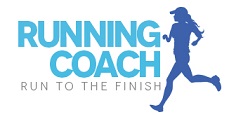 Sign Up to Receive a Weekly Newsletter with Top Running Tips and Laughs