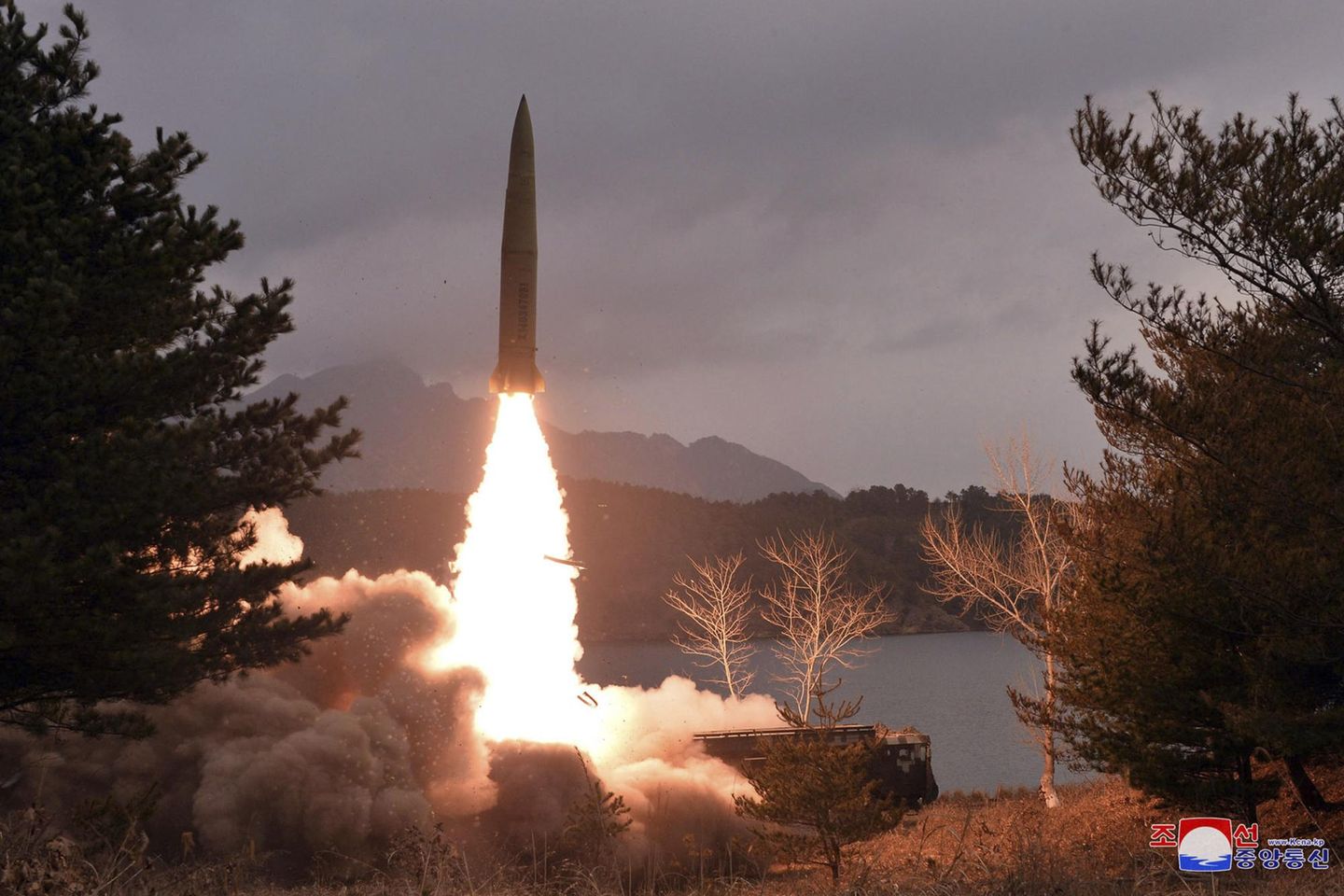 SEOUL, South Korea. North Korea launched an intercontinental ballistic missile on Thursday in a show of military might, hours before a summit between the leaders of South Korea and Japan in Tokyo is set to be overshadowed by North Korea's nuclear threats.
The launch, the North's first ICBM test in a month and the third weapon test this week, also comes as South Korean and US troops continue joint military exercises that Pyongyang sees as an attempted invasion.
South Korea's military said a North Korean ICBM flew into waters east of the Korean Peninsula after being launched from the North Korean capital of Pyongyang around 7:10 a.m.
The Sunan district is home to Pyongyang's international airport and has emerged as a key test site where the North has launched most of its ICBMs in recent years, all flying at a high angle to avoid its neighbors' territory.
Japanese Defense Minister Yasukazu Hamada said the missile likely went down in waters outside Japan's exclusive economic zone after flying for about an hour. The landing site is about 250 kilometers (155 miles) from the western island of Oshima Oshima, close to where other North Korean ICBMs have landed after test flights in recent months.
Thursday's launch came hours before South Korean President Yoon Suk-yeol was due to travel to Tokyo to meet with Japanese Prime Minister Fumio Kishida, aimed at mending frayed ties and strengthening trilateral security cooperation with the United States to counter threats from North Korea.
After conducting a record number of missile tests last year, North Korea has ramped up its test activity this year, including the Feb. 18 launch of its Hwasong-15 ICBM designed to strike the US mainland. After the ICBM launch, North Korea said the test was meant to further strengthen its "fatal" nuclear strike capability against its rivals.
The North's continued aggressive series of weapons tests was widely expected. Leader Kim Jong-un last week ordered his military to be ready to push back "fierce war preparations" by his country's adversaries, referring to ongoing major military exercises between the United States and South Korea.
Earlier this week, Pyongyang fired cruise missiles from a submarine and sent short-range ballistic missiles across its territory into the East Sea. Last week, North Korea also fired at least six short-range ballistic missiles from an area off the west coast in drills overseen by Kim Jong-un, which state media described as a mock attack on an unspecified South Korean airport.
The US-South Korea drills, which began on Monday and are scheduled to continue through March 23, include computer simulations and live-fire field exercises.
Last year, Pyongyang tested more than 70 missiles, including nuclear-capable ones, aimed at South Korea, Japan and the US mainland. North Korea has said many of those tests were a warning for past South Korea-U.S. military exercises.
The South Korea-Japan summit comes after the Yoon government last week took a major step toward restoring bilateral relations that were strained by Japan's 1910-45 colonial rule on the Korean peninsula.
His plan to use local funds to compensate Koreans forced into industrial slave labor under colonial rule without investment from the Japanese companies that employ them has met fierce domestic opposition, but reflects Yun's determination to improve ties with Japan and strengthen Seoul-Tokyo-Washington security. cooperation.
Under Kishida, Tokyo has also made a major break from its post-World War II self-defense policy, adopting a new national security strategy in December that includes pre-emptive strike capabilities and targets to acquire cruise missiles to counter growing threats from the north. Korea, China and Russia.
• Associated Press writer Marie Yamaguchi in Tokyo contributed to this report.
Copyright © 2023 The Washington Times, LLC.