What do you have planned for the special woman in your life this Mother's Day? Whether it's afternoon tea, a sweet little treat or the gift of 'me time' allowing her to put her feet up and be pampered, these St Clement's Cupcakes tick every box.
With Slimming World, you can absolutely serve tempting cakes that are perfectly suitable for weight loss. With a beautiful light orange and lemon sponge and a delicious lemon curd frosting, these cakes are delicious (and they taste even better when someone else makes them).

Slimming World St Clement's cupcakes recipe
is 8
3 ½ Syns per cupcake
vegetarian
ready in 35 minutes, plus cooling
What you need.
3 medium eggs
40 g of granulated sugar
3 unwaxed lemons, grate the peel of 2, cut the peel of the other 1 into thick slices with a vegetable peeler
2 oranges, grate the peel of 1, cut the peel of the other 1 into thick slices using a vegetable peeler
75g self-rising flour
1 level per gram of sugar
For ice.
150g of fat-free natural yogurt
2 level tablespoons of lemon curd
What are you doing:
1. Preheat the oven to 190°C/fan 170°C/gas 5 and line a muffin tin with 8 cases.
2. To prepare the sponges, beat the eggs and sugar with an electric hand mixer for 5-8 minutes, until the mixture doubles in volume, becomes thick, light and foamy, and leaves a mark when you lift the mixer.
3. Add the grated peel of lemon and orange, sift on the flour, then gently fold everything.
together. Divide the mixture between the shells and bake for 12 minutes or until cooked through
and golden. Leave to cool.
4. While they are cooling, make the frosting. Mix yogurt and lemon curd until smooth. Cover and refrigerate.
5. Cut the strips of bark into thin threads and cook in boiling water for 5 minutes. Drain and dry on kitchen paper, then roll the threads in sugar.
6. When the sponges are completely cooled, spread the icing evenly over the tops, then sprinkle over the icing sugar to serve.
Take the cake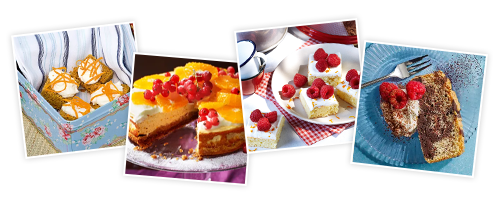 When you join Slimming World, you'll unlock a cake template packed with slimming cakes on the exclusive members app and website, including…
Carrot cake squares
Baked Vanilla and Clementine Cheesecake
Orange and raspberry bites
Chocolate marble cake