A few days ago I celebrated six months of data science training and I can tell you that it is the best decision I have made this year.
For someone who is a master of trial and error, Data Science is a career I'm glad I decided to try because I've never been as intentional about anything as I have been in it.
If someone had told me a year ago that I would know how to scrape and analyze tweets from Twitter and create dashboards that could tell stories about the data, I would have been skeptical, but I'm amazed at how much I've learned and on my milestones. carried out in the last six months.
In this article, I'll share some of the things I've learned over the past six months and tips that have helped me stay committed and committed to my journey.
The first thing I did when I decided to pursue a career in Data Science. I watched a few YouTube videos and researched a lot about the road map of a data scientist as well as the best way to learn. I wrote down a list of tools I needed to learn and looked for platforms I could learn for free. I originally started with Coursera's IBM Data Science course, but ended up spending most of my time studying at Datacamp thanks to a scholarship from Ingressive.
Another thing I did was put myself out there for accountability. Was I scared? Yes, I was very scared because this girl tried a lot and stopped halfway. But I was determined to see it through, so I gave myself six months to learn the basics. I wasn't even thinking about getting a job in six months, the goal was to learn a lot in six months to help me get started on this career path.
i did note: announcing my intention on Twitter and pinned it to my profile so that every day I go online and look at my profile it's a reminder.
Another thing was to ask for God's grace and guidance. Yes, I prayed about it and started this journey with God. I am heavy on the GOD factor and I think this is my secret ingredient.
Also I drew up a schedule that worked for me, early morning is my best time to read and it was pretty easy for me since I didn't have a laptop at the time and was studying on my phone. My phone is the first thing I pick up every morning after saying Thank You Jesus, straight to Datacamp and straight to python.
I completed four python courses at Datacamp in one month and I was so excited and looking forward to more.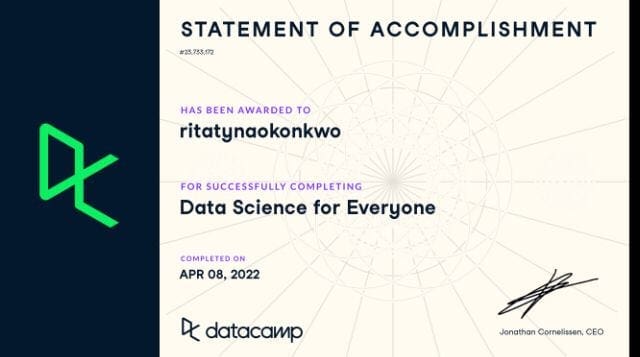 Statement of the results of the four courses I took in the first month of my trip.
I made plans to complete more courses in May and worked so hard that I was able to complete 16 Python courses at Datacamp that month.
I also joined a group of 20 data analysis projects with Octave, even though I didn't learn enough to build a project, I took the risk to join and learn from others.
20 data analysis projects
At the end of May, I worked on my first project, a supermarket sales panel. It wasn't great, but it was a stepping stone for me to learn and opened me up to a world of growth.
Superstore sales panel
At the beginning of June, I had graduated as a Data scientist with a Python track at Datacamp and immediately started learning SQL.
I worked on another project, an analysis of past Nobel laureates, and this time it was better. I was still consistent in my learning and my growth was consistent.
Analysis of past Nobel laureates
I also joined Stanbic IBTC's training program to learn Azure, it was a challenging but exciting journey for me.
By the end of June, I had racked up over 1,000,000 XP on the Learner Datacamp.
In July, I worked on a project that practically changed my learning journey: The Real Housewives of Lagos Sentiment Analysis Project. This project got a lot of people interested in my journey and I received several DMs from recruiters who would like to work with me.
I landed mine at the end of July the first role as a data analyst for a Nigerian startup company.
I got Datacamp certified in August.
I also wrote two Microsoft exams; DP 900-Azure Data Fundamentals and DP 300-Azure Database Administrator and I passed.
I also won Datacamp's daily XP learner challenge as well as the #55daysof data challenge hosted by Ingressive.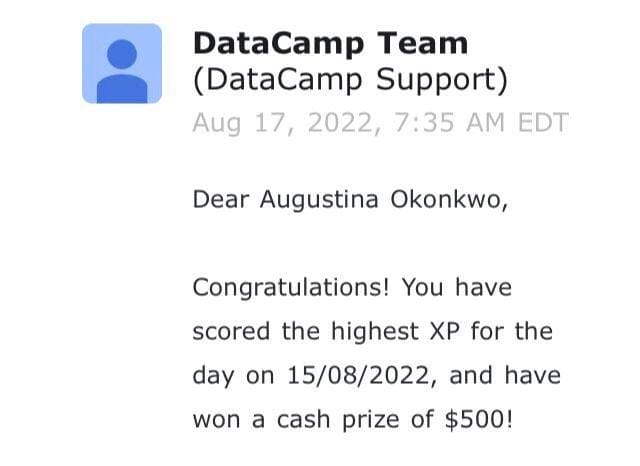 By September, I had a 150-day training streak at Datacamp. I lost this streak after 10 days. It was a difficult moment for me.
It's been a rollercoaster ride of learning, relearning and growing ever since, and I'm so excited for the future. Now is the time for me to reassess where I am and what lies ahead for me.
One thing I learned on this trip is everything feasibleWhen you have the will to learn and are willing to put in the work, it's totally within reach. On that note, I've stylishly included a challenge for you. I challenge you to show up every day this month, pick a skill or a tool and learn action for this month and measure your growth.
Another thing I learned is that it pays to show up every day. Consistency was a big key to my journey. I've been showing up every day for the past six months… I might not have studied much some days, and I've had a hard time on others, but I've always shown up.
Also, hard work was another determining factor in my six month success story. I worked my brain. When I started my journey, I studied for 11 hours every day. I used to spend at least four hours a day, albeit intermittently rather than stretched, learning concepts on my phone. Then I spent the night practicing what I had learned on a borrowed laptop.
Another tip that really helped me was to share my journey. coming online every day and talking about my journey was a major factor in my growth.
Also, networking with other data professionals in the space and being part of the data community was another important factor, I had a lot of passive mentors on Twitter and that influenced my journey.
Along my journey I've also learned to accept that burnouts are normal, sometimes I wake up feeling very unmotivated and wondering if I'm on the right track. On such days, I don't push myself too much, training at Datacamp and that's it. I don't hate myself for not going too hard, instead on days when I feel super motivated, I go the extra mile to make up for lost days.
There were also days when I felt like an imposter, the imposter syndrome hit me hard, it felt like I was just learning and didn't know anything. I had to work on my self-confidence. I wrote a lot of self-affirmations and read them out loud when I was doubting myself.
Winning a #I4GDatacamp scholarship.
By enrolling in the Stanbic IBTC intern program.
Landing my first Data Analyst role.
Winning at I4G #55daysofdata challenge.
Winning the Datacamp XP learner challenge.
Celebrating one million+ XP in Datacamp!
Celebrating 150 days streak at Datacamp!
Winning a laptop from Ingressive for good.
Losing my streak on Datacamp.
Getting multiple rejection emails for every laptop application I send.
Python – Active for the first four months
Power BI — Started learning in the second month
SQL — Started learning in the fourth month
Azure — Started studying in the third month
Table — Began learning from the fifth month.
I know this is a long read, but I hope it motivates someone to stick to their path and keep pushing forward. It might take a while, but that's your success story I'll be reading next.
Tina Okonkwo Is a data analyst who is passionate about telling a story with data. He provides training and mentoring for those pursuing careers in data analytics. His goal is to share my Data Analytics journey with a larger audience and help others start their journey into Data Analytics.
Original. Republished with permission.