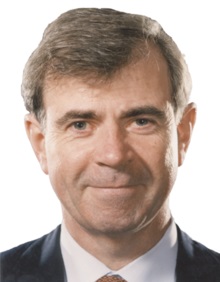 PROVIDENCE – Citizens Financial Group Inc. subsidiary is being investigated by Massachusetts securities regulators over the sale of annuities controlled by now-indicted financier Greg Lindbergh, The Wall Street Journal reported March 30.
Massachusetts Secretary of State William Galvin is leading the Citizens Securities Inc. investigation into annuities sold by Colorado Bankers Life Insurance, one of Lindbergh's largest insurers.
The investigation follows a Journal article that said tens of thousands of people had $2.2 billion in funds frozen since 2019 when Lindbergh's insurance empire collapsed.
Lindbergh was indicted in February on federal fraud and conspiracy charges alleging that he loaned $2 billion of his insurers' funds to his private conglomerate companies and used large sums to finance a lavish lifestyle, the Journal reported. Lindbergh pleaded not guilty.
The Massachusetts investigation began after a retired couple alleged a Citizens financial advisor told them to invest $400,000 of their life savings in an annuity backed by Colorado Bankers Life Insurance, which is now frozen, preventing them from accessing the funds. :
In a March 30 filing with the U.S. Securities and Exchange Commission, Citizens said it conducted due diligence on the insurer and considered the company's investment grade rating, which was strong at the time, and third-party research in placing its products on its platform.
Citizens said it only sold CBL annuities between November 2017 and October 2018, ceasing sales when it learned Lindbergh was under investigation.
"It is very unfortunate that our customers and others have been affected by this situation and we are committed to doing what we can to help mitigate the effects, including offering liquidity plans for customers who are experiencing difficulties," a Citizens spokesperson said. Magazine:

Want to share this story? Click here to purchase a link that allows anyone to read it on any device, whether they're a subscriber or not.