One of the joys of Seville is its tapas culture, with atmospheric traditional bars serving small plates of food to enjoy with a drink. So if you want to discover the best tapas in Seville, read on to find out what dishes to order, how to take a tapas tour and which tapas bars are a cut above the rest.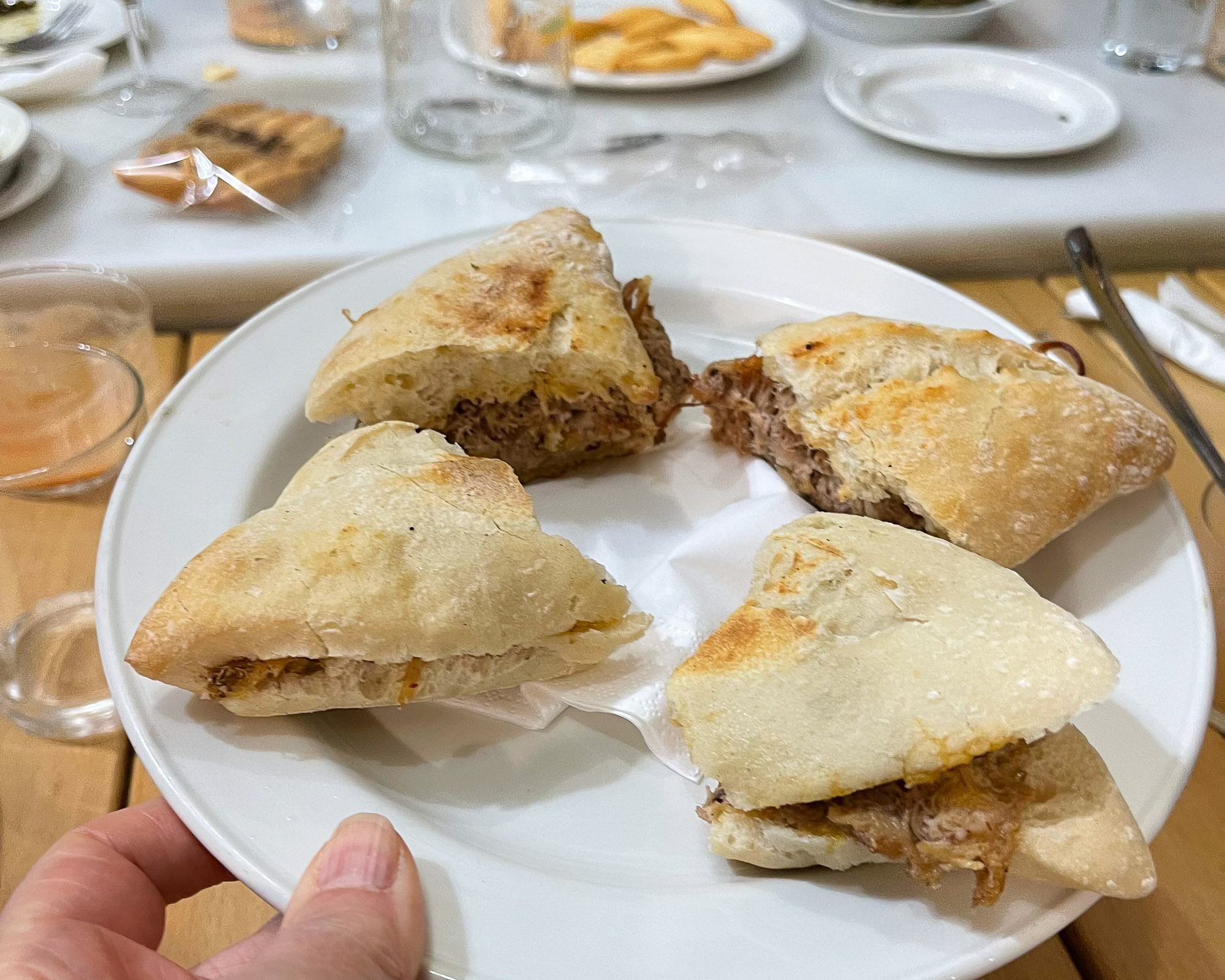 This article may contain affiliate links that provide commission on purchases you make at no extra cost to you. As an Amazon Associate I earn from qualifying purchases.
What is Tapas?
Tapas in Seville are small plates of food designed to be eaten with a drink. In the south of Spain, they are eaten as a light snack to keep you going after your main meal at lunchtime. A favourite way to spend an evening in Seville to go on a tapeo or Tapas crawl with friends, stopping for a drink and tapas in two or three different bars.
The word "tapas" in Spanish means "to cover", and is thought to have originated with small plates of food or slices of bread that were used to cover a drink and keep out flies or dust.
In some parts of Spain the tapas are provided free when you order a drink. However in Seville they are almost always charged as an extra. Prices are generally reasonable starting at €3-4, with fish or meat dishes being more expensive.
What makes a traditional tapas bar in Seville?
The Seville tapas bars are somewhere between a neighbourhood pub in England and an inexpensive eatery. Some of the bars, known as a 'locale' seem unfeasibly small, but thrive on a steady stream of local trade, with extra tables on the pavement or square outside.
Others, especially in the more touristy parts of Seville are extremely busy and while you can stand at the bar for a drink, they are more for sit down dining. A traditional tapas bar will generally have:
Decoration that incorporates traditional Azulejo tiles and the colours of rusty red, burned orange and mustard yellow that are so typical of Seville and Andalusia. These favourite shades are found everywhere. There's even a popular song by a local group Los de Rio – Sevilla tiene un color especial – Seville has a special colour.
Legs of cured ham or jamon hanging from the ceiling, a staple of the tapas menu in Seville.
Barrels of beer, wine or vermouth behind the counter. Wine and vermouth are often stored in barrels from local wineries.
On the walls you'll find an assortment of family photos, bullfighting posters and a bull's head or two. There's often a picture of the local Virgin Mary that is paraded through the neighbourhood during Santa Semana.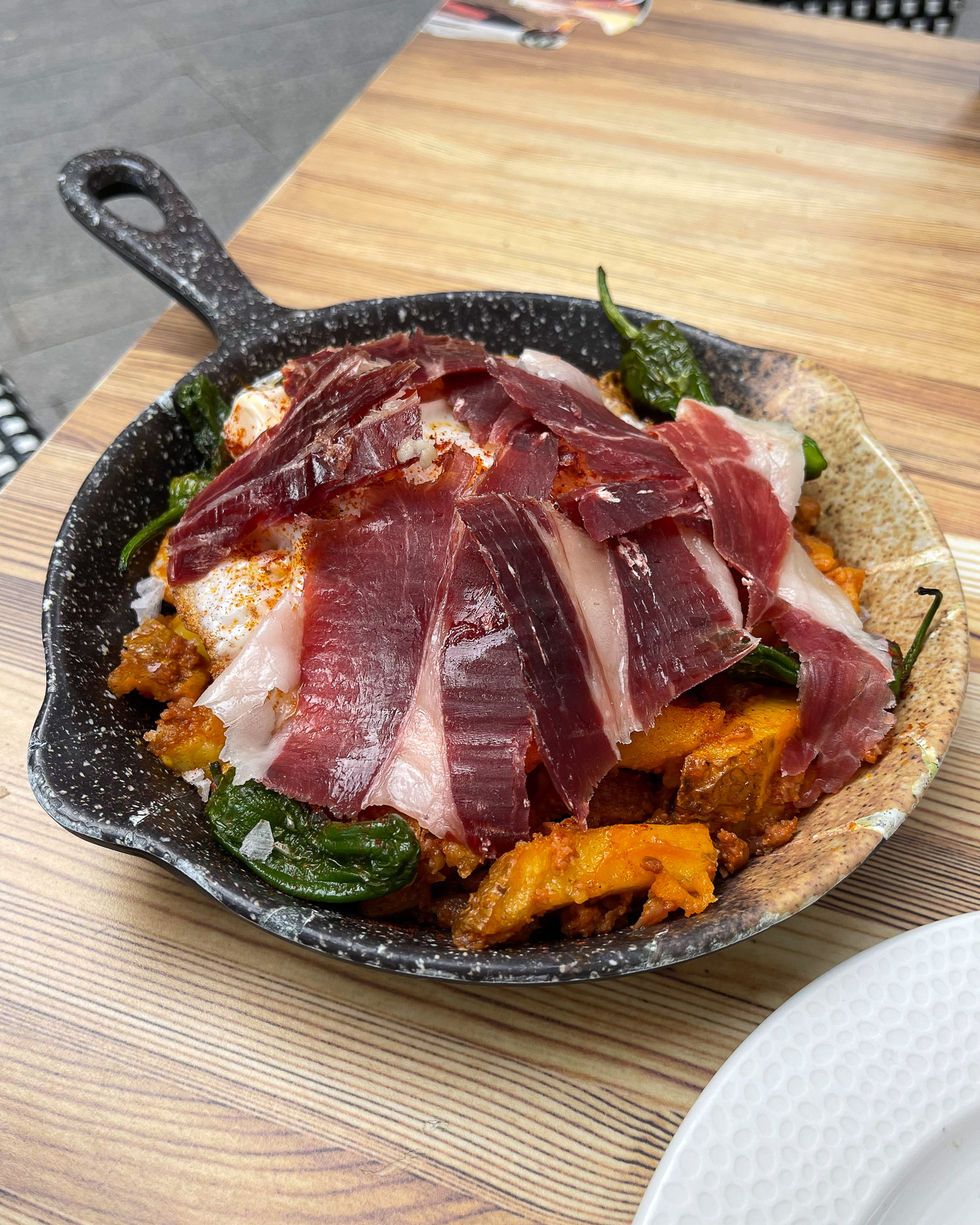 Beneath the bar tables, you may see a small bin to throw away paper napkins. Until the last few decades, bars in Spain were the exclusive preserve of men. Their paper napkins and odd bits of food were thrown on the floor, to be swept up at the end of the night. The small bins are a cleaner way of dealing with that practice.
On the same theme of tapas bars originally being run with men in mind, ladies may sometimes find that the loos do not reach their high standards. So best to go equipped with some extra paper in case it has run out. If you see a bin with paper in it, you are expected to throw your toilet paper in it rather than flushing away. This is in order to stop old plumbing systems becoming blocked.
Just like our pubs in the UK, there's often a screen playing non stop sport in the background, so you never have to miss that important football match.
We can highly recommend this evening tapas tour in Seville that we took. After researching a few we took this one because it was excellent value and well reviewed. It was fun making the tour in the evening as we got plenty to eat and drink and it saved us decisions on which restaurants or bars to choose.
Getting a table in a busy tapas bar in Seville
If you spot a tapas bar that looks busy with a crowd outside, don't be put off. In Spain, this is a sign of the best places to eat in Seville that are worth waiting for! Most tapas bars have different areas to be served.
Stand at the bar if you can find a space and order a drink directly from the barman. He will keep count of what you've had and you pay at the end.
Perch at one of the smaller tables inside if they are free or stand around a high table that has just enough room to rest your drink and a tapas or two.
Tables outside are often allocated for those who want to eat a full meal and you may need to ask a waiter to seat you at these.
On arrival at a busy bar it's worth deciding where you'd like to stand or be seated, depending on whether you want a quick drink or full meal. If there are other people waiting, make yourself known to the waiter at the entrance and get added to their list for a table.
In the meantime feel free to have a drink at the bar if there's space. The turnover of tables is quite quick, so one is likely to come free before long.
Bar tables are first come first served
If no member of staff appears to be allocating tables and one becomes free, it's normal to sit down, on a first come first served basis. Once you've taken possession, a waiter will come and clear the table, take your drink order and give you a menu. The trick is to be confident in sitting at any table that looks free, unless it has a reserved sign or there are other people waiting.
The tips above apply if there are just a few of you, and are flexible about which bar you choose. However, for larger groups looking to eat a full meal in one bar, it's advisable to book a table ahead.
Many of the popular bars in Seville now have an online booking system, or pop in the day before to book a table. This especially applies at weekends or during festival periods.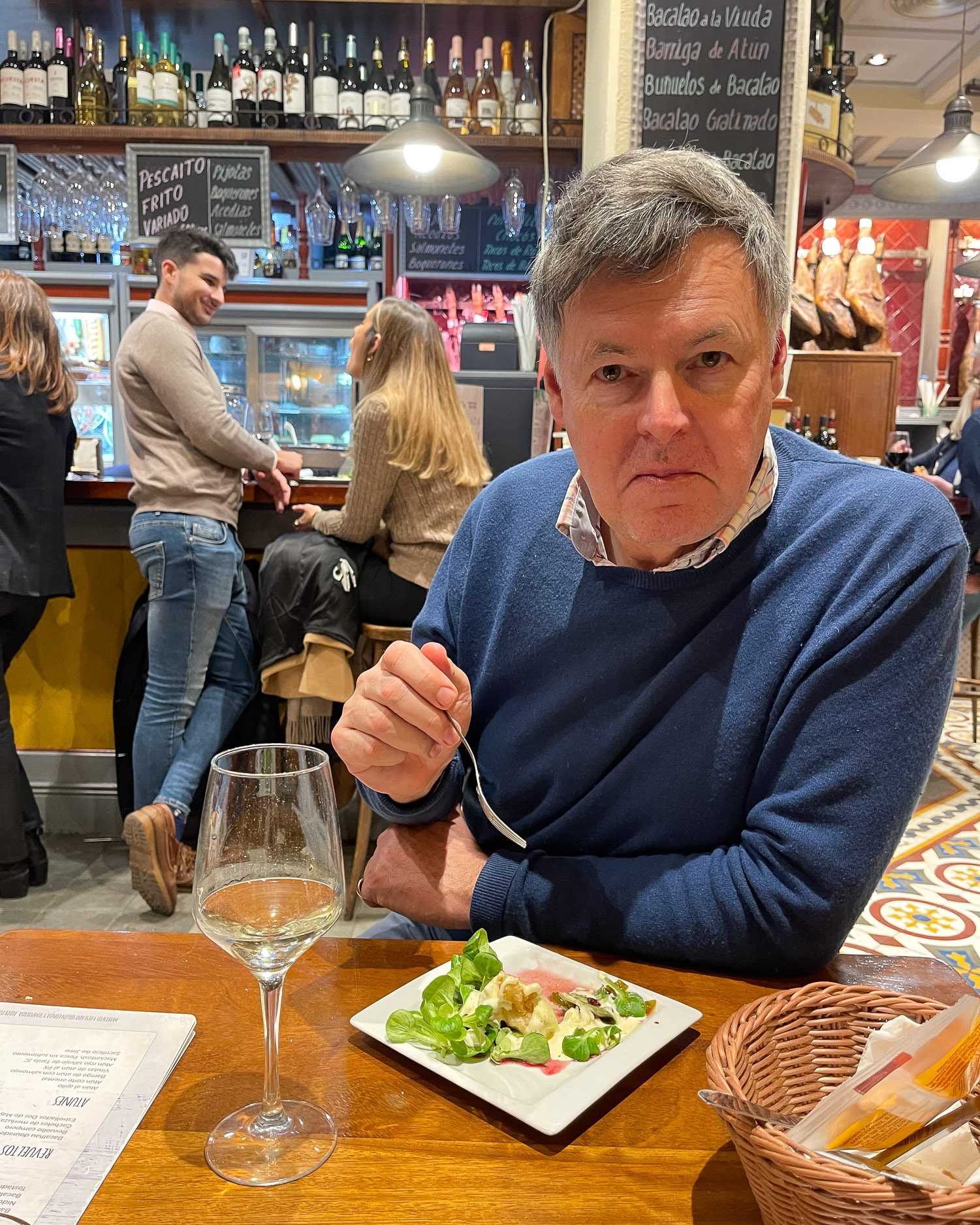 Bear in mind that most locals won't go out before 9pm. So if you want to eat in a popular bar it's good to arrive at the start of the evening around 8.30pm.
Tips for tipping in Seville
When it comes to tipping for your drink and tapas, this isn't as common in Spain as in the USA or UK. Waiting staff are well paid and a tip is not expected unless you just want to round up to the nearest Euro or leave your change. If there is a big group sitting down for a full meal then Spaniards may leave a tip for good service but it's more likely to be around 5% of the bill.
Tapas tours in Seville
We loved taking a tapas tour at the start of our trip, to get familiar with tapas culture and get recommendations on the best tapas bars to try. Here are some of the best tapas tours in Seville.
Seville Tapas Crawl
This is the tour that we took and we can highly recommend it. It was the cheapest of those we researched, but we got excellent value. There were stops at 4 different restaurant and several dishes to taste in each, as well as a drink.
Our guide explained about the different dishes and entertained us with lots of tips and stories, so that we felt confident doing a tapas crawl on our own. This tour is mainly around the Centro and Macarena neighbourhoods to the north of Seville's cathedral quarter. The tour started at 7.15pm and lasted around 3 hours. Book this tour
Seville tastes, tapas and traditions
This tour is a good choice if you prefer to take a daytime food tour, which covers both tapas and other aspects of Seville's food scene. You'll visit bakeries, street food stands as well as tapas bars and get a good overview of food in Seville. The tour starts around 10.30am and lasts 4 hours. Book this tour
Seville Tapas tour across the river in Triana or Macarena
This tour offers a chance to see some of the alternative nightlife areas of Seville, away from the tourist hotspots. Head across the river to the district of Triana, known for its gypsy and flamenco culture.
Alternatively choose a tour in Macarena, one of the hottest nightlife districts. Both options include stops at a number of different bars, with tapas tastings and different drinks to try as well as some stories about the neighbourhood. You can choose a lunchtime or evening tour which is around 3.5 hours. Book this tour
Seville 3 hour tapas tour by bike
If you enjoy cycling and eating, why not combine the two? Not only will you get a tour of the sites of Seville, but you'll stop at 3 separate tapas bars, with food tastings and a drink at each one. The tour starts around 1pm and lasts for 3 hours. Book this tour
Seville Triana market tour with tastings
If you prefer to take a daytime tour, this tour of the popular Triana Market takes place in the morning, when the market is busiest. It's more of a market tour than a tapas tour, but is quite a bit cheaper. You will get lots of tastings of different produce in the market. The tour starts around 11.30am and lasts 2.5 hours. Book this tour
Seville Tapas walking tour, tastings and flamenco show
This tour combines a tapas tour with a Flamenco show, so you can tick off two of Seville's quintessential experiences. You'll visit two different tapas restaurant, then relax and enjoy the Flamenco show.
After the show there's a further visit to another tapas restaurant to complete the evening. In total you'll get 10 tastings of different dishes and 4 drinks. The tour starts at 5.30pm and the whole experience including the flamenco show lasts around 4.5 hours. Book this tour
Note that some but not all of these tours can be adapted for Vegetarians, although Vegan is more difficult. Be sure to check with the tour company before you go, whether they can cater for dietary requirements.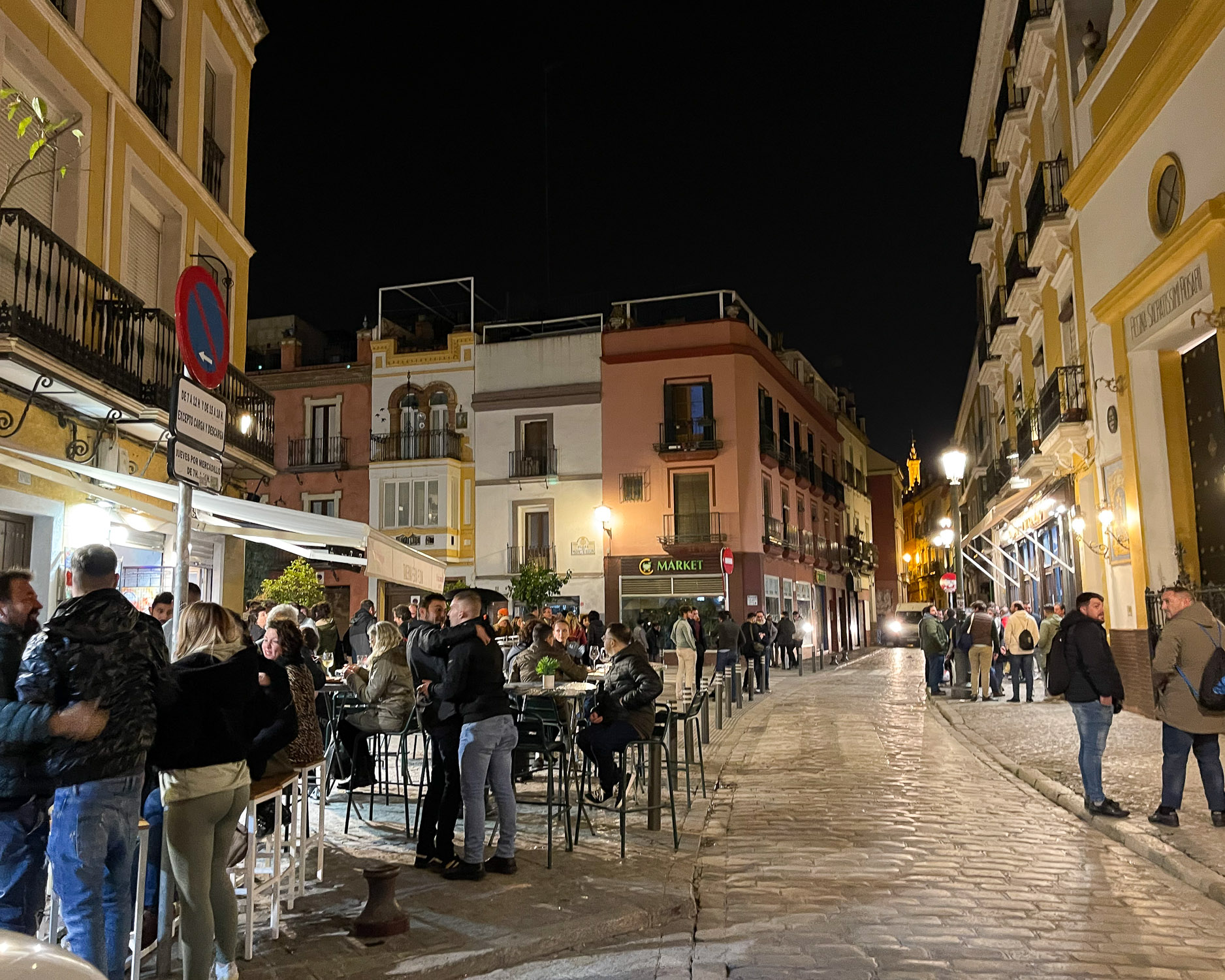 For more information on what to see in Seville, read our article on the 20 best things to do in Seville, Spain
Our Tapas tour experience
Tapas in Seville is one of those fun cultural experiences, where you start off a little unsure of how it works and end up navigating the tapas bars like a true Sevillanos. In order to get confident when entering a tapas bar, we made a tapas crawl or tapeo as part of a guided tapas tour.
On our tapas tour in Seville (check out the one we took), we visited a number of different bars throughout the evening, tasting plenty of different drinks and tapas, while sharing some convivial company. There were lots of fun stories and anecdotes from our guide. We also learned not only what and how to order, but received a list of recommendations of other places to try on our own.
On a subsequent evening we visited one of the recommended tapas bars Bodega Dos de Mayo and joined the happy locals in ordering some really tasty tapas dishes.
What you'll discover on a Tapas Tour in Seville
A tapas tour like the one that we booked is a great way of learning
What to look for in an authentic tapas bar in Seville
Some of the traditional tapas dishes to order from the menu
How to arrive at a busy, crowded tapas bar and confidently order from the bar or secure a table
What typical drinks to order that accompany the tapas
A few fun stories and anecdotes that you won't find in any guide book
We received some personalised recommendations for more tapas bars in Seville to visit on our own
If you need to book a hotel or apartment, check out this article on Where to stay in Seville – best neighbourhoods, hotels and apartments
Typical Tapas dishes in Seville
Here are a few of the tapas dishes to look out for in Seville. You will routinely be served a basket of bread and Picos (small crunchy bread sticks) with your tapas. A small extra charge will be added to your bill. Use a piece of bread or picos to help food onto your fork or to wipe up any tasty sauce from the dish at the end. Sometimes the same dish will be offered as both a Platos (full sized plate) or a Tapas which is smaller.
Vegetarian tapas
It's difficult to be absolutely sure whether a dish is totally vegetarian, since extra meat or fish could be added, so if in doubt check with the waiter. If you are vegan, tapas is not the ideal meal as there's so much meat, so better to find a restaurant that specialises in vegan food.
Tortilla de patates – slices of cold potato omelette that may or may not include onion (it's a big debate which is best!). There may be a small amount of Salmorejo or Aioli (garlic mayonnaise) on the side as a sauce for the tortilla. Sometimes you will see tortilla on the menu that has something else added, described as Tortilla de …..
Espinacas con garbanzos – a warm dish of spinach and chickpeas. It's a good option if you are vegetarian, but check first to make sure no meat has been added.
Salmorejo – a chilled soup made with tomato, garlic and olive oil. It's a close cousin to the better known Gazpacho soup that's served cold in summer. Salmorejo is traditionally topped with shavings of jamon and hard boiled egg, so let them know if you want a strictly veggie version.
Ensalladilla Rusa – Russian salad made of potato, mayonnaise, hardboiled eggs and vegetables. Sometimes prawns are added, so check first if you are vegetarian.
Cheese or Queso is a popular tapas choice, served in small slices on a platter. Manchego is the best known Spanish cheese, but for something more local to Seville, look out for Queso Payoyo. It's a hard goat's cheese with a mild flavour that comes from the Sierra de Grazalema area just south of Seville.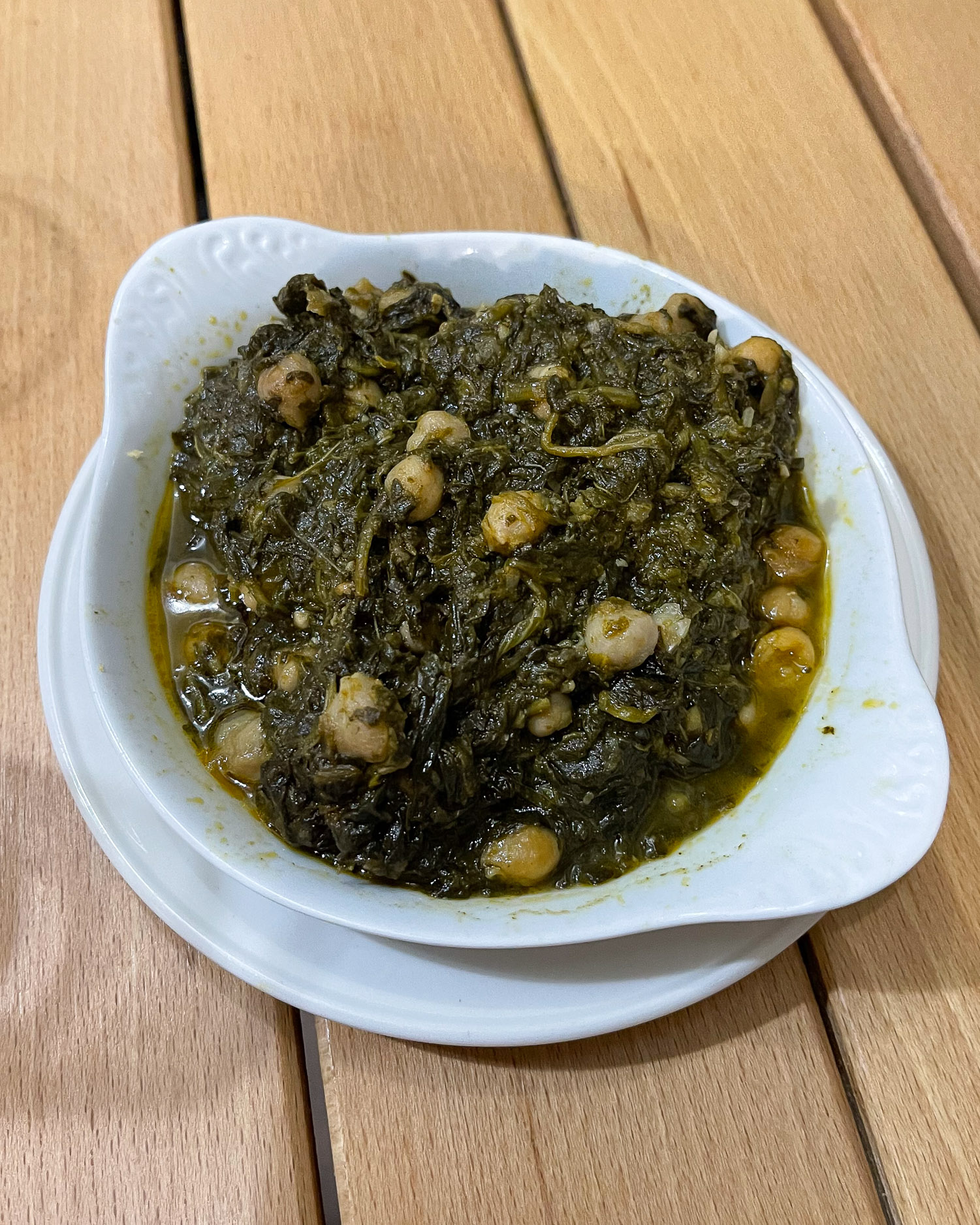 Meat based tapas
Pork is the king of meats in Andalusia and you'll find it as the ubiquitous jamon, as well as slow cooked in various forms.
Jamon – thin slices of the local cured ham, carved from the leg that they'll have behind the bar. The best jamon (pronounced ham-on) comes from free range Iberian pigs fed on acorns, and should be marbled with fat and meltingly flavoursome. It may be served unadorned on a small plate, but can also be used in many other tapas dishes. Because of the time and care that goes into producing it, the highest quality of jamon can be expensive.
Montadito de Pringa – a miniature sandwich (montadito) filled with a stew of slow cooked meats (pringa). Montaditos are also popular with other fillings, usually meat or achovies. Although the bread roll looks hard and crunchy, it's surprisingly soft when fresh, which it should be in any self respecting tapas bar. There are some bars in Seville that are well known for their Montaditos, a good choice for a cheap and filling snack.
We can highly recommend this evening tapas tour in Seville that we took. After researching a few we took this one because it was excellent value and well reviewed. It was fun making the tour in the evening as we got plenty to eat and drink and it saved us the decision of which restaurant or bar to choose.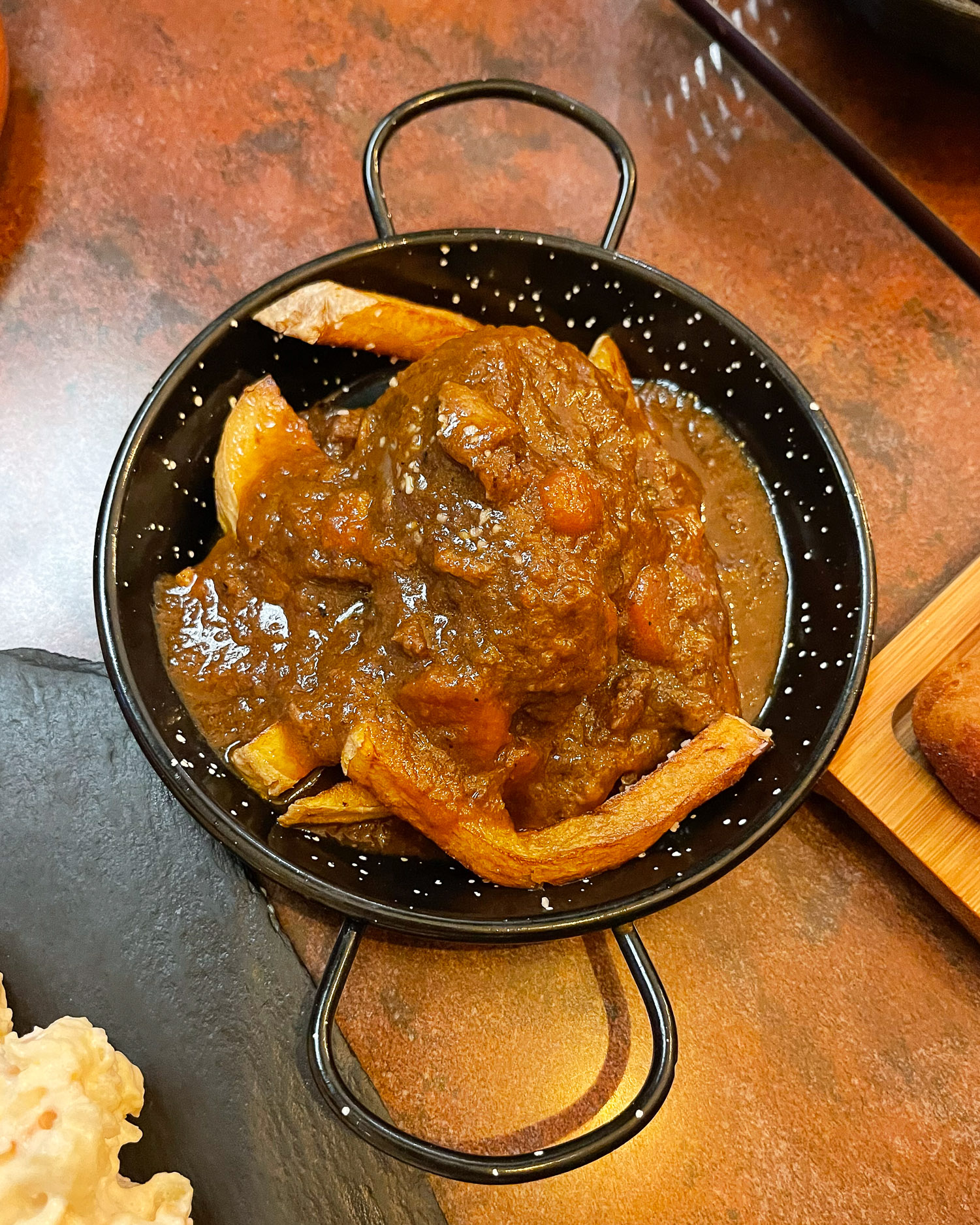 Carrillada de Cerdo – Slow cooked pork cheek in a rich wine sauce. We found that meat dishes like this were typically served with a handful of french fries.
Solomillo al Whisky – Pork sirloin slow cooked in a whisky sauce. It seems a bit strange to find whisky in the land of port and sherry, but this is a popular tapas staple of Seville.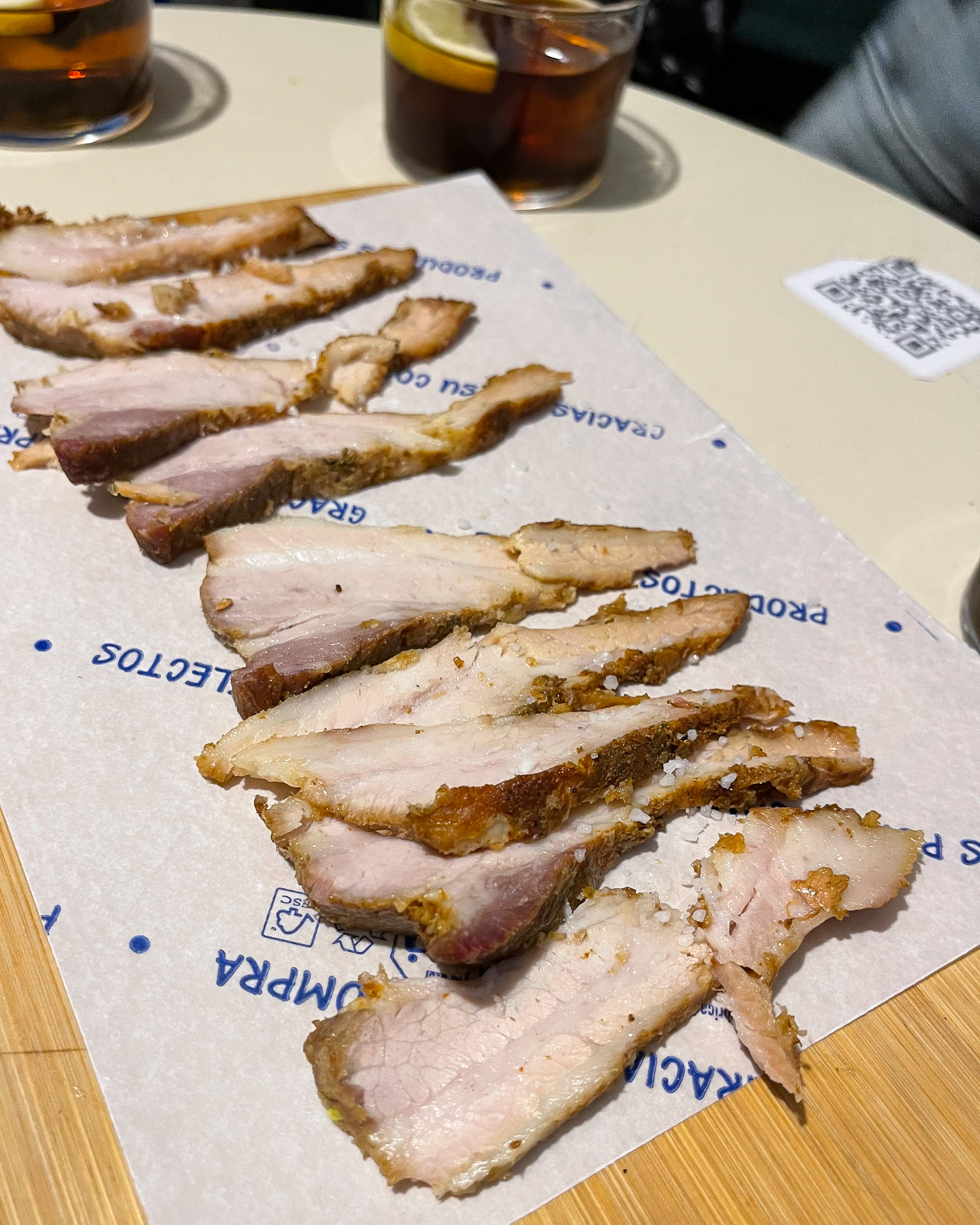 Chicharron de Cadiz – Thinly sliced pork belly that's served with salty crust and perhaps a drizzle of olive oil, either as a tapas or a sandwich filling.
Croquetas – deep fried potato cakes flavoured with jamon (cured ham), fish or cheese. They are normally oval in shape, crispy on the outside, soft on the inside and very moreish.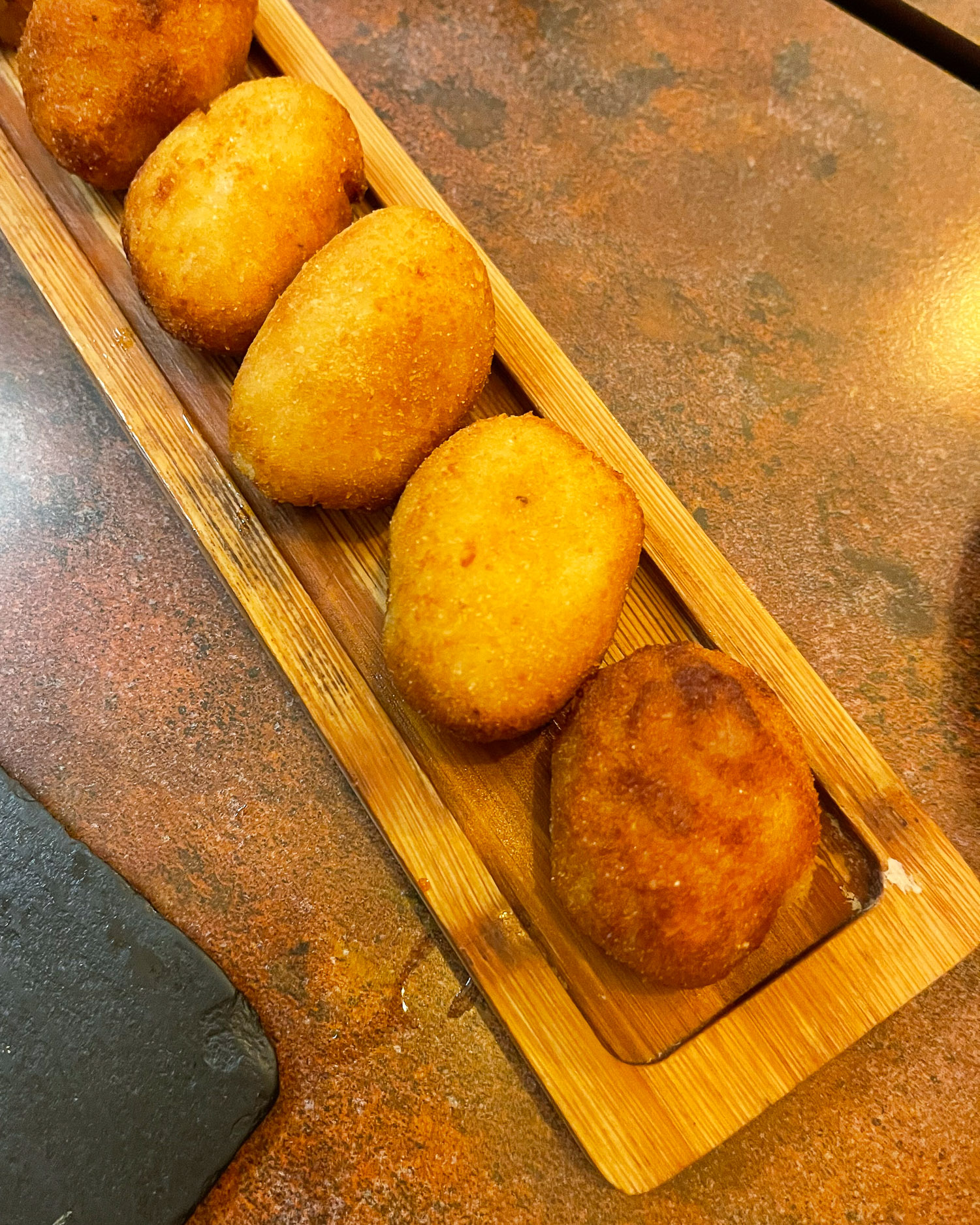 Fish and seafood tapas
Cazon en adobo – cubes of white dogfish marinaded in vinegar and fried in batter. This is a popular takeaway choice, served in a cone of paper from a neighbourhood Freiduria – the Spanish equivalent of a fish and chip shop that specialises in fried fish.
Atun – fresh tuna from Cadiz prepared in various ways, such as seared or cured. Some of the tapas restaurants specialise in seafood and you'll find super fresh locally caught tuna. It may be treated a bit like steak that's been lightly seared and served pink, or as Mojama, a cured and thinly sliced tuna that looks like air dried ham.
Bacalhau – salt cod, which is rehydrated and cooked in different ways for hot tapas. Bacalhau is a Portuguese and Spanish staple, despite the cod not being a local fish but caught in the North Atlantic. It enabled every Catholic household to eat fish on Fridays or in Lent, in the days before refrigeration, even if they were miles from the sea. We tried a hot tapas of bacalhau in a wine sauce with redcurrent jelly on a bed of salad leaves – an unlikely combination but very tasty. Bacalhau are also often used to make croquetas.
If you are a seafood lover, also look out for dishes with Boquerones (anchovies), Camarones (shrimp), Pulpo (octopus) and white fish like hake. Some tapas bars specialise in fish tapas but also look out for the Freiduría fried fish takeaway bars from more fishy delights.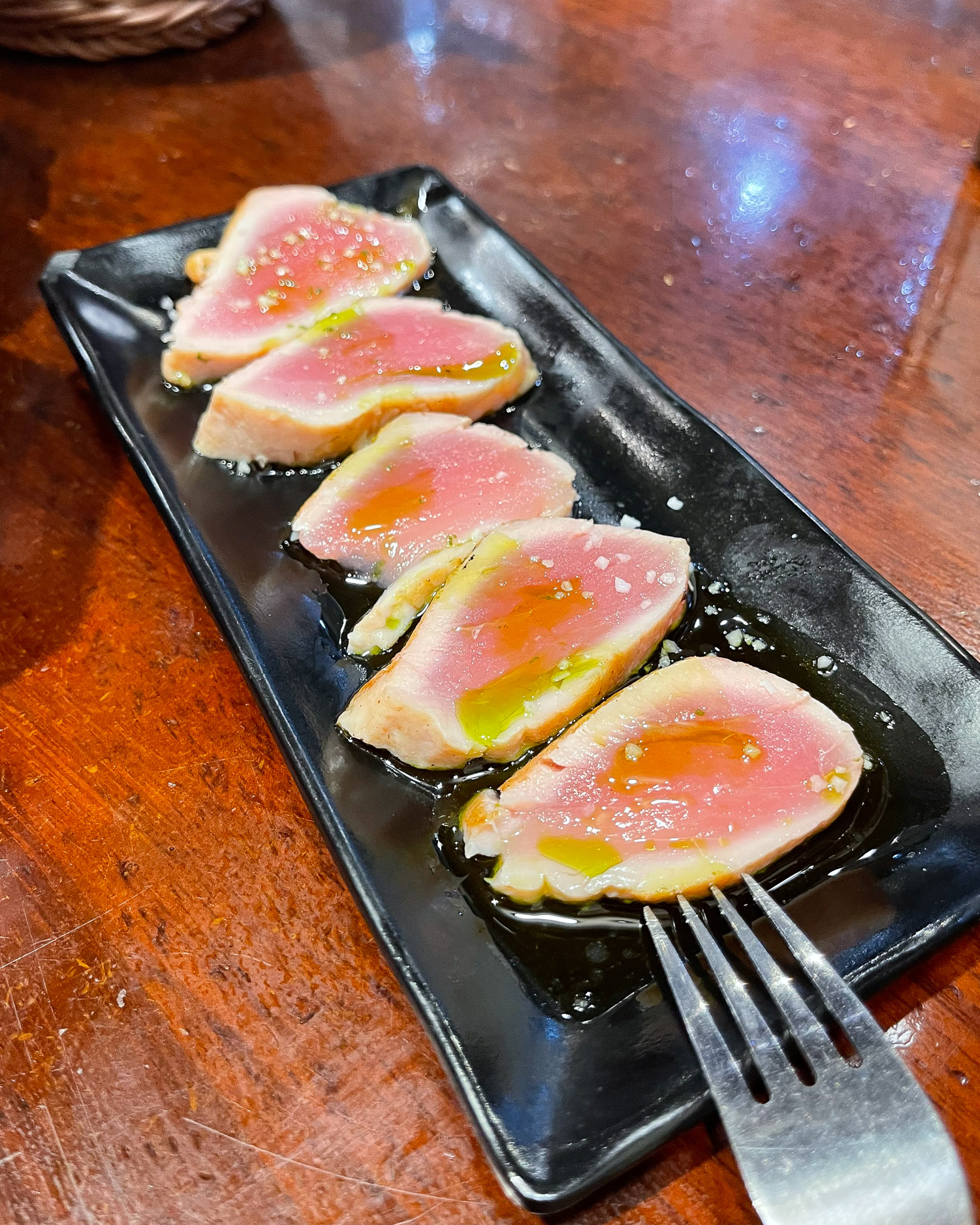 What to drink in Seville with your Tapas
A caña of the local beer
Bear in mind that at 200 millilitres, the caña will look a little small to English eyes used to ordering a pint. In the heat of southern Spain, a smaller glass ensures that the beer is cold and refreshing. Every city or region has their own favourite beer and in Seville is is Cruzcampo, brewed here since 1904.
All the local beers tend to be a light lager style without too many variations. If you are looking for craft beer, try Hop and Dreams in the Alameda neighbourhood, which also serves modern tapas dishes.
Red or white wine
Andalusia is of course a big wine producing region, so expect to find some excellent local wines to accompany your tapas. It might be Vino Tinto (red wine) or Vino Blanco (white wine), always Spanish and sometimes served from the barrel. If you want the best choice of wine, look out for a bar that has the word Bodega in the name.
Orange wine or Vino de Naranja
Since the nearby region of Huelva is the heartland of orange growing, it makes sense that there would be an orange wine served in Seville. However it might not quite be what you are expecting, since the wine isn't coloured orange or even made mainly out of oranges. It's actually a sweet wine a bit like port or sherry, that is flavoured with orange.
The orange peel is added when the wine is in the barrel and the flavour is quite subtle. Orange wine is served chilled as an aperitif in the same way as sherry is drunk in Spain. We tried some orange wine at Taberna Peregil, which is well known for being the exclusive purveyor of a top orange wine.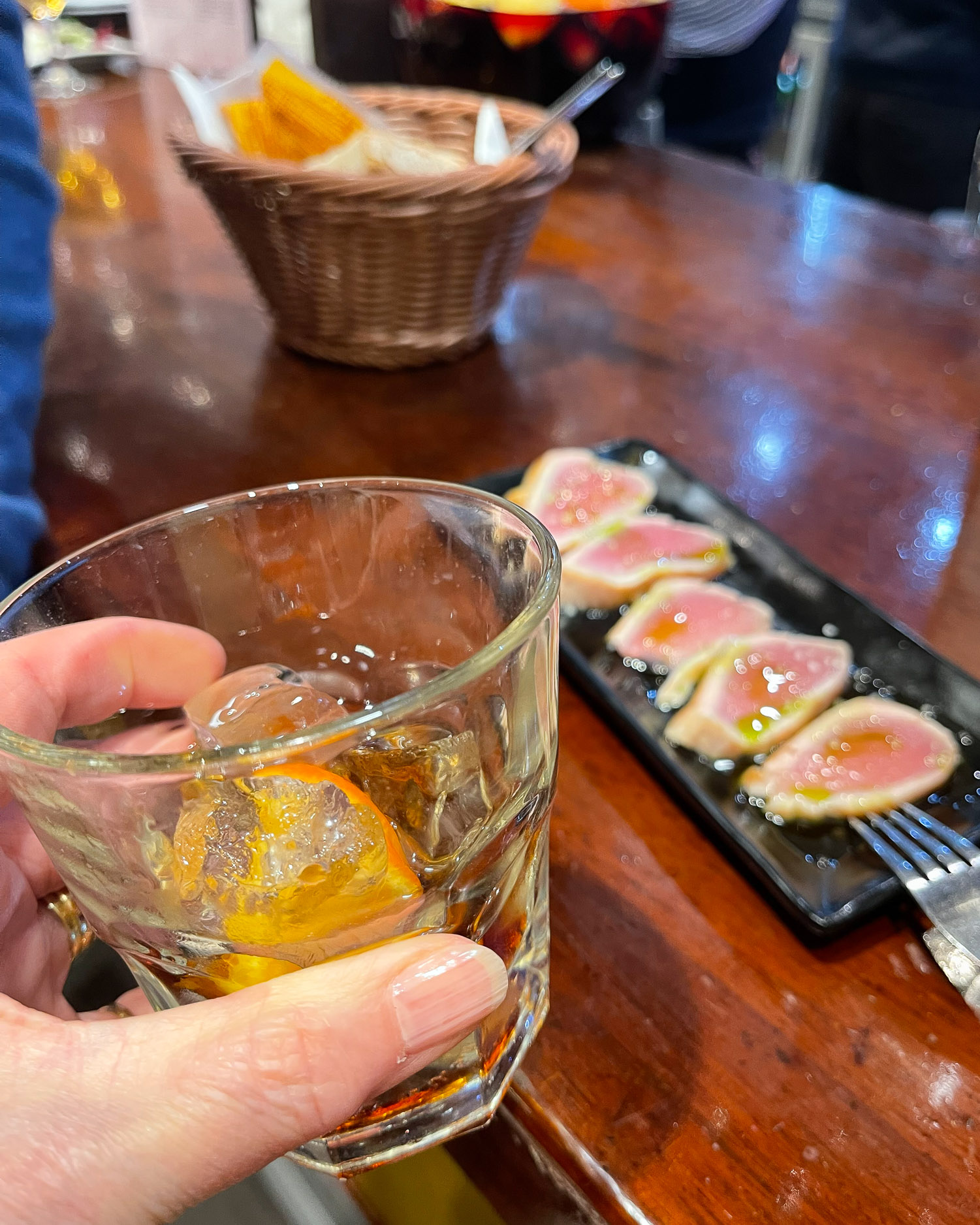 Vermouth
This is my drink of choice as an aperitif in Spain, a blend of fortified wine that's flavoured with herbs and botanicals. There's a big fashion for vermouth in Spain, with bars that specialise in it.
Most tapas bars will have their own house version that's served chilled with ice and a slice of lemon or orange. You may be offered a squirt of sifón (soda water) but I think that turns the vermouth into a soft drink, rather than a sophisticated aperitif.
Tinto de Verano
This blend of red wine and fizzy lemonade is literally the drink of summer in Seville. It's the sister of Sangria and is served with ice and slices of orange or lemon.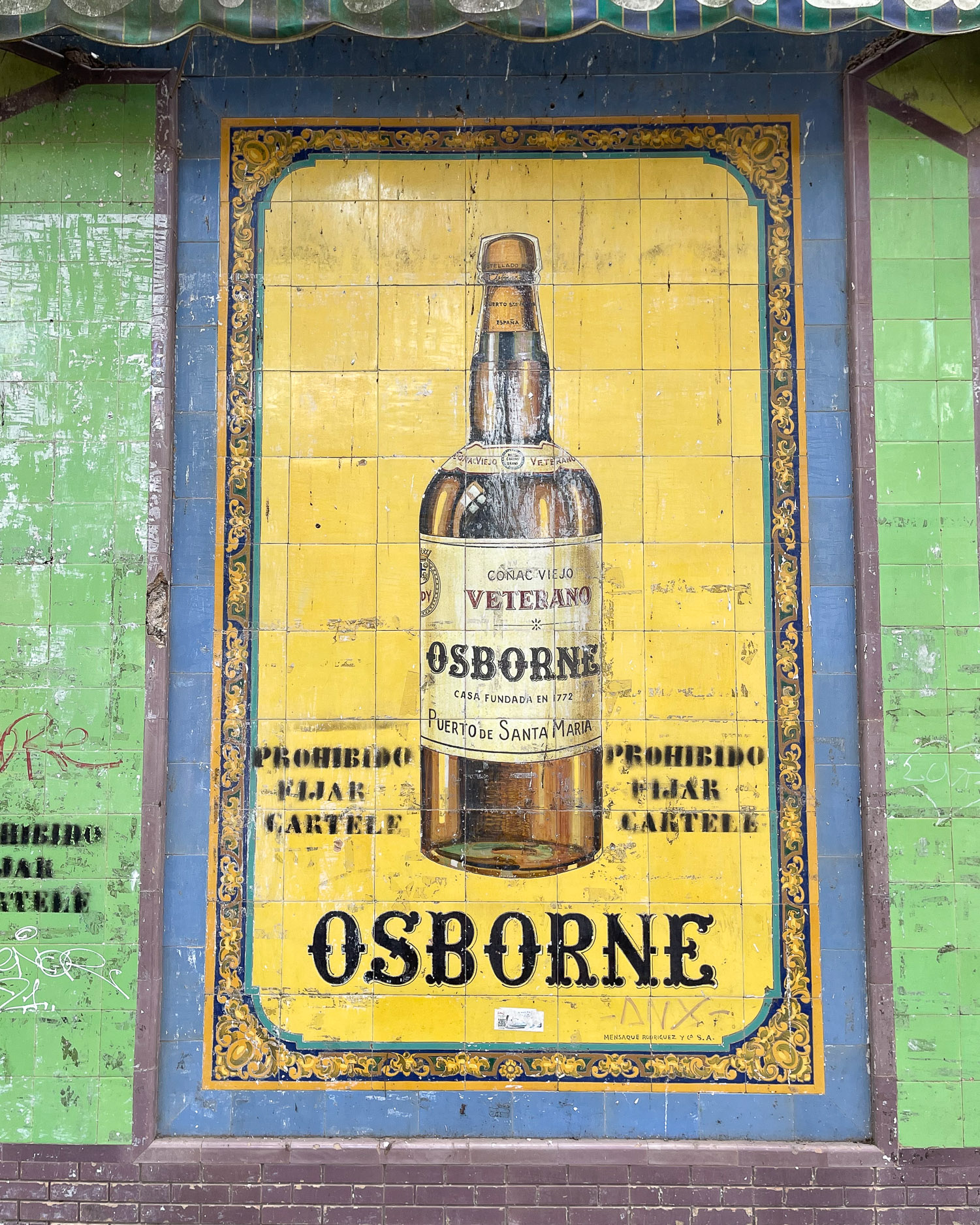 Looking for a hotel or apartment in Seville? We've got you covered in this article on Where to stay in Seville – best neighbourhoods, hotels and apartments
Best Tapas Bars in Seville
It's difficult to reliably recommend the best tapas bars in Seville because there's so much choice. Don't get too hung up on travelling halfway across town just to to try out one place you've seen recommended.
Instead, do as the locals do and check out a few bars in whichever part of town you happen to be in. Be guided by which bar looks busy and full of locals. If you are in a hotel, ask them for recommendations, as they will know the best places in the neighbourhood. If you are doing a tapas tour, ask your guide for their favourites so you can try them another day.
When you arrive at a new bar, order a drink and look at what's chalked up on the specials or menu board to get a feel for anything the bar specialises in. You can also eye up what other locals are eating and ask the waiter to bring the same if it looks good.
Be aware that most Spaniards will be hitting the tapas bars from 9.00pm, so a place that's empty at 8.30 with no atmosphere may be packed and buzzing by 10pm. Having said that, here are a few tapas bars in Seville that we tried out ourselves or were recommended to us.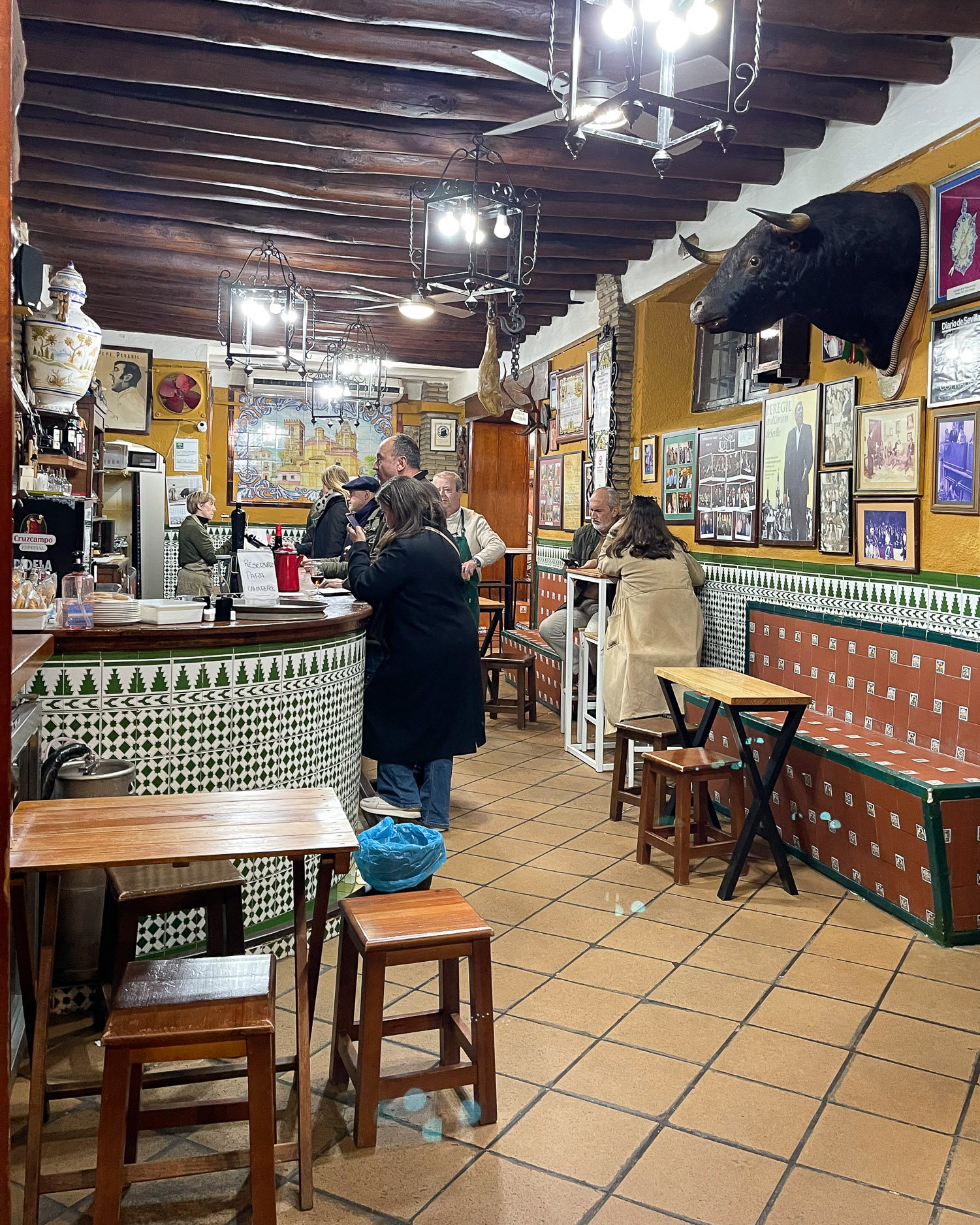 Santa Cruz – closest to Seville Cathedral
Bodega Santa Cruz: Located in the side streets close to Seville cathedral, with plenty of authentic atmosphere. This is more of a bar than a restaurant, so order a drink and eat your tapas at the bar or on the high tables outside. (Calle Rodrigo Caro, 1)
Taberna La sal: Located down a side street, with table seating and an internal patio. They are known for seafood tapas, especially fresh tuna that comes from the port of Cadiz. (Calle Doncellas, 8)
Bar Casa Morales – Close to Seville Cathedral, this is one of the oldest bars in Seville. The decor is old fashioned and authentic, with huge wine vats lining the walls. (Calle Garcia de Vinuesa, 11)
Cafe Bar Las Teresas – An old style tapas bar that has been going since 1870, with authentic decor of Andalusian tiles and jamon hanging from the ceiling. Although it's quite small inside, they have tables on the street. (Calle Santa Teresa, 2)
La Bartola – A modern tapas bar that offers beautifully presented vegan and vegetarian tapas dishes, as well as the traditional meat and fish options. (Calle San Jose, 24)
Centro – north of Seville Cathedral
Taberna Peregil – We visited this bar on our food tour and enjoyed the unpretentious and local ambiance. The bar is known for its Orange Wine and for its late owner Pepe Peregil who was a well known Canteor (flamenco singer). You can see his statue in the small square opposite. (Plaza Padre Jerónimo de Córdoba 12-14)
Las Setas – borders of Centro and Macarena
Bar Dos de Mayo – We visited this bar on our tour guide's recommendation and really enjoyed it. It's located in a neighbourhood square in an area that's not at all touristy. The service was friendly and efficient, and they specialise in fresh fish, so we recommend you order one of the Atun (tuna) or Bacalhau (cod) dishes. ( Plaza de la Gavidia, 6 )
El Rinconcillo – always mentioned as the oldest tapas bar in Seville, with bags of authentic charm, although it's a bit of a way from the main sites, not far from Las Setas. (Calle Gerona, 40)
El Caserio – an unpretentious tapas bar that's a little tucked away with an authentic Spanish atmosphere. Only open for lunch. ( Calle Acetres, 7)
El Arenal – close to the river
Casa Moreno – At the front it's a traditional deli, where you can buy tins and cold meats, but at the back is a bar with a few tables serving drinks and tapas. They are known for their cured meats and montaditos (small sandwiches) filled with cheese or sausage. (Calle Gamazo, 7)
La flor de toranzo – Local neighbourhood bar close to Plaza Nueva that's known for its montaditos (small sandwiches). ( Calle Jimios 1-3 )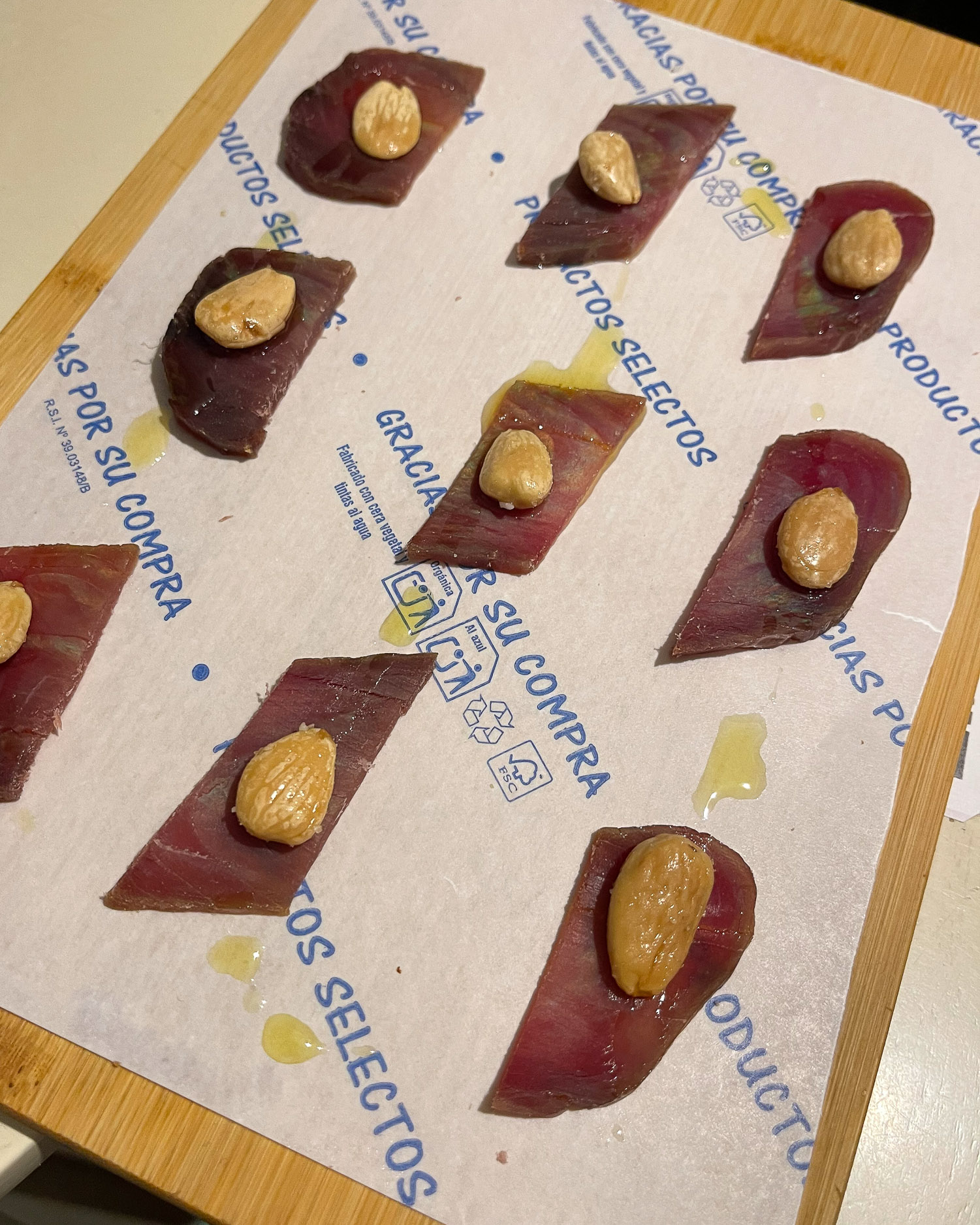 Alameda – close to Alameda de Hercules in the Macarena district
Espacia Eslava – Stylish and contemporary tapas bar and restaurant, with beautifully presented tapas. It's always on the list of top tapas places in Seville and there are 6 apartments that you can rent above the restaurant. (Calle Eslava, 3)
Antigua Abacería de San Lorenzo – Colourful traditional restaurant that was once an old grocery store and retains some of the charming decor. It's a restaurant with full menu inside but you can order some montaditos to snack on outside.
Triana – across the river
Vega 10 – Modern, cosy tapas restaurant with tables. The food is a fusions of Spanish with Asian and South American influences. ( Calle Rosario Vega, 10 )
La Antigua Abacería de Triana – A quaint and charming place that used to be a grocery store and keeps its deli counter with cheese and cold meats, as well as serving traditional tapas dishes and local wines. (Calle Pureza, 12 )
If you find the idea of visiting Seville's tapas bars a bit daunting, we recommend taking an evening tapas tour at the beginning of your time in Seville. That way you will soon get familiar with how it all works and which dishes to order. It's a great insight into the culture of Seville and Spain!
Read Next
Explore the 20 best things to do in Seville, Spain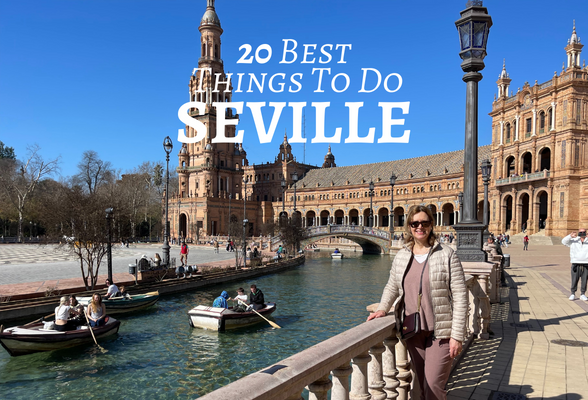 Need somewhere to stay? We've got you covered in our article on Where to stay in Seville – best neighbourhoods, hotels and apartments
Plan your trip to Seville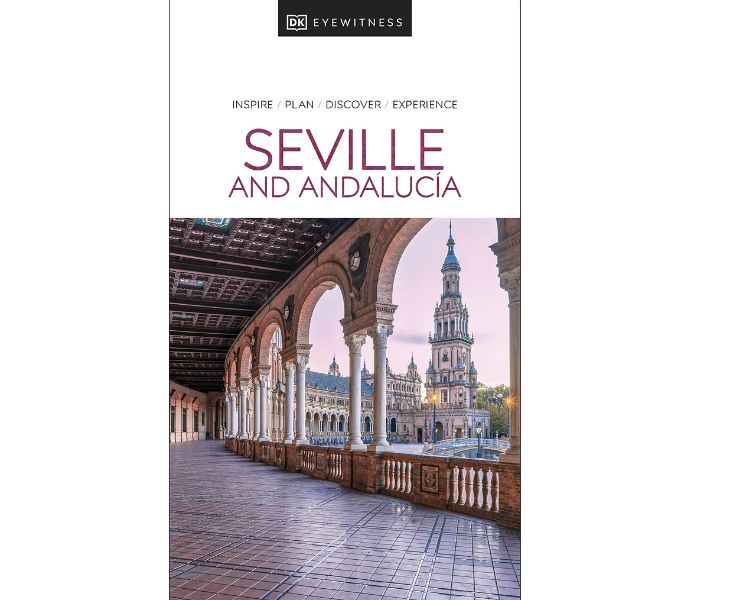 If you need a guide book for Seville, we recommend the DK Eyewitness Seville and Andalucia travel guide. This is the guidebook that I used on my trip and I love the picture guides of key sites and the recommendations of neighbourhood walks in Seville. It's also handy if you are planning day trips to other locations in Andalusia.
More places to visit in Spain
Discover 10 fabulous things to do in Castellón, Spain
Explore 15 cool things to do in Madrid, Spain
Enjoy a driving tour of Costa Brava
Pin it
This article is originally published at Heatheronhertravels.com