From America's classic Route 66 to Namibia's mysterious Skeleton Coast, we explore the best road trips in the world
When it comes to road trips, we've had our fair share of mishaps. We've battled a whiteout in Iceland, got stuck in a ditch in Turkey, broken down in Chile and changed a tyre in lion territory in Namibia.
Despite all this, we're irrevocably drawn to the open road. There's a very specific freedom in being able to rent a car wherever you land and setting your own course. More importantly, you can change that course when you want to. Whether you spend extra days in a national park or depart early from a tourist town, you're the master of your own time.
How to stay connected while on the road
If you're driving for any length of time, you're going to want to be connected. Not only does it make navigation so much easier, but if you need to reserve that last-minute motel or check the national park opening hours, then you need to be online. It also means you're able to request roadside assistance if you break down and stream music for those long days on the open road.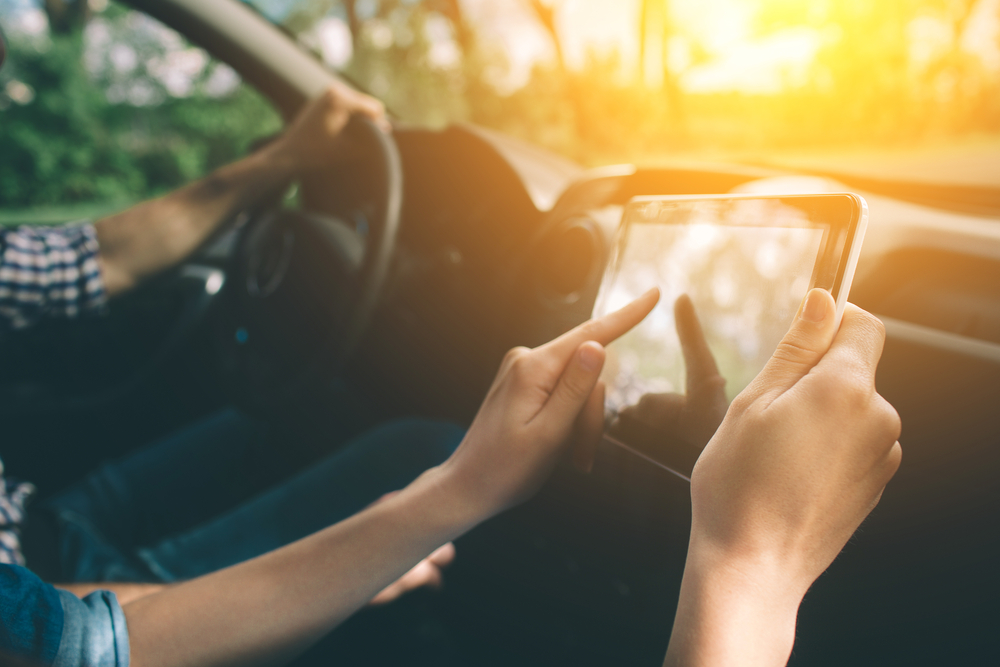 The best way to connect on a road trip is to use an international eSIM from Holafly. An eSIM is a virtual SIM card that works remotely, meaning you don't have to remove your current SIM card so there's no risk of losing or damaging your SIM card or losing your number. Instead, once you've chosen your package, you'll be emailed a QR code to scan. All you have to do is activate a pre-installed eSIM profile on your device and you're good to go. 
Holafly covers 165 destinations worldwide and offers unlimited data plans for the USA and other popular destinations across a range of networks including 3G, 4G and 5G. Holfaly also covers 32 countries in Europe including France, Germany, Italy, Portugal, Spain, Switzerland and Turkey.
Once you've chosen your package, you'll be emailed a QR code to scan. All you have to do is activate the pre-installed eSIM profile on your device and you're good to go. The software connects your smartphone to a local mobile network on the fly, letting you quickly sign up for service without having to track down a store or shop.
Best road trips in the world
Our travel wish list includes some of the best road trips in the world. Below, we list our favourites along with a data package that will cover every mile of your journey.
Route 66
Location: USA
Distance: 3,940km
Duration: 14-21 days
Stay connected: travel eSIM for USA with unlimited data
Route 66 is the quintessential US road trip. Nothing epitomises the essence of the American spirit quite like this infamous route. Designed in 1926 as the first highway of its kind, Route 66 was paved in 1937 and stretched across America from Chicago to LA, crossing eight states and three time zones.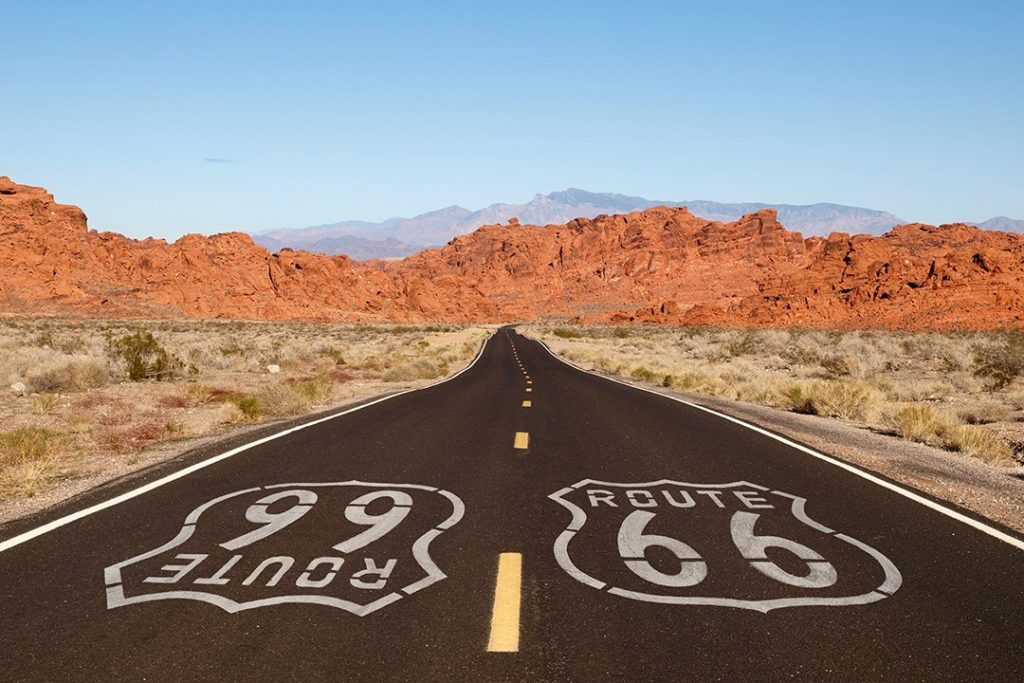 A mere 20 years later, however, it was usurped by a faster four-lane interstate system that bypassed Route 66, prompting its demise. By 1985, it was officially decommissioned.
Luckily, great sections of the route survive, thanks to non-profit organisations and the US National Park Service. Today, you can drive significant stretches of Route 66 amid some of America's iconic motifs: classic motels and drive-ins, restored roadsters and hulking Harleys. Expect atmospheric towns, evocative desert landscapes and the undeniable romance of the open road.
Tip: Many users of the original Route 66 were families on their summer vacation. There's certainly a charm to the RVs and Airstreams, but if you want to beat the crowds, visit in the shoulder season of Apr-May or Sep-Oct. You will benefit from milder weather without sacrificing hours of daylight.
Cabot Trail
Location: Canada
Distance: 298km
Duration: 2-5 days
Stay connected: travel eSIM for Canada
The Cabot Trail is a scenic route on Cape Breton Island in Nova Scotia. Encircling Cape Breton Highlands National Park and part of the adjacent shore, the trail takes in a tapestry of terrain. Expect winding roads, serene lakes and boundless cliff-top views over the icy Atlantic Ocean.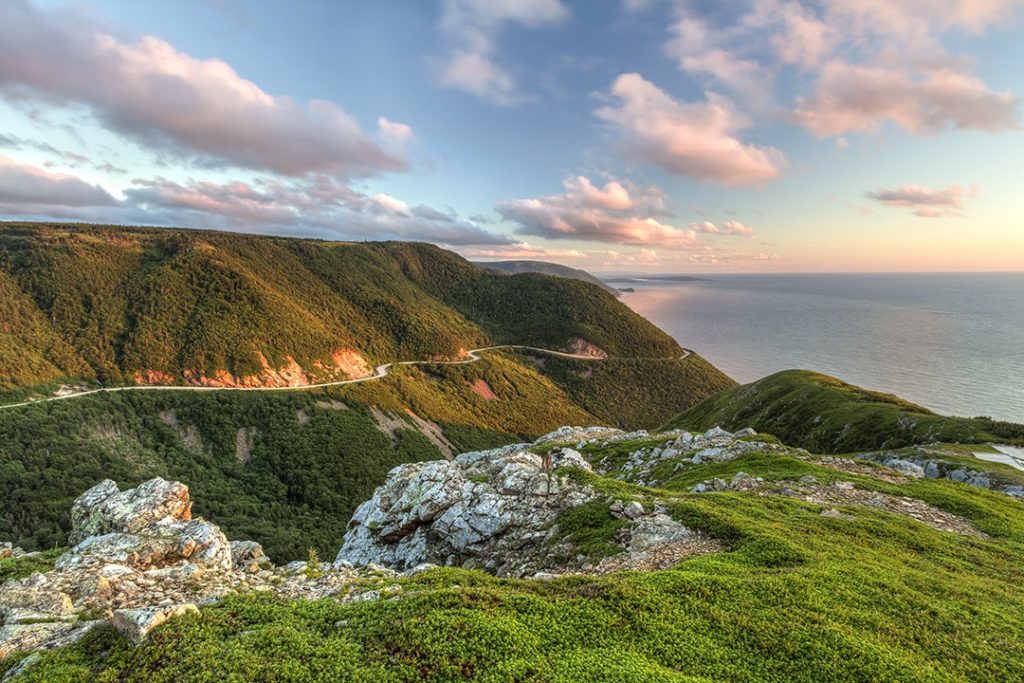 The trail was completed in 1932 and connected once-isolated fishing villages along the 298km route. Today, it offers a vibrant mix of scenic viewpoints, cultural heritage sites, colourful fishing villages, picturesque hiking trails and several chances to spot whales, among them Pilots, Finbacks, Minkes and Humpbacks.
Tip: The Cabot Trail winds along steep grades and curves, so the 'inside' lane in the clockwise direction is better for drivers who don't like to drive next to steep drops. The anticlockwise direction, however, offers less traffic and better views.
The Ring Road
Location: Iceland
Distance: 1,339km
Duration: 10-14 days
Stay connected: travel eSIM for Iceland with unlimited data
When it comes to Iceland, writers often turn to fiction to describe the country adequately. You will see comparisons to Narnia, Game of Thrones or Lord of the Rings – all perfectly warranted, for Iceland really is a place of raw and relentless beauty.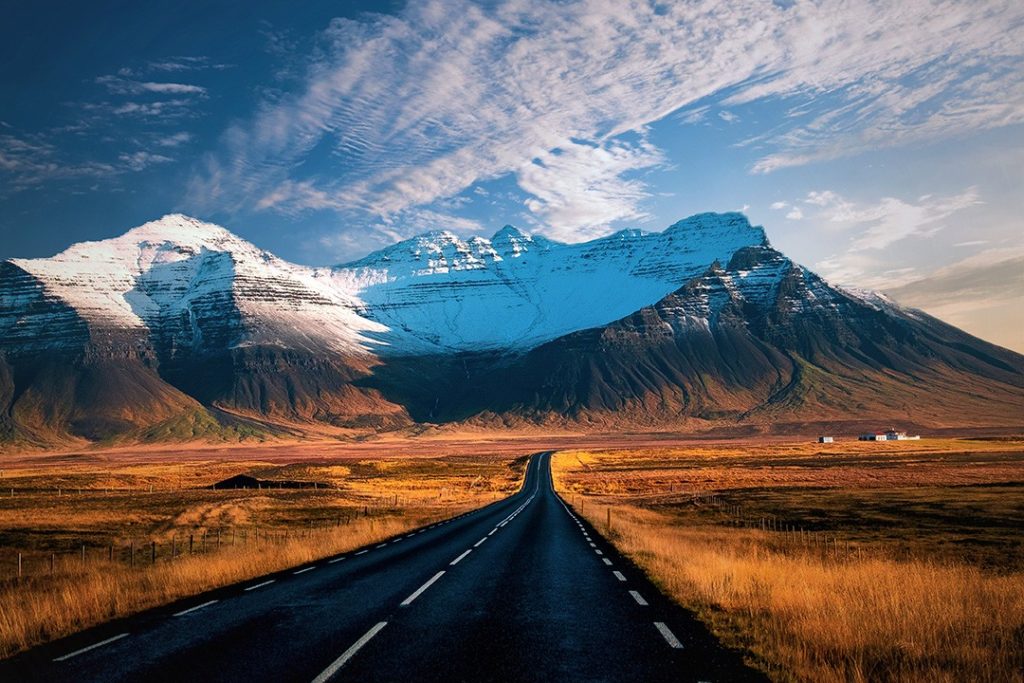 The Ring Road, also known as Route 1, brings you to some of the prettiest spots in the country including Seljalandsfoss and Skógafoss waterfalls, Dyrhólaey and the Jökulsárlón glacier lagoon.
Since our visit in 2010, tourism in Iceland has boomed and it's not hard to see why. Expect gigantic waterfalls and magnificent glaciers, secret ice caves, soaring peaks and a stark, often desolate, beauty.
Tip: The weather is changeable in Iceland, so build in extra days for seeing the major sights. If wind conditions are particularly harsh, park your car facing the wind to prevent your doors from blowing backwards.
North Coast 500
Location: Scotland
Distance: 830km
Duration: 5-10 days
Stay connected: travel eSIM for the UK with unlimited data
The North Coast 500 is one of the world's most iconic coastal drives. It starts and ends in Inverness and traces an 830km (500mi) route along Britain's outer limits, taking in vertiginous sea cliffs, distinctive rugged peaks and striking white-sand beaches.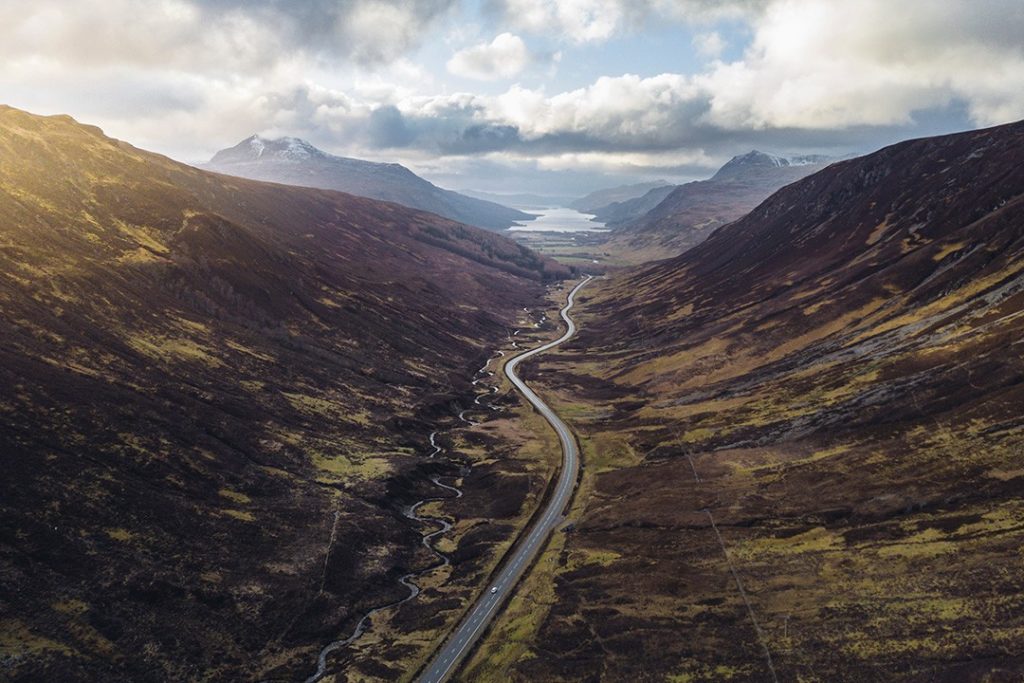 Of course, there's more to the Highlands than coastal sands. Expect lonely lochs, haunting moorlands and vast tracts of desolate beauty. This is Scotland at its brooding best.
Easing the nip of the northern air are charming distilleries and breweries, cosy inns and pubs and that tireless Scottish charm.
Tip: Drive the route anticlockwise to make the most of the light and the backdrop of the Assynt mountains. Head north from Inverness up the east coast to Caithness, then turn west across the top of Scotland before descending down the west coast.
Ruta 40
Location: Argentina
Distance: 5,224km
Duration: 21+ days
Stay connected: travel eSIM for Argentina
Ruta 40 or 'Route 40′ is Argentina's answer to the US's Route 66. Starting in Cabo Vírgenes, the southernmost point of the Argentine mainland, Ruta 40 snakes past 11 provinces, 20 national parks and 24 major rivers, all the way north to the Bolivian border.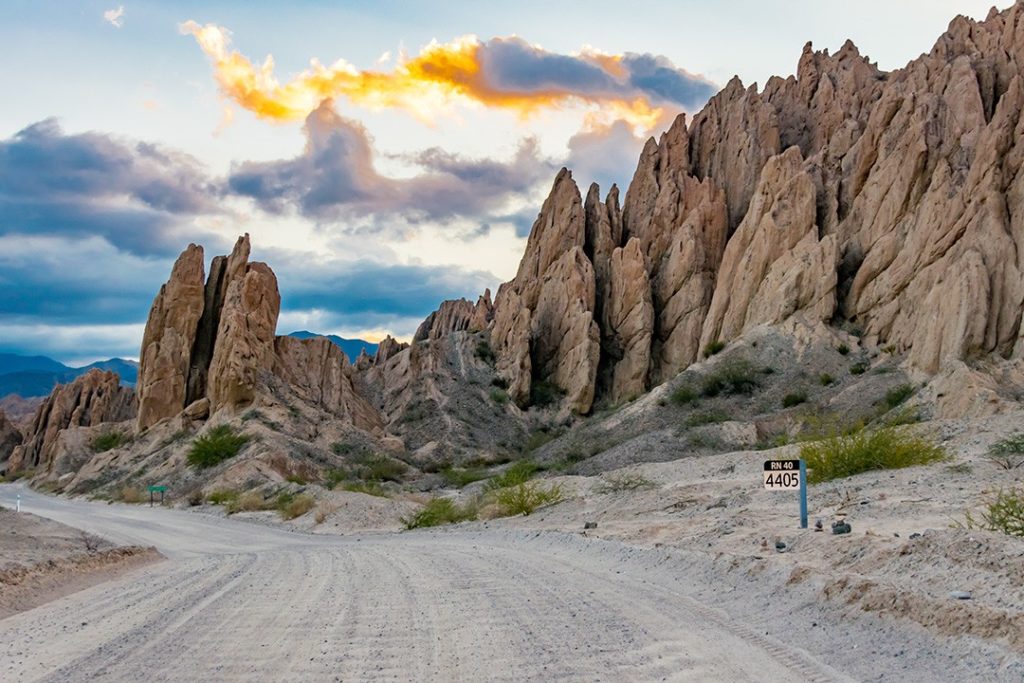 Abra de Acay lies at 5,061m (16,604ft) on the route, making it the highest point on a national road anywhere in the world.
Ruta 40 is long and occasionally wearying, but Argentina's magnificent Patagonian steppe, expansive views of glacial peaks and ever-changing terrain make this one of the best road trips in the world.
Tip: Sheep have the right of way and guanacos and ñandús may also make an appearance. Slow down and give them plenty of space.
Colombia's coffee country
Location: Colombia
Distance: 580km
Duration: 6 days
Stay connected: travel eSIM for Colombia
This caffeine-fueled journey through Colombia's famous Zona Cafetera takes travellers through fincas (coffee farms) that cling to steep hillsides, colourful towns, hydrothermal baths and untouched nature reserves.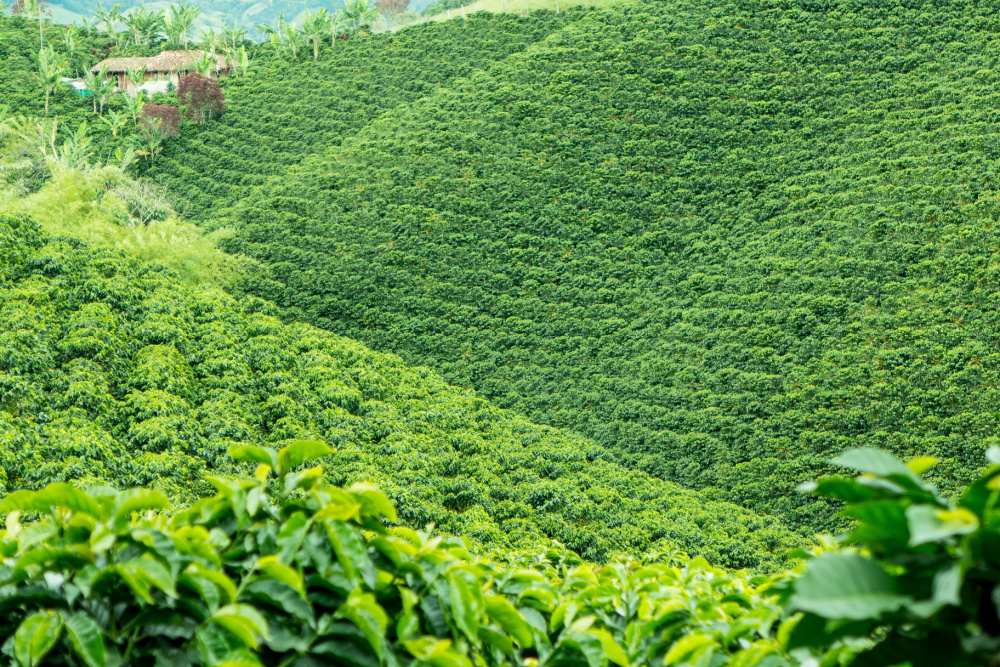 The route begins in Medellín and takes in the university town of Manizales; Santa Rosa de Cabal with its thermal springs powered by the nearby El Ruiz volcano; Salento, where you should take a day off from the road to hike in Los Nevados National Park; and Rio Barbas canyon that teems with howler monkeys, butterflies and birdlife.
Tip: Fill up with some of the world's finest arabica. It's possible to buy bags of single-origin coffee from most fincas. Whole beans travel better than ground coffee.
Salar de Uyuni
Location: Bolivia
Distance: Depends on route
Duration: 3 days
Stay connected: travel eSIM for Bolivia
Salar de Uyuni is one of the most visited sites in Bolivia – not that you would know it. Covering an area of 10,582km2, these iconic salt flats feel like a deserted hinterland.
The flats were formed from what was originally Lake Minchin, a giant prehistoric lake that largely evaporated under the scorching Andean sun leaving behind a thick crust of salt – what we know today as Salar de Uyuni.
The vast expanse of white stretches as far as the eye can see, warping your sense of perspective. In the wet season, the flats create what's known as the 'largest mirror on Earth' where the sky is reflected off the glass-like surface. Driving here feels like gliding on water.
Tip: Make sure you wear high-SPF sunscreen. The harsh sun reflected off the salt will burn you at the first sign of complacency.
Garden Route
Location: South Africa
Distance: 200km
Duration: 3-7 days
Stay connected: travel eSIM for South Africa
South Africa's Garden Route is widely regarded as one of the best road trips in the world. The forested swath stretches 200km from Mossel Bay in the west to Storms River in the east, taking in a vast array of vegetation, wildlife and topography.
The area was once home to a great African forest. Khoi herders considered it a paradise, calling it Outeniqua ("the man laden with honey"). Sadly, the forest was dramatically impacted by the arrival of Dutch woodcutters in the 18th century. What remains showcases Outeniqua's glorious beauty.
Expect picturesque lagoons, tiny coves and sweeping hills leading to the mountains of the Outeniqua and Tsitsikamma ranges which divide the Garden Route from Little Karoo.
Tip: If you're starting and finishing your trip in Cape Town, instead of driving up and down the same route, explore the interior in one direction. This takes 1.5 hours longer and allows you to explore Matjiesfontein, the Meiringspoort Pass and wine farms and restaurants along Route 62.
Skeleton Coast
Location: Namibia
Distance: 460km
Duration: 1-3 days
Stay connected: buy a local SIM card
After our self-drive safari in Namibia, we fell irreversibly in love with the country. The Skeleton Coast was high on our list with its promise of bleached whalebones strewn across the shore and the giant hulls of rusting shipwrecks. Sadly, the most impressive victims of this infamous coast have been swallowed by sand and sea. Still, there remains a stark beauty that's well worth exploring.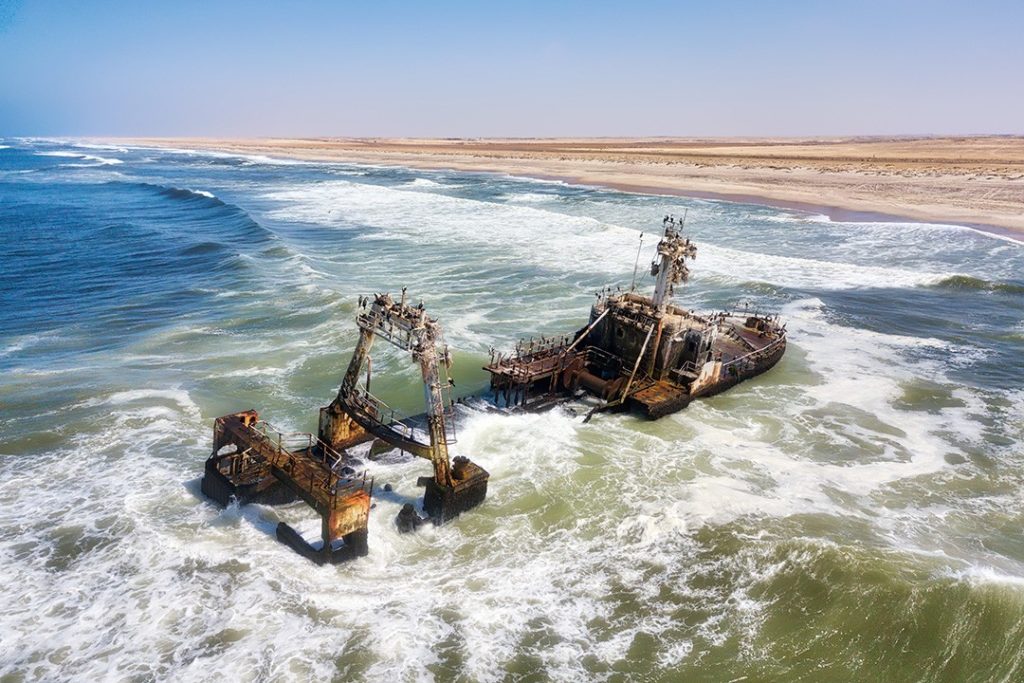 Expect vast stretches of desert-scape misted by the tendrils of coastal fog. You'll find dunes that roll to the sea and several shipwrecks dotting the shore, the easiest of which to reach is the Zeila 14km south of Henties Bay.
Pair the Skeleton Coast with a stay at Sossusvlei and Etosha and we guarantee you'll have a trip to remember.
Tip: After Mongolia and Australia, Namibia is the least densely populated country in the world. People – and therefore petrol stations! – are few and far between. The general rule in Namibia is to fill up whenever you have the opportunity.
Karakoram Highway
Location: Pakistan, China
Distance: 1,300km
Duration: 10 days
Stay connected: travel eSIM for Pakistan and China with VPN and unlimited data
It would be negligent to list the best road trips in the world and not include the Karakoram Highway. Also known as the China-Pakistan Friendship Highway, it snakes from Hasan Abdal in the Punjab province of Pakistan to the Khunjerab Pass in Gilgit-Baltistan where it crosses into China.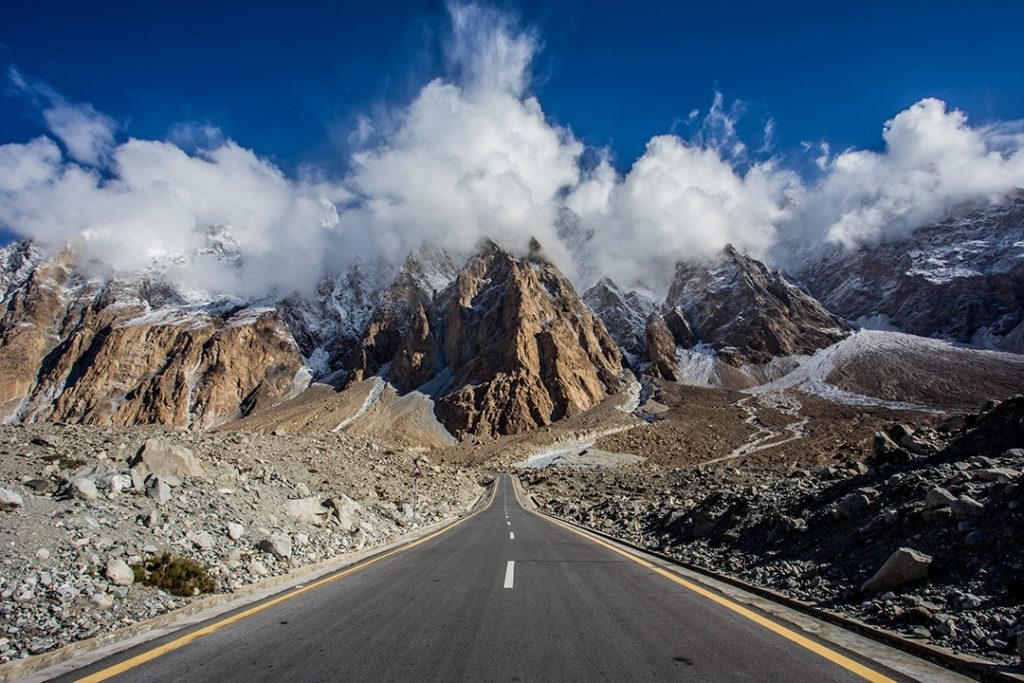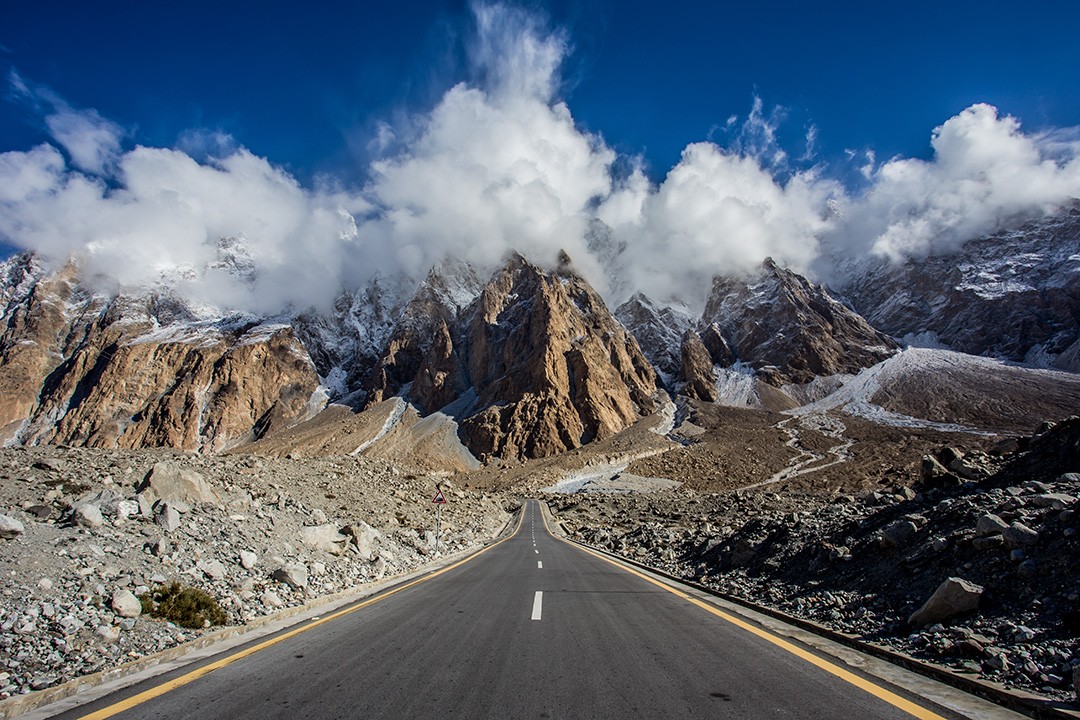 The highway passes through the Karakoram mountain range and is one of the highest paved roads in the world. Given its maximum elevation of 4,714m (15,466ft) and the difficult conditions under which it was built, it is sometimes referred to as the Eighth Wonder of the World.
The Karakoram Highway is not without peril, but audacious travellers will find unparalleled access to one of the most stunning regions in the world. Plunging valleys and gigantic peaks make for some of the most jaw-dropping scenery you will ever see.
Tip: Although the Karakoram Highway officially begins in Rawalpindi, Pakistan, the most popular starting point is Gilgit. Karakoram Jeep Treks International can provide a 4×4 and a driver-cum-guide. Note that the Khunjerab Pass is only open from May to October and can close without notice in bad weather.
Mae Hong Son Loop
Location:
Distance: 604km
Duration: 6 days
Stay connected: travel eSIM for Thailand with unlimited data
Beginning in Chiang Mai, this classic Thai road trip twists its way along Route 108 and 1095 through forested mountains to the remote town of Mae Hong Son in a pretty setting by a tranquil lake. The snaking loop is famous for its 1,864 bends – the Chamber of Commerce in Mae Hong Son issues souvenir certificates for drivers who complete the circuit.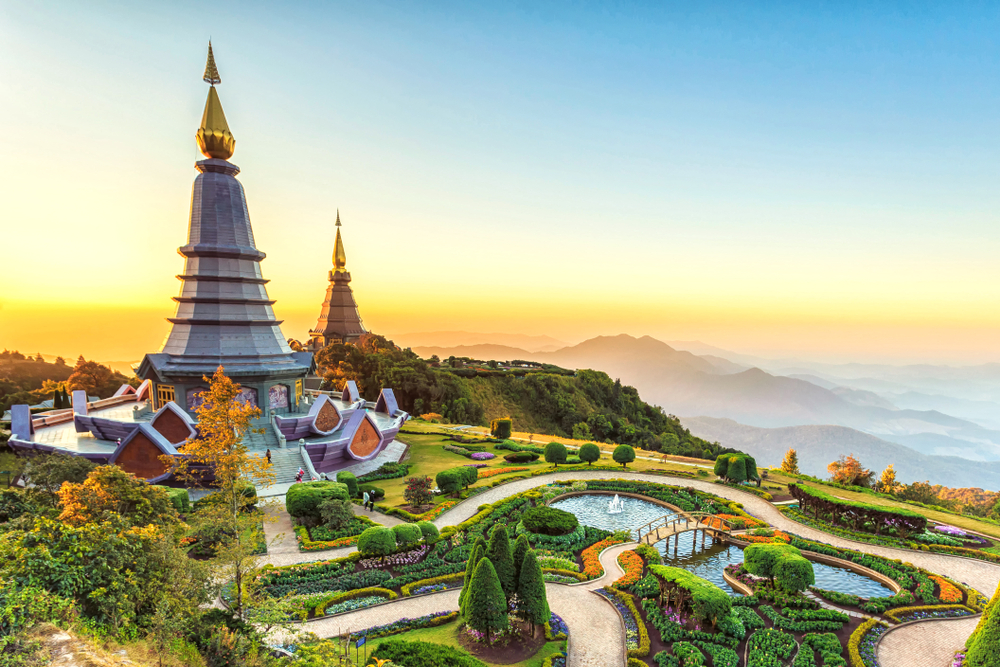 The route also takes in Doi Inthanon National Park, a verdant reserve popular with day trippers from Chiang Mai and home to the iconic twin stupas of Phra Mahathat Naphamethanidon and Phra Mahathat Naphapholphumisiri. Take a day off from driving to hike to the summit of Doi Inthanon, which at 2,565m is the highest mountain in Thailand.
Other stops include Khun Yuam, famous for its historic wartime sites; Su Tong Pae and its bamboo bridge; Pang Oung – AKA "Little Switzerland"; and the bustling traveller town of Pai.
Tip: Don't be surprised to encounter some distinctly uncharacteristic chilly weather in Doi Inthanon National Park, so pack some extra layers. Also, it's not unusual for fog to cling to the foothills, particularly in the mornings.
Gobi Desert
Location: Mongolia
Distance: 1,500km
Duration: 12 days
Stay connected: travel eSIM for Mongolia
The Gobi is one of the largest deserts in the world. Measuring 1,600km from the southwest to northeast, it is one of the last frontiers of true adventure travel. Here, you will find soaring sand dunes and ice-filled canyons dotted across a daunting desert landscape.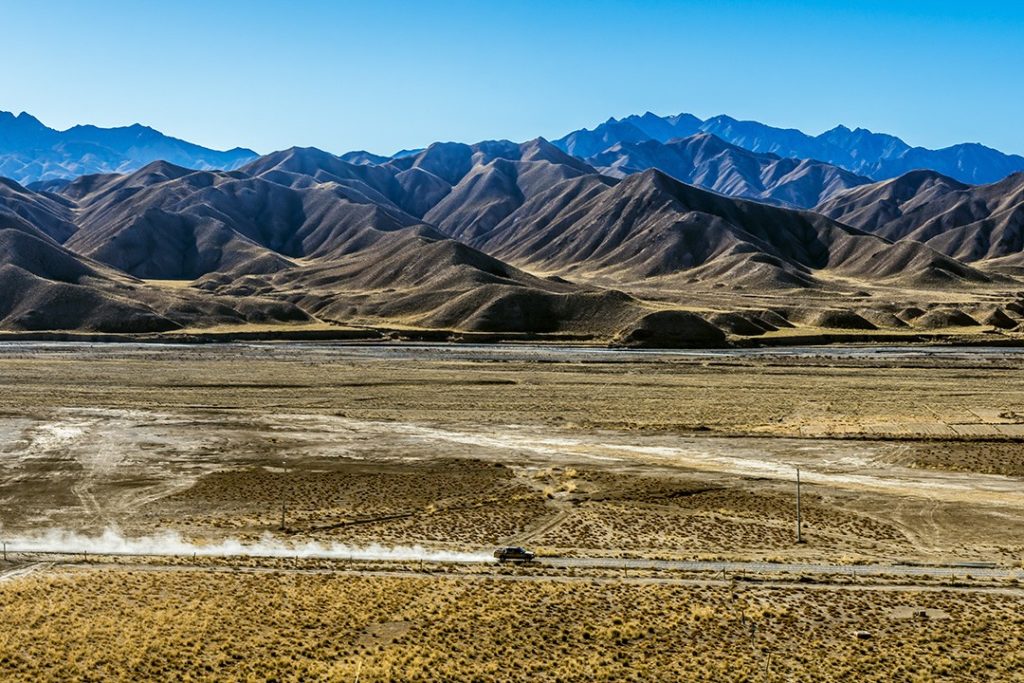 Visit the famous "singing dunes" at Khongoryn Els. This natural phenomenon occurs when the wind shifts grains of sand, causing the dunes to "hum".
Expect long days in the car, even on an organised tour. The landscapes here are seemingly endless.
Tip: Mongolia is the least densely populated country in the world. Given the long stretches of barren landscape, most visitors opt to hire a driver rather than self-drive. Sunpath Mongolia is well-reviewed on TripAdvisor.
Great Ocean Road
Location: Australia
Distance: 243km
Duration: 3-5 days
Stay connected: travel eSIM for Australia
The Great Ocean Road is undoubtedly one of the best road trips in the world. Studded with jagged rock stacks and dramatic coastal cliffs, the route runs between the Victorian towns of Torquay and Allansford.
Built between 1919 and 1932, the Great Ocean Road was intended as both a memorial to the soldiers who died in the First World War and a means of employment for those who returned. Over 3,000 ex-servicemen helped build the road, resulting in the world's largest war memorial.
Watch the crashing waves of the Southern Ocean, pause in a laid-back seaside town and marvel at the unbridled beauty of this magnificent coast.
Tip: We drove the Great Ocean Road eastwards from Allansford to Torquay, but suggest you do it the opposite way. In that direction, you will drive on the ocean side of the road and won't need to cross traffic when parking at a photo stop.
South Island Circuit
Location: New Zealand
Distance: 2,306km
Duration: 14+ days
Stay connected: travel eSIM for New Zealand
It could be argued that the South Island Circuit is the best road trip in Oceania, usurping Australia's Great Ocean Road. It's a valid point given New Zealand's majestic scenery.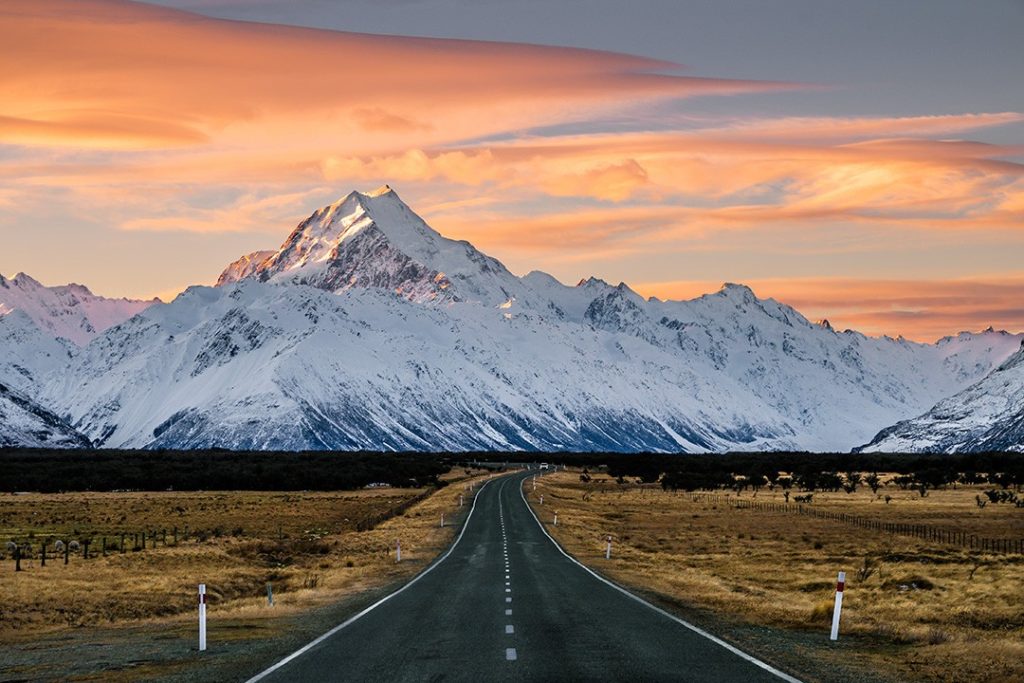 The South Island, carved by ice and water, boasts a jaw-dropping mix of gleaming glaciers, glassy fjords and jagged peaks dusted with snow.
Throw in thrilling adventures like via ferrata or bungy jumping, and you'll have all the makings of an epic trip.
Tip: The weather can be changeable in New Zealand so keep abreast of the latest forecast. The MetService provides regular updates on its website and app.
---
Enjoyed this post? pin it for later…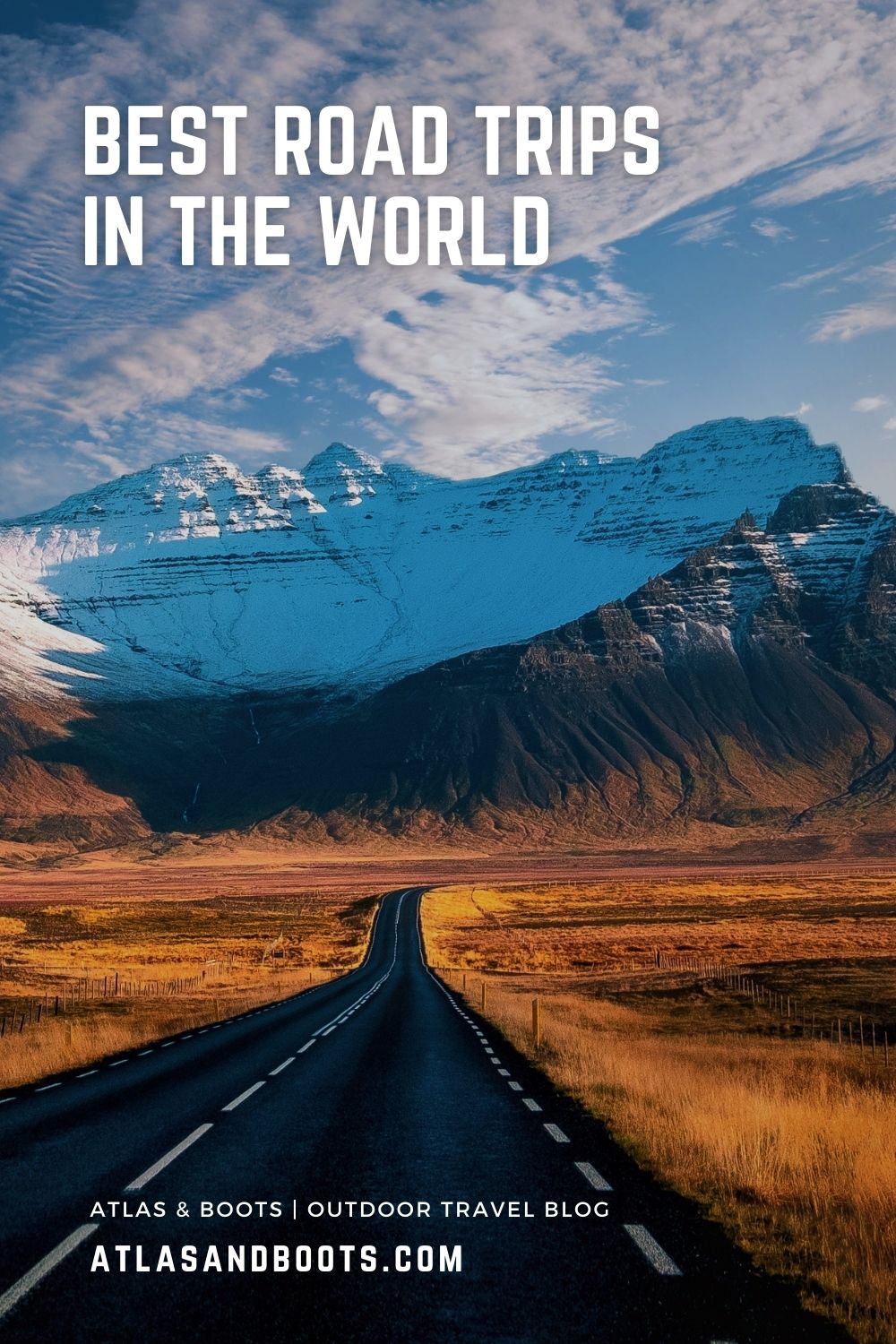 ---
Epic Drives of the World by Lonely Planet showcases 50 of the best road trips in the world. Organised by continent, each route features a first-hand account, awe-inspiring photographs, illustrated maps and practical advice.
Lead image: MaxyM/Shutterstock